---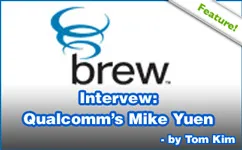 In this exclusive interview held shortly before this year's Brew Conference 2007, Mike Yuen, head of the Qualcomm Gaming Group talked to Games On Deck about the difficulties of mobile development, including platform fragmentation and content distribution, and discusses what Qualcomm is trying to do to change things.
Games On Deck: Let's start out by talking about some of the perceived difficulties in mobile development. A lot of the people who make games for mobile complain about certain common things, mostly regarding inconsistency of platform. There's so many different handsets with different screen sizes, interfaces, processors, and architectures you've got to worry about.
Mike Yuen: We'd like to think that we have a little more consistency in that platform, and we don't have as much fragmentation, primarily because we have a standard. On our platform, the APIs are consistent. If you're running Brew 2.0 here in the U.S., and you're running Brew 2.0 in China as a developer, the game will run. There's localization, and there might be some keypad issues, but the core platform doesn't get fragmented. If we wanted to add in a new technology, we would use extensions to extend our platform.
That's one of the key things about Brew which has brought people in from that fragmentation standpoint, because otherwise, every operator you work with could be very different. A Sprint game doesn't run on NTT DoCoMo's Java-based platform, because it's been fragmented to a certain extent. We'd like to think that what we've done is we've been able to aggregate all these Brew operators so that it's a consistent platform. We've removed hurdles that developers would otherwise face in developing games.
GOD: So basically, Brew provides a more consistent platform for developers to make their content on. Another common complaint in this space with developers is one that might not be within the scope of Qualcomm and Brew, but might be something that Brew can help out with. It has to do with promotion once a title is on a device.
There are titles that are preloaded, but anytime anyone wants to get something new, it's buried in the interface. The interface is difficult to navigate and makes it hard to find content. Even when people do find content, it's basically just a text listing, and that doesn't lend itself very well to differentiation. Some people tend to gravitate toward licensed properties, or toward remakes of things they've already played. So if you want to build something interesting for mobile, how can Brew help developers?
MY: What you're talking about is the dreaded "one line of text." That's the way mobile started. Mobile is a technology and business that has accelerated very quickly in the last few years, so we started with a line of text. From a Brew perspective, one of things we offer is a technology called uiOne. It offers much richer user interface and an experience that can be built on devices. Rather than one line of text, we can now build a much richer interactive and dynamic interface. It addresses the issue of discovery, and now you can fully support things like merchandising and marketing. More comprehensive and viable business models can be taken care of though this technology.
O2, an operator in the UK actually has our uiOne technology running on their devices as do others such as Alltel here in the U.S. Not only does it make it easier for consumers to shop and find a developer's or publisher's particular title, but it's also helpful to the operator, since it allows for more consistent user interface versus working with different OEMs and implementing different interfaces.
The evolution where we're heading is something called Brew Gaming Signature Solution, and it's truly a next-gen service. We're going to use uiOne as the basis to build that client-side application. Instead of thinking about lines of text and drilling down through lots of click-throughs to get to different menus, there will be much richer visual interface on a homepage of sorts where you can jump to different areas.
---
GOD: Let's talk about Qualcomm's approach with Brew . It's different than Sun Microsystem's and Java's -- one is a more standards-based approach, and your approach is a little bit different than that. How do you maximize your potential with the direction you've chosen to take?
MY: From our standpoint, one of our fundamental advantages is that we have minimal time to market. As we roll out new features and functionalities, we really don't have to go through a standard. Since we don't have to go through a common standard or committee to get things approved or add new functionalities, APIs, or features, we can get to market much faster. Also we can react more quickly, so if the market's moving in a certain direction and we need to get something out quicker, we can do that. The Brew extension model helps support this activity.
One of the key things about platform fragmentation in mobile is that everybody knows that it will probably never go away. Sure, Sony, Microsoft, or Nintendo would like to have the only console on the market, but at the end of the day, there are still three dominant platforms. In mobile, I think it's going to be somewhat similar. We'd love to be the only platform out there, but the reality is that there are always going to be a couple of different ones.
GOD: What would you say with regards to continuing support over the long term for products developed in Brew ? Or is it just moving so fast that you don't feel like you have to worry about backward support or product compatibility with earlier versions?
MY: We're actually fully backwards compatible. If an operator or carrier happens to be supporting Brew 3.0, a Brew 1.0 application will run on that. It's been built in from the beginning. The issue from the gamespace is whether or not a Brew 1.0 game is something that an operator will still want to run on a 3.0 capable handset. There's just so much more functionality.
Obviously it depends on the type of game or application. If it wasn't a game -- perhaps a news or information application -- it doesn't need to be updated as quickly as a game would. Games push the envelope in mobile as much as they do on consoles. If there's a 3.0 version available, developers are going to take advantage of that rather than fall back on the older versions.
GOD: You've recently exceeded the one billion mark in terms of how much developers have earned using your platform and technology, and recently you've announced a partnership with Microsoft to extend their Live Anywhere capability on the Brew platform.
MY: That announcement is a validation of Brew and mobile gaming. The one billion dollars is really the amount that publishers and developers have earned in the ecosystem. It's the amount that we've gone out and collected from operators if their games are selling on their decks. That's come over the course of five or six years here. Mobile is still a young industry, but it's accelerating very quickly. The way we look at it, the past and current growth is based on the development of standalone applications, or maybe networked ones.
The future of where we're headed is really building a full next generation gaming service. Xbox Live and PlayStation Home prove that a connected service and community have the potential to add a lot to gaming, and mobile is no different. We just move a little faster - it won't take us ten years to get there, because we have the benefit of the broader gaming industry moving in certain directions, and we follow in that slipstream. We want to put Live-type services onto a mobile phone. We think that will drive loyalty, activity, and ultimately royalties for everyone in the ecosystem.
Last year at our annual Brew conference, we announced that we would support Microsoft's efforts in terms of cross-platform design and gaming across multiple platforms with Brew . The thing that they looked at us as a partner was the fact that Brew has presence in mobile gaming, and they thought if the Brew community could support what they wanted to do, they could immediately expand their opportunities as opposed to doing it on Windows Mobile only. We definitely believe in the vision of what they want to do with that, and we're big believers in the concept of Live and connected gaming across PC, consoles, and mobiles. We always thought wireless was the missing piece.
With the mobile phone and its unique characteristics and what it could be -- with GPS functions for example -- you can introduce new elements that a wired box tethered to your living room otherwise limits. When you design something that will work across all other platforms, though, that's the tip of something really big in game design and innovation in the industry.