---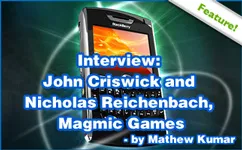 Magmic Games is a developer and publisher of mobile games and through its Bplay portal develops and distributes the majority of titles available for BlackBerry handsets. Games On Deck talks to Magmic CEO John Criswick and Bplay Vice President Nicholas Reichenbach about the company and the BlackBerry market.
Games On Deck: Tell us about Magmic Games.
John Criswick: It started in 2002, focusing on mobile games development. We started to grow a presence in Canada and in the BlackBerry space, and that was initially our forte, but really now we're developing and publishing for North America and mobile as a whole.
GOD: Is BlackBerry still the core of your business?
JC: I'd say our core business is mobile game development.
GOD: But how big is the Blackberry market?
Nicholas Reichenbach: It's tiny. It wouldn't even be one percent of the mobile game business. But the good thing for Magmic is that we enjoy 70-80% of that.
We initially signed a deal with RIM [Research In Motion, the Canadian-based developer BlackBerry] that isn't an exclusive deal, but it's close as no one else has an agreement with them like that, and since then we've been the first company to publish games on the BlackBerry. We sell our games to RIM and they give them to their customers. Our active audience is about 760,000 to 800,000 users world wide via the RIM platform.
When a BlackBerry user thinks of games they think of Magmic. We're in the millions of downloads on BlackBerry. We really went strategically into that market as a young company when RIM was young too and pitched it to them and now we're the premium entertainment publisher for BlackBerry.
That's one market segment, our other market segments are J2ME, Brew, Windows Mobile, all of which we've got a strong presence in. J2ME in Canada and now in the United States too, and globally with Windows Mobile and BlackBerry. Many of the top publishers deal with us to put their games on Windows Mobile and BlackBerry.
GOD: How does development differ on a BlackBerry?
NR: Different language. It uses components of Java and J2ME, but it's a different language that is proprietary to RIM. Because of our relationship with RIM we've become experts in developing and porting to it.
JC: BlackBerrys have a different user interface, too. You've got a trackball.
GOD: What titles have been particularly big hits on BlackBerry?
NR: There's a couple. Like Ka-Glom, which launched aggressively and picked up really quickly in the BlackBerry market. I thought it was a great game but I didn't realize it was going to be such a hit. So we really expanded on it and got proper J2ME distribution in Canada on all the carriers, and it really took off as a brand.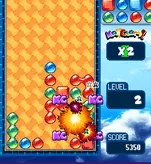 Ka-Glom
Ka-Glom is a really fast paced, addictive puzzle game that's also network enabled and we deliver new puzzles each day. It's kind of a "Tetris" kind of game, but it's different and really addictive.
I'm sure that we're going to extend that brand in future.
---
GOD: So you took it from BlackBerry to J2ME - Is the BlackBerry consumer similar to the general mobile consumer?
NR: Yeah. I think it's actually most similar to the premium consumer. You've got typically a consumer with a higher net worth that isn't particulary conscious of price and loves to consume. From our data, a BlackBerry user consumes maybe two, three times what even a premium feature phone J2ME user does. So it's a really good platform to observe how well a title is going to take off on, and to show carriers.
GOD: I've probably seen more people playing games on BlackBerry than any other handset.
NR: Yeah, and if we look at some statistics, BlackBerry users have a
6-7% penetration on mobile games, while feature phones have only 2-3%. So 6-7% of all BlackBerry users play games. I think it's because they're network enabled devices, and people spend a lot of time on them, it's an extension of people's business and personal lives in their hands.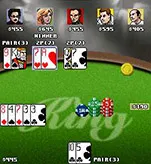 Texas Hold Em' King Poker 2
Another brand that we have is Texas Hold Em' King Poker, which is one of our top sellers. I'd say we were one of the first companies to develop a poker game in North America, and from the get go we had multiplayer in there. Right now the other publishers are coming out with the first network enabled titles, but Magmic developed Texas Hold Em' King Poker for BlackBerry to be network enabled, because BlackBerry users aren't data conscious. I think we're up to 75,000 people playing network enabled poker now, not just on BlackBerry but on feature phones too.
Our next version is going to come out in fall, Texas Hold Em' King Poker 3, which is going to evolve the online experience with avatars and community building.
GOD: You're obviously very able to reach consumers on BlackBerry, but how hard are you finding it to reach consumers on other devices?
NR: You've got this whole infrastructure set up on feature phones that means it's pretty much the carrier's deck and if you don't have a movie brand they don't want to prioritize that.
But Magmic has high creativity, and we're trying to create games in our studio that are unique, and that's really how with, say, Ka-Glom we proved ourselves to carriers.
JC: The only significant carrier that hasn't picked it up is Verizon.
NR: Also, because we're small, and a bit unique, niche, we do a lot of campaigning with the carriers that other big publishers don't necessarily do. We put out nationwide campaigns that are, say, student orientated.
Also, because of our Blackberry experience, a lot of our games are networked enabled. Even just online high-scores, like in Miner 2049er. We're doing a campaign with Cingular for example for who can get the highest score on the leaderboard, with prizes associated.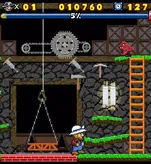 Miner 2049er
We're really about how it's not only brands that sell. It's communities that sell. It's how fun the game is that sells. We try to constantly try to add value to our titles. I don't think there's a title that we've released that isn't network enabled.