Google's new Daydream virtual reality platform is getting the support of one of the biggest game engines on the market.
Epic Games announced at Google's I/O conference that today it is launching an Unreal Engine 4 plugin for Daydream. Developers will immediately be able to start making games and apps with a preview version of Unreal 4.12.
The developer has made it a point to partner with major hardware manufacturers across all platforms including mobile, bringing high-end graphics to new devices.
"As far as developing for [Daydream] on UE4, it basically uses all the same interfaces that all the other VR platforms use, so it's really no different than developing on any other platform," said Nick Whiting, technical director at Epic Games in an interview. "You don't have to do anything special or learn any VR platform-specific-level stuff. It's all the generic interfaces that we have in Unreal [Engine] 4 already."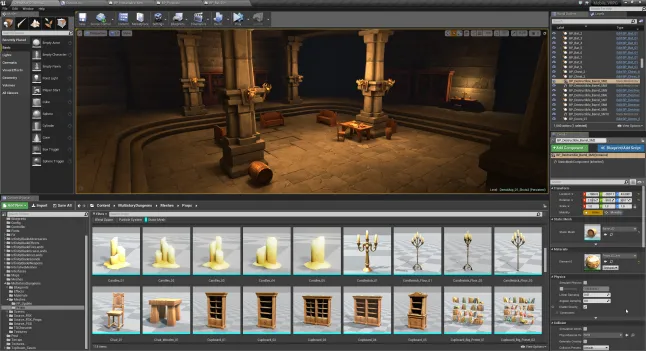 Daydream Unreal Editor
What's separates the Daydream from other commercial, mobile-based VR platforms – namely the relatively high-profile Samsung Gear VR – is the motion controller. Daydream's simple controller is able to be tracked in a 3D space, has a clickable trackpad and another button for interactions (there's also a home button, but that's reserved for system functions). Whiting explained that the controller is limited to three degrees of freedom – pitch, yaw, and roll – rather than the six of the HTC Vive and Oculus Touch.
There are some apparent limitations to the controller, such as the degrees of freedom, and Google has only shown apps and games that use a single controller, so interactions are one-handed. But the fact that there is now a mobile VR platform with a standardized controller at all (and backed by a giant like Google), is a good start to bringing more immersive VR experiences to the mass market.
On that front, Epic has also been developing a Daydream app tentatively called "Dungeon" (see video above), a mobile RPG where players can perform actions such as picking up items or casting spells. The game's interactions simulate having arm movement in VR.
(Whiting explained how that works: "We simulate having an arm by offsetting the wand a little bit from the point of rotation of the controller, which basically simulates your forearm being there. So, instead of using the controller's rotation directly on the hand, we move the controller's rotation closer to where your elbow is.")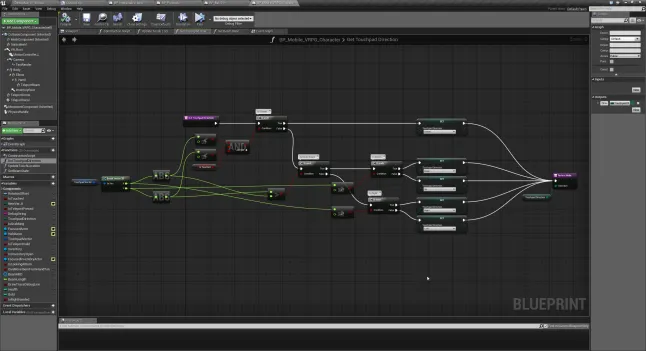 Unreal Blueprint for Daydream
"We're really excited about the motion controller specifically. Once you try the desktop VR experience, it's really hard to go back to not having a standardized controller," Whiting said. "The fact that every Daydream set will ship with this motion controller is really nice. As developers, we can assume some level of interactive functionality."
The dev kits that Epic has been working with are based on the Nexus 6P, among the first Daydream-certified mobile devices. Google's next version of Android ("Android N") will be VR-optimized when it arrives on new phones this fall. For now, Google isn't manufacturing its own Daydream headset -- instead, it will release a reference design so other hardware companies can make their own headsets that people can jack their "Daydream-ready" phones into.
"They've taken a lot of things that we're used to on the PC side of things, like scanline racing and other low-latency, high-performance techniques and rolled those into Android itself, so you can get a nice solid 60 hertz experience," said Whiting.