---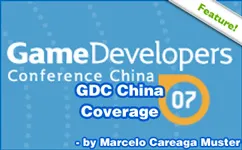 The Game Developer Conference China included a mobile track, highlighting the importance of the mobile games industry within China. Kim Daniel Arthur, CTO of Glu Mobile's Asia-Pacific operations discussed "The Future of Mobile Gaming" on stage in Shanghai.
Glu Mobile is a company with offices in US, Europe and China in cities including Hong Kong and Beijing, where they have had a studio since May 2007, as discussed with Glu Mobile's CEO Greg Ballard in a recent interview that also touched on Glu's portfolio of titles, which includes brands such as Sonic, PGR and Transformers along with casual titles (Diner Dash, Zuma) and original IP such as Stranded.
In his presentation, Kim Daniel Arthur took the tact that the first mobile games were like the first computer games: they used a small amount of memory, had a small footprint and low performance. They needed a short development cycle and there was little fragmentation in the market, as with fewer devices, it was easy to support them, and Arthur described the market as being filled with opportunistic games, in most cases based on retro titles and addressed to a hardcore gamers audience. Arthur then went on to describe the ways in which the situation has changed:
There is a push towards 3D, first through software solutions and lately using hardware acceleration.
Increased fragmentation with the need to support lots of handsets.
Network operators control the distribution environment. This gives less possibilities, but is a very stable platform for growth.
Big brands have entered the market and casual games dominate.
Multiple platforms (Java, BREW, etc.), multiple software, multiple levels of performance and a wide range of footprint, with some games using as little as 64Kb while others range in the megabytes.
Now, Arthur argued, there are two different levels of concern for publishers: the end users and the mobile operators, with current trends indicating:
Connectivity is gaining momentum.
Downloadable content, or even uploadable is on the way.
Real time MMOs and multiplayer is in its early stages (there are problem here with the restrictions of the current distribution environment).
A casual games breakthrough is coming.
And that the future will bring:
3D,
Flash,
Alternative input methods ("Wii opened the way for this," said Arthur)
And the need for middleware in the development of games.
---
Looking at these future trends one by one, Arthur first tackled 3D. "High end devices are beginning to arrive to the market. Handsets with fast processors (600 Mhz or more), and with tens of megabytes of memory for applications. Part of this technological trend is the launch of hardware graphic acceleration in mobile phones, through several ways: OpenGL ES (native support or not), Java (JSR 239), PowerVR MBX or GoForce."
"This will mean that 3D will be part of the mass market at some point in the future, and through the intelligent use of these new technologies, the developers can get much more from the games. But in this the gameplay is essential, given the limitations of the mobile format. The important thing is to create a stronger user experience using 3D, even in casual games."
Taking a look at Flash, Arthur held the opinion that it was going to be very complimentary to the mobile games industry. "Its ease of use and its position of dominance in the online market will support it. There is going to be a migration from online to mobile and the iPhone can be a push for Flash technology if the rumors about it supporting it come true."
Arthur went on to describe the alternative inputs that he imagines will become important in future, including the camera (with color and shape recognition) voice, in terms of both speech and rhythm/musical input, touch screens, motion sensors and GPS.
All of this will require middleware, driving the need for new engines, 3D tools and scalable content.
"The future mobile games distribution will also change, getting to be rich and flexible," Arthur continued, "probably based on game communities. Flexible in the sense, for example, of billing methods, using things like episodic content, in-game billing and pay-per-play schemes."
"There will also be new game discovery methods: P2P sharing, for example, bridging the gap between PC and mobile devices. This will be encouraged with open internet usage, where the users are able to navigate internet as they do in PC, without having to go through the operator's portals."
"The implication of this for the developers will be that they will be closer to the consumer, which is going to give them more room for innovation and it will be easier to target 'pockets' of gamers in the market."

Arthur also felt that casual games are here to stay, as their form factor is well suited to the mobile environment, they are easy consume, both in terms of gameplay and cost, and "ultra" casual games may even appear, especially in Flash.
Connected games are going to become increasingly important, however, said Arthur, with the development of 3G ito be the turning point for these kind of games. The change in the distribution environment will help, with existing gaming communities possibly migrating to the mobile environment, due to extension of PC games and MMOs on the mobile platform, as well as pure mobile MMOs appearing. In turn, according to Arthur, such events will push social gaming, with more communities in mobile games, games created for communities of users, yser generated content, through P2P or social networks and discovery of content in a social context, through peer reviews, for example.
In summarizing, Arthur felt that the possibilities are practically endless, but warned that quality is essential to attract and maintain customers of mobile games.