---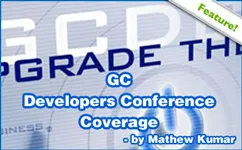 At the GC Developers Conference in Leipzig, Germany, Diarmuid Feeny, Nokia's Games Business Manager gave an illuminating keynote called "The Next Generation of Mobile Gaming?" arguing that with the latest innovations with entertainment delivery on the web and on mobile, convergence has finally arrived, and the mobile games industry will have to work hard to make the most of it.
Feeny began by discussing the lessons to be learned from the internet's innovations. The internet brings disruptions, such as IP technologies and advertising based business models to the mobile industry, he explained, and went on to describe that while it's obvious that CDs are selling less due to the Internet, it is a direct example of the way in which the web has become the platform for experiences. With MySpace and YouTube, people, create, consume and swap their content online.
Though this creates new ways of selling products, Feeny discussed both the positive and negative aspects of the new landscape. A low quality product is found out immediately due to blog feedback and online discussion and consumers now prefer to choose their own most convenient way for them to enjoy experiences, be it Windows CE devices connected to the internet, pocket sized devices or otherwise mobile devices.
Feeny argued that due to the increased choice, entertainment was no longer focused on the living room, but completely mobile and that this was in fact a benefit, as mobility allows the experience to be enhanced, giving the example that mobility can enhance web experiences, such as the use of maps and can more easily allow contextually relevant, tailored personal content. Feeny gave some statistics to back-up his argument that mobile devices are now a primary entertainment device, showing that nearly half (44%) of respondents use their mobile as primary camera, over 67% expect mobile to replace mp3 players and 36% browse the internet regularly using mobile devices.
With this trend, Feeny offered that mobile games will become true "mobile games," seen as one big part of the larger games business, with mobile games today really just "games that are played on mobile devices."
Feeny stated Nokia's commitment to the aim of true "mobile games", by saying that Nokia will ensure mobility for games (for instance allowing browser games to be played easily on mobile devices) before going on to show more statistics, this time to show user interest in mobile gaming. 54% of S60 device owners use device for games, but Feeny intriguingly admitted that 85% of that number are playing pre-installed games. However, 33% listed gaming as a feature that influences their phone purchase, and 50% of new application installations are games. All numbers were taken from 5500 respondents in Nokia markets.
---
Using these numbers, Feeny claimed that gaming is a major untapped opportunity for suppliers, with 50% of mobile phone owners willing to buy games, but less than 5% doing it and then less than 2.5% making a repeat purchase. Key barriers, Feeny said, included unfriendly end to end shopping, with users unsure even how to purchase new games, the unpredictable quality of the game experience and the fact that games for mobiles are, in many cases, not yet true "mobile games."
Having taken the angle that the internet's improvement has been largely a socially influenced one, Feeny looked at the concept of "social gamers." Social gamers, he said, desire superior gaming experience and want great games, but they also want a catalyst for social interaction, feeling that competition and status are important. He went on to state that they are wiling to spend more and that from research they have found that 22% of mobile owners share these attitudes and a further 30% have some level of interest. Feeny argued that a solution that meets the need of social gamers must be found.
The challenges of making that a reality include the unpredictable business model of mobile gaming, unfriendly shopping experiences, bad games and the challenge of porting to hundreds of handsets, and so the requirements of social gaming on mobile include new business models with robust backend systems that addresses existing and alternative channels, seamless end to end consumer experiences and the highest game quality.
From this point, Feeny looked exclusively at the way Nokia is trying to do things, explaining keywords such as "Discover, Access, Buy, Play and Share." Aiming to allow users to easily find info on games, download and try out games before purchase, offer multiple purchase options, allow players to jump into game instantly, find others to play with, earn points, join tournament and take part in events and finally allow players to share their games with friends and rate and review games.
Feeny went on to explain how the new N-Gage platform fits these ideas, by offering a shopping mall with storefronts (to find titles), fitting rooms (to "try & buy"), and buy options which feature multiple purchase types, but was also an open distribution system, allowing Nokia stores but also operator stores and independent retail and aggregator stores. He also stated the commitment to offering developer support through certification, SDK, tools, hardware, training and documentation from a developer portal, a "one-stop shop" for all developer needs. Feeny also discussed support for game marketing.
Finally, Feeny mentioned another Nokia solution for Java games, [email protected] mobile, a publisher developer platform for making games connected plus an operator service platform for creating "fun, connected" casual games for JAVA MIDP 2.0 devices.
Ultimately, Feeny argued that on mobile, convergence had finally arrived, offering many opportunities but also challenges and stated that the ever-evolving consumer landscape meant that traditional mobile games will face new competition. To succeed, mobile games need to change from just games you play on mobile to true "mobile games," but this is merely evolution, not revolution.