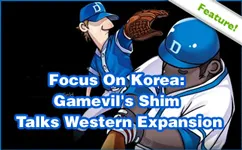 With the rise of microtransactions and the rise of titles such as
MapleStory
in the casual MMO business, South Korean gaming has been growing in respect and relevance in the West.
There's a lot to learn from this rich, constantly evolving market, which grew up along lines so different from the U.S., Japan and Europe that it's difficult to compare -- and compete with.
To that end, Gamasutra has
spoken in-depth
with a variety of members of top companies in the market, conducted principally at the annual Gstar trade show, to offer their perspective on the industry in 2008 and going forward.
In this previously unpublished interview, Gamasutra spoke to Charley Shim of mobile game publisher Gamevil, best known for
Nom
and
Baseball Superstars
. Surprisingly, Gamevil wanted to join the online games biz in Korea before deciding to focus on mobile, and Shim explains why, along with his company's big plans for Western expansion.
How big is the Korean mobile game industry right now?
Charley Shim: The Korean mobile industry is almost 100 million dollars, just for the content providers. But the gross market size is nearly 200 million dollars.
So content is actually half?
CS: Yes, but the revenue share between content providers and carriers is 85 to 15.
85 is carrier, right?
CS: No, 15 is carrier.
Oh, really? Wow.
CS: It depends on the content. For some subscription-based games, like multiplayer games or something like that, we share half-and-half with carriers.
I see. Can you talk some about Gamevil's history?
CS: Gamevil was actually established in the year 2000. Initially, we focused on online game publishing and development. Actually, at that time, online games ruled the Korean game market, so we tried to be the number one online publisher in the Korean market. But the other competitors did really well.
From 2001, we started in the mobile game business with an objective for the first time. As time went by, our share of the mobile games was increasing over the online game revenue, so from 2004, we started to focus on mobile games, and dropped the online game business. From that time on, we've been doing work in the mobile industry.
Did you actually release any online games?
CS: Sure. For the first time, we launched some board games, like a Korean traditional poker game and a Western poker game, and
Tetris
as well, and other online kinds of games.
But unfortunately, in order to publish
Tetris
, we had to get the license from TTC. The license fee was really high, so we couldn't get the license from TTC.
How many employees does Gamevil have?
CS: Now, we have 110 in Korea, and 10 people are there in LA.
And how much of that is development staff?
CS: Development staff is 80 percent.
How has the Western expansion been? Has it been difficult? Because I know the market is extremely different.
CS: Actually, the global business was and is very difficult for us to penetrate, since most carriers in the United States are closing their doors for new players like us. In order to get into the U.S. carriers market, we need something different from other players. So we pitched our innovative and creative titles, like the
Nom
series and the
Skipping Stone
series.
So we got first accepted from AT&T Wireless with
Nom
, and we launched it in September of last year. As for Verizon Wireless, we developed an MMORPG title,
Path of a Warrior
. It was appealing to the head of games at Verizon Wireless, so we could publish the titles.
Path of a Warrior
actually reached up to number one in the action channel, so with the achievement, we could get accepted with other titles, like
GT Drift
and
Omega Squadron: Annihilation 3D.
It seems like it's difficult to put out original games in the U.S., because it's very much a license-based market. Have you had difficulty with that? You just see a name on the deck, and there's no better or easier way to get games these days in the West.
CS: Actually, it's different from the Korean market. Generally, the U.S. market is full of lots of branded games, and as you mentioned, it was hard to get onto the U.S. carriers. When we pitch our titles to the carriers like Verizon or AT&T, we put an emphasis on our quality, creativeness, and gameplay -- like easy-to-play and intuitive gameplay. I think it was appealing.
In order to get the higher deck position and tech support from the carriers, we actually did a naming survey to the customers in Los Angeles, so we could get a better title name from the users.
For example,
GT Drift
was an output from the survey, and
Baseball Superstars
as well. In the case of
Baseball Superstars
, it topped
Baseball Showdown
on AT&T Wireless. I think to stand out from the competition with preexisting publishers on the carrier's deck, we need to name the title properly for the market. That's the key factor.
Interesting. How important is name recognition of the company in mobile? Do people buy games because they trust the name more, or do people even know who's making their games?
CS: I think at the first stage of business, the company name does matter. Likewise, in the Korean market, we actually didn't enjoy popularity due to the company name. We were famous for our staple titles, such as
Nom
and
Baseball
.
At the first stage, I think we should have competitive titles for the first time, and then the next stage is to give the users company awareness through lots of channels, like websites or video advertisements or something like that. I think in the U.S. market, we are still at the first stage. The first thing we need to do is invest in the quality of the game, and then we're going to move on to the company brand awareness.
If you have a number one title, does that actually mean you're making money, or just that you're better than other people that are also not making money? I know a lot of people are struggling in the U.S. space because of the carriers.
CS: That's a good question. Before we were number one in a particular channel, we couldn't predict our business, since it wasn't profitable. But when we did a number one in the genre, the project was somewhat profitable.
The reason why it was somewhat profitable and not much more profitable is we should get more publishing power. We need to publish our titles not just for one carrier, but for all the carriers. I think mediocre titles just break even, but if your title is number one, it is more or less profitable.
Will you ever expand onto other platforms, like the Nintendo DS?
CS: It's good to expand to other platforms like NDS. We actually did some research for a dream project on other platforms, but -- and it's just my opinion, and not official yet -- I think that casual games will lead the market to digital convergence.
So if we do well in the mobile games industry with casual games, we can't be a number one in the games industry when the year comes to platform convergence. I think moving to another game platform is good, but it's not the right time for us yet.
In the U.S. market, it seems the DS is a much more viable platform. More people are interested in buying DS games than mobile games, even in the casual space. Do you think that the console business is worth being in, in Korea? Because I know it's very small at this time here.
CS: In Korea, online games are more popular than console games, and everyone is crazy about online games. I think console is not worth doing just here in Korea.
You have mobile-based MMO-type stuff -- is it possible to do microtransactions within them?
CS: Sure.
How do you do that within an actual game environment? Do you just partner with service providers to have the transactions and the profit sharing and things like that?
CS: The service provider is the carrier. In terms of microtransactions, we usually don't share the profit from microtransactions with the service provider. Actually, when it comes to MMORPG games, we usually share the subscription revenue with the carriers, like half-and-half, or 60-40.
Do you know if anyone has done an MMO that is free to download and play, but then microtransaction-supported on the phone?
CS: I think the users still think mobile games are not free. I can't say there is any room for us to take advantage of that characteristic of the market.
There is not room?
CS: And on top of that, only the revenue from the microtransactions is not sufficient for us. Microtransactions are just a new business model to break the current stalemate market situation. We can't take out the content download fee from the current business model.
People I've spoken with are slightly worried about the current state of the Korean industry, because of reliance on microtransactions and MMO-type business models, which may be creating a culture of game players that do farming, aiming to make their living off these games, instead of playing them for fun. It's a strange kind of group-- like people aren't necessarily playing for fun.
CS: It's not strange to us, since that kind of phenomenon was happening already in the online game industry. It turns out on
Lineage
, people were already buying and selling the items they would find in gameplay. So now mobile game players are buying and selling their items with their mobile games. So we think it's not awkward to us.
I think maybe one reason why a lot of games coming over from Korea to the U.S. are not doing as well because we want just the fun, not the grinding and the money.
CS: I saw news that U.S. game players who have been playing
MapleStory
and
KartRider
are buying and selling their items through the game. So I think as time goes by, the U.S. game players will... be educated to that kind of situation.
So what are the next steps for Gamevil?
CS: The next step for our business will be putting more microtransactions in the future on our upcoming titles, and expanding the mobile game market much more. Simultaneously, we hope to be a top ten [mobile] publisher in the U.S. market.
Are you going to stay in mobile for the foreseeable future?
CS: Actually, we are not clinging only to the mobile game business. If we catch on to other business opportunities on other game platforms, we're going to do that.