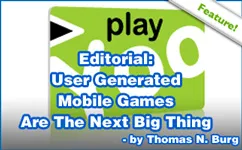 Easy to pick up, easy to play, the mobile casual game is the perfect distraction to entertain us while waiting for the next train or a late friend. Likened to a "game snack," the casual game requires little commitment and minimum investment-meaning players should never have to resort to reviewing a tutorial or have to free up hours in their schedule to get through a game.
At the console level, everyone from Nintendo to Ubisoft and Electronic Arts has put increased interest in the casual, pick-up-and-play game as a way to reach a wider base beyond the core gaming demographic. The personal and virtually ubiquitous qualities of the mobile phone make it an ideal platform for the casual game, letting us fill up small slices of time-both at home and away from home-with little commitment.
More and more, we're seeing that mobile casual games are indeed for everyone. Women outnumber men in terms of numbers and revenue for mobile gaming. And mobile gamers encompass a broader age range than the typical console gamer.
The next logical stage is the democratization of game design-where just as anyone can play games, anyone can now create games. User-generated games tap into the seemingly universal human desire for creative self-expression-as well as sharing those creations within a wider community. Whether it's in the form of video, music, or text, social networking and self-content sites have become a mainstay in today's Internet, as the consumer becomes content-provider.
Let's take the obvious example, YouTube. For decades, television has appealed to a wide number of viewers through different programming-all produced by professional crews. Founded just three short years ago, YouTube has unquestionably had a profound impact on pop culture, media, consumerism, even politics. Every day hundreds of millions of videos are viewed, and hundreds of thousands uploaded. YouTube isn't successful merely because everyone loves videos. It's because anyone with a camcorder (no matter where they fall on the hobbyist to professional spectra) can and does contribute to the site.
New upstarts are taking the democratization of story-telling to the next level, replacing the camcorder with the mobile phone and letting ordinary people everywhere capture, stream, and publish video from their mobile phone. Now without expensive video equipment, people are able to share slices of the world around them with family and friends.
And just as with mobile video, the same human desires for story-telling, community, and self-expression can extend into the world of mobile gaming.
As a community-based platform for mobile casual games, Playyoo is a great outlet for indie Adobe Flash Lite developers to showcase their talents. With a fun, social experience (such as community ratings and commenting, groups, tournaments, rankings), Playyoo is encouraging the widespread use of games across an even broader group of mobile users.
The majority of casual gamers has never touched a line of code (or could tell you what Flash Lite is, for that matter). However, at Playyoo we're letting them express themselves by putting their own twist on popular games, like Tic-Tac-Toe, Snake, Pairs, Ping-Pong, and Lunar Lander. Starting with a series of game types (i.e. Tic Tac Toe), Playyoo visitors can spend anywhere from ten minutes to one hour creating their own game.
At the most basic level, Game Creator lets you change the appearance and graphics of a game-for example, colors and backgrounds. People can upload photos of their last vacation to create a very personal version of Pairs, or add their least favorite politician to a Revenge/Whack-a-Mole game. For many, this is an amusing way to kill several minutes-much like how Nintendo's Mii lets users create their own avatars for games.
However, Game Creator takes the idea of customization one step further-letting people change the way games work, including rules and behavior. For example, in a version of "Lunar Lander," users can define their own spaceship (and we've seen camels, crabs, and much more). They can also change the gravity of their "planet," which controls the speed of freefall for the spaceship (or crab or camel). Budding game designers can draw their own planet's surface, or upload a photo.
The ability to create and personalize a game offers a chance to participate on the site at a deeper level. For example, after creating a game, users can publish it, encourage friends to play, check out who holds the high score, see how many have played, and interact with players through message boards. Novices have the unique opportunity to see their games placed alongside those created by long-time experts.
For some, game creation might be an amusing lark, a way to pass a few minutes; for others, it might spark a deeper appreciation for game design-and a new way of viewing professionally-crafted games with closer attention to the graphics, game rules, and other nuances. And perhaps, it will even inspire a few people to start developing games of their own.
[Thomas N. Burg is Playyoo's Marketing Manager and Evangelist.]