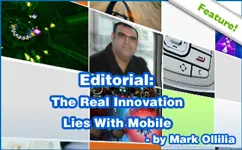 Is 2007 going to be the year of mobile gaming? It is certainly a big year for us at Nokia. In mid this year we launch our next generation mobile gaming experience and we're excited about its potential impact on the industry.
The mobile gaming market has grown massively since we launched the N-Gage back in 2003 and the huge installed base of over 2.5 billion mobile devices, means a market potentially several times larger than that of the console market. So whether we are in the year of mobile gaming or not it's one of the most exciting eras that mobile gaming has ever seen, one which takes it beyond traditional boundaries.
Mobile gaming is undoubtedly gaining popularity but innovation will be what encourages casual and hardcore gamers alike to accept the mobile phone as a gaming device, the discovery of new ways for players to engage and interact with games and their environment. The mobile is an amazing entertainment device and we are now starting to push the boundaries of its gaming capabilities.
Today a mobile device can contain a multitude of radios: GSM, 3G, HSPDA, Bluetooth, FM receivers and even GPS. This new super-connectivity has not just affected our lifestyles; it can also give us many of the enablers to get the most out of gameplay. The mobile gaming experience is all about choice. It's about playing your way, on your own or with friends around the world or even next door. It's about a quick five minute snack or entering a compelling virtual world and playing for longer periods.
This is something that no other medium can offer. While console games may offer rich content, they still require us to make an appointment: we must be at a certain location, at a certain time, to play a certain person or group. With mobile gaming we enter a whole new world of gaming with fewer barriers.
From Asia to Europe the mobile industry has become synonymous with innovation, and those involved in the mobile gaming industry must take this innovation and apply it to the gaming world.
For mobile gaming to maintain its momentum and attract new players we need to be innovative across the industry. This applies from distribution through to the games we are playing. If content is king then distribution is King Kong. There is no sense in creating innovative, rich and rewarding games if players cannot discover and experience them in an engaging and convenient way.
---
New networking and application distribution features such as allowing customers to pass on limited versions of games to friends, which can then be upgraded to full versions over-the-air or via the Internet is an extremely compelling distribution model for mobile gaming. A recent Nokia games study showed that mobile gaming habits worldwide are evolving to more frequent and longer playing times with the need for more convenient gaming experiences by way of trialling games, getting games over-the-air as well as over-the-internet and paying for games outright, even making purchases from within the game itself.
One of the big successes of N-Gage was N-Gage Arena, with almost 700,000 registered users this innovation allowed mobile gamers to meet, play and interact with each other. Connectivity will continue to play a big part in the mobile gaming industry as we move to the near to mid future. This is an area that the mobile industry's innovation will put mobile gaming at the forefront of many new and exciting technologies.
One such technology is augmented reality. At the International Mobile Gaming Awards (IMGA) in 2006 AR Tennis received the Technical Innovation and Grand Prix award. AR Tennis is an innovative Bluetooth and camera and game concept. By using the camera in a mobile phone, a player can track a marker which displays a tennis court on the screen. Two people can then play opposite each other, use the phone as a racquet, and then play tennis, with the ball, the court, and the other player on the screen. AR games can be as simple or as immersive as gamers desire. In its simplest form using the camera on a mobile phone to play simple word games through to location based games that allow the player to fully interact with and discover their environment.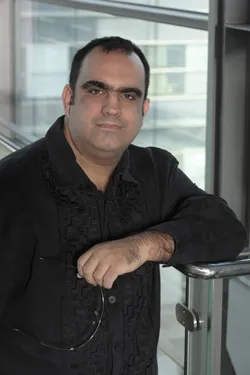 Mark Ollilia
The biggest challenge facing developers of augmented reality is the need to know where the user is located in reference to his or her surroundings. There's also the additional problem of tracking the movement of users' eyes and heads. For augmented reality to reach its full potential, it must be usable indoors and out. Currently, the best tracking technology available for large open areas is GPS which is now beginning to find its way onto mobile devices and smartphones.
With GPS your game could potentially follow you - be projected onto the real world around you, and you could, literally, be in it as one of the characters. Researchers have already created a prototype game that combines a first person shooter with augmented reality, the potential is there to create some truly innovative AR games for mobile where players are connected to their environments just as they are to a network. The winner of the IMGA 2007 Grand Prix award was a location based game to emphasise the trend!
---
Haptics is another method of connecting the player to the device and beyond. We have seen phones that feature shake, stroke and squeeze sensors, this is only the beginning. Traditional keypads have been designed for dialling numbers and texting but as the role of the mobile expands into entertainment and gaming functionality, haptic technology is an intriguing way of adding innovative features. One is the development of exciting accessories for mobile gaming. Just like sound and vision, other senses like touch and feel and even smell can also be rendered digitally which opens up a whole world of possibilities.
This is an exciting time for the industry, whilst it's easy to get carried away and perhaps overestimate the future let's not underestimate the present. Mobile gaming is still a relatively young industry when compared to other gaming genres. Yet things have come a long way since Snake was embedded on early Nokia mobile phones in the 1990s. Recent data from IDC and Montgomery shows that the number of mobile games sold was forecast to outstrip the number of console/portable games sold in 2006, with mobile games sales set to continue to grow until they are projected to double console games sales by 2009.
Higher end devices with better screens, hardware graphics accelerators, connected multiplayer options and faster processors are already beginning to attract more and more people to mobile gaming where once they scoffed. There are 2.5 billion mobile devices in the world and an expected 250 million smartphones will be in circulation by 2008. That's a huge potential market, and as mentioned many times before much, much larger than the console market. When the mobile gaming industry does things its own way, without following the lead of the console and PC markets we see real innovation, that's what we must all focus on as an industry. The mobile platform offers us huge opportunities, unlike any other gaming or entertainment platform, so we must embrace it as an industry.
However, at times, no matter how exciting the technology and opportunity is, we need to always think of the user. Mobile gaming has not addressed the challenges of discovery and delivery of content to a satisfactory user experience. This is of great importance to Nokia and drives our commitment to delivering a great experience.
Ultimately for the mobile games industry to reach and exceed its potential it's the responsibility of everybody - operators, developers, manufacturers, retailers and researchers to continue to innovate. With this innovation 2007 can be the year of mobile gaming, as can 2008, 2009 and beyond.

[Mark Ollila is Director of Technology and Strategy and Head of Games Publishing at Nokia.]