---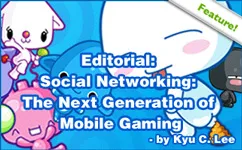 Social Networking has become a phenomenon in the U.S. with the advent of websites such as MySpace and Facebook, but when it comes to mobile games, the popularity of social networking is already on the rise in other countries. Gamevil, the top publisher in Korea, has already developed games that allow players to network with others through their mobile phones. In other words, this isn't about social networking through websites like MySpace. It's social networking through mobile games.
Previously, mobile games had been limited to single player games. Gamevil, however, has enabled the networking of single players in their games, thus expanding the mobile gamer's experience. The publisher currently leads the trend in Korea not only with its large portfolio of games with multiplayer features, but also with its innovative ideas and application of social networking in its games, revolutionizing the mobile game industry. In one of Gamevil's social networking games, Mini-Lovey, players can raise pets, decorate their rooms, visit the rooms of their friends, and play multiplayer mini-games, all through their mobile phones. Social networking is established among many users, except through mobile phones instead of the Internet. Not only do players have the option of visiting other players' rooms, but also sending messages to their friends through a capsule. A capsule contains a new pet the receiver must raise, but in order for the receiver to view the message that was sent to him, he must raise the pet first until the pet matures. This concept encourages game play while also connecting players, allowing them to communicate with friends through the game.


Mini-Lovey
Another innovative social networking feature Gamevil has incorporated in their games is the idea of "School Competition," which is currently used in Skipping Stone 3, the sequel to ROCKin' Stone, in Korea. This social networking model encourages viral marketing through recommendation, cooperation, and competition. The game works where players participate in a competition either individually or as a group. The individual or team with the highest score will win a prize. If a team wins, each team member will receive the same prize. Through this social networking system, players begin recommending the game to others, thus forming groups. Cooperation occurs. As players form groups to combine their scores in order to achieve the highest scores, they are also competing with other groups. Social networking naturally comes into play as players must now interact with other players in order to increase their chances of winning as large groups. A nation-wide Skipping Stone promotional event called "School Attack," which used the "School Competition" model, was held in Korea. The participants represented their schools and classes to compete with other groups in this event. Gamevil's Skipping Stone 3 clearly shows how recommendation, cooperation, and competition successfully create social networking and promote the game.
Social networking has been applied in other ways to Gamevil's games as well. Pro-Baseball 2008 (known as Baseball Superstars in the U.S.) uses a new game point system in Korea called "G-Point." A G-Point serves as the game's virtual cash and is also transferable among players, which is where social networking is established. With G-Points, players can purchase items to enhance the overall stats of their characters, an alternative to developing ones character by playing for a long time. In Nom 3, Gamevil's popular 360 degree rotating mobile game, players can exchange game backdrops among one another as opposed to obtaining the backdrops by completing different levels in the game.
---
On a more advanced level, Gamevil has also incorporated various multiplayer features into their games. No longer are games limited to only term-based multiplayer poker rounds, as now, mobile games have evolved to even enable real-time network battles. Gamevil incorporated this new revolutionary technology in Baseball Superstars NET 2007, where players can play against each other, such as in a batter vs. pitcher game play, all in real-time. Lapis Lazuli, another one of Gamevil's multiplayer games, has the real-time network battleship feature, where players fight as guilds on a separate client called Battle Royal. A five vs. five ship battle enhances the player's experience as guilds cooperate and battle their opponents over the ocean with weapons they customized. One of the social networking aspects of Lapis Lazuli is that the real-time network battles encourage the creation of these guilds as players must communicate with one another and choose which ones to ally with and which ones to fight against. Other multiplayer games include Mini-Lovey, where players can play multiplayer real-time games as well. With the largest portfolio of multiplayer-featured games, Gamevil has shown how successful these types of social networking games can be.
"We've customized the SNS (Social Networking Service) features according to each game's concept and property," said James Song, CEO of Gamevil, Inc. "As a result, we could promote high participation among our customers and our SNS has been a smash in the market. Now, this feature has emerged as a new trend in mobile gaming, and in terms of revenue generation, it has showed its potential forecasting a new business paradigm."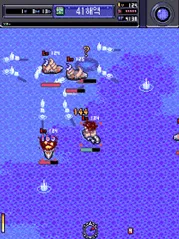 Lapis Lazuli
Gamevil is now bringing these innovative social networking games to the U.S. This winter, Gamevil will be launching Big Trouble On Little Earth, the first title ever on AT&T to have the Challenge SMS feature. Big Trouble On Little Earth has various fun mini-games that players must achieve high scores in. After completing a mini-game, players have the option of sending a challenge note with their high scores to their friends who also have the same game. The receiver, who would see the challenge as a text message on his mobile phone, must then try to beat the high score of the challenger in the same mini-game. This further promotes game play among users and also encourages P2P distribution as users would recommend the game to other players and send challenges to them, thus creating a viral effect. The Challenge SMS feature has already proven to be successful in networking players in Korea when the game was first launched there. Currently, the total number of Challenge transactions has reached 784,239 in Korea. Korean Internet portals are overwhelmed by the number of users asking other players to challenge them, as users would even go so far as to post their phone numbers on a bulletin board.
Social Networking is certainly the next generation of mobile gaming, enhancing the gamer's experience and inviting more players to enjoy the games together as a community. As this trend in mobile gaming correlates with the networking trends in other platforms, such as console and online gaming, all eyes will be on how this social networking craze will evolve from hereon. Currently, Gamevil's the leader of social networking in mobile games. Soon, in the U.S., as games like Big Trouble On Little Earth become more common on carriers' decks, Internet sites such as Facebook and MySpace will not be the only phenomenon driving social networking. Mobile games will as well.
[Kyu C. Lee is President of Gamevil USA (www.gamevil.com), the North American arm of the South Korean developer and publisher of mobile games. Kyu has been with Gamevil since the year 2000, and has played a key role in the evolution of Korean mobile gaming. Kyu graduated Seoul National University with a B.S. in Physics.]