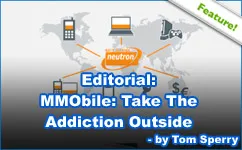 Social networks are thriving, and Massive Multiplayer Online games (MMOs) are leading the way to an increasingly social and connected world. The leading MMO, World of Warcraft, recently surpassed 10 million players, all with a vested interest in the ever spinning fantasy land. Such persistent worlds continue to pulsate even as the player is away from their PC, and the detached feeling that a gamer typically experiences signifies a void in service offerings. With current revenues in the billions, it's a void that can be addressed with existing technology and know-how.

Some of the core features that these MMOs have in common include teams of players or "guilds", text and voice chat, friends lists, auction houses, and even postal services. All of which are familiar territory to mobile technology providers that have experience leveraging different mediums to extend the game and its community. These features can be applied to platforms beyond just PC-based MMOs and incorporated into games on the mobile phone, representing a huge opportunity to reach a true mass market of gamers.

Why MMObility?

MMOs already enhance the user's experience by providing opportunities for connectivity, offering standard features such as buddy lists, chat, item trades and sales, as well as "guild" or team event updates that continually take place even when not logged in. At the same time, the mobile device enables people to stay plugged into one's social and professional networks anytime, anywhere. It is a tool whose core value lies in its communication abilities, supported by sophisticated back-end technologies such as our Neutron platform. Since these social networking and community features are standard in the top MMOs worldwide and are commonplace on a mobile device, why not bridge the gap?

Monthly MMO subscriptions are growing exponentially with existing players such as World of Warcraft, Lord of the Rings Online, and EVE Online, and many new and innovative entrants such as Pirates of the Burning Seas, Warhammer Online, and Age of Conan: Hyborian Adventures. It can be reasonably assumed that these players carry a mobile device. With MMOs growing in popularity worldwide, an existing market of millions of mobile users exists, and companies are in an ideal position to offer a downloadable application that allows the player to remain connected to their core social network within the game.

Imagine the following scenario:

Your guild schedules a raid to occur at 10:00pm tonight; you receive an alert on your mobile as soon as it's scheduled;
You're curious if Quizzard from your guild will be there to help out and offer some crowd control, so you launch the mobile app, notice that Quizzard is logged in either in-game or on his mobile, text him, and receive confirmation that he will be participating in the raid;
To increase your chances for success in the raid, you decide to upgrade your weapon. Launching the Auction House feature within the mobile app, you purchase gloves with fire resistance, as the raid is full of fire elementals.

These are just a few possible actions that a gamer could take while on the run, directly from their mobile even though they are away from their gaming rig.

Taking the focus off of MMOs, just for a minute, the same opportunities exist for various virtual worlds, online games and communities that span all age demographics. Millions already play Second Life, World Golf Tour, and Xbox Live. Yet, the same rules are in place – it's not about recreating the experience on the mobile device, but harnessing the mobile's strength to extend in-game and social network connectivity to the mass market consumer technology of our time. Some of these segments are being addressed today, yet MMOs -– perhaps with the strongest community of gamers loyal to the particular experience –- seem slower to address these needs.

A mobile device is not a replacement for computers or gaming consoles, as it cannot replicate the same interactive and physical gaming experience. Certain aspects of a game that exist with the PC and console might not be possible on a mobile phone any time soon. However, focusing on the mobile device's strengths, can offer a unique mobile extension of a PC or console based game that enhances the player's experience. Not only will players keep "tapped in" to their favorite game, but such capabilities will also help to differentiate a game from other competitors, increasing brand loyalty while offering a new revenue stream in the form of monthly gaming subscriptions.

Make It Happen Today!

Technologies exist on the market today that can make these things happen and more. Personally speaking, Exit Games' core business has been to introduce these social features to the mobile gaming community, traditionally working with mobile devices and more recently extending connectivity to the PC and gaming console as well. We have no doubt that the connectivity features of the mobile phone yield an unprecedented and multifaceted opportunity for advancement within the gaming industry, and an immediate need is evident in the world of MMOs.

Introducing unique methods of communication to the growing MMO audience is not only a way of filling the service void, but also a surefire way of improving the gaming experience. Offering a simple downloadable application that allows players to stay involved in their favorite game, never missing a beat, even when they are away from their computer or console, will drive data usage and brand loyalty that all players in the industry will appreciate. MMObile is an opportunity waiting to explode over the next 10 years… how will you approach it?

[Tom Sperry (35) is CEO and President of Exit Games Inc. based in Portland, OR, a leading software provider for multiplayer games and communities. The Exit Games Neutron multiplayer platform connects game developers, publishers, and service providers with users all over the world playing via mobile phone, PC, or console. Prior to his role at Exit Games, Tom held senior management positions with HNC Software (Executive Director) and Looking Glass Studios (Director). Tom began his career at Microsoft Corporation, where he was an International Program Manager in the Games Division. Tom holds an M.B.A. from The Ivey School of Business, University of Western Ontario, International Executive M.B.A. Program located in Hong Kong, 2002-2004.]