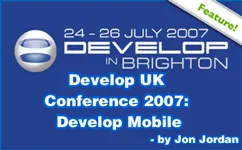 The Develop Conference 2007 in Brighton, UK, kicked off with its one day Develop Mobile event, basking in predicted strong annual sales growth, while also highlighting the obstacles that are perceived to be restricting the industry's wider growth.
Chris White, head of European studios for Glu Mobile, put the issue of porting into sharp relief with his statement that the company's recent
Transformers
game required 20,000 SKUs to cover all the handsets and languages needed for its global launch.
The increasing performance gap between high-end and low-end devices is making the problem worse, particularly in the case of 3D games such as
Project Gotham Racing
, he said, as such cases required what were effectively multiple games development projects to target standard Java, various different versions of Java 3D (such as the JSR184 and Mascot Capsule), and native 3D versions for BREW, Symbian and Windows mobile.
Other bits of the jigsaw puzzle still to be supplied, he argued, included improving direct2consumer channels so more and better information about games could be supplied to potential players, and reducing the data charges which saddle even supposedly free games with the cost of downloading. Networking, whether in terms of in-game billing, the delivery of episodic content, community or persistent online worlds were another areas White said needed to be explored.
As for improving the oft-criticised quality of many mobile games, he said there were many ways this could be done, whether by the combination of technical innovation to gameplay, such as in the company's use of Connect-to-Camera features for its
MyHangman
(enabling you to import photos of your friends into a simple Hangman game), or use of focus testers to better understand how players were experiencing their games, which is something Glu has recently started to do.
Waiting For N-Gage's Callback
Scan the headlines, and it would seem that there were obstacles in Nokia's way too. With a media and developer blackout concerning the precise details of the timing of the next-gen N-Gage launch, perhaps few members of the audience were surprised when Martin O'Driscoll, Nokia's UK head of games, announced it had slipped into Q4. Up to this point, the company line had been an Autumn release.
Still, there was good news too, as O'Driscoll revealed that Trip Hawkins' Digital Chocolate had signed up as a publisher for the new platform. The total release count for the launch period, which is expected to extended into early 2008, is now up to 35 games.
Ironically, the delay will also increase the potential install base for the platform, as there will be more compatible smartphones in the marketplace. As well as embedding the software in new phones, next-gen N-Gage will be available as a client download for users with higher enough specification devices, although Nokia has yet to formally announced which handsets will support the software.
Operators Operating Together
Elsewhere, representatives from three of the five UK mobile network operator joined hands to create an united front for the purpose of making the pie bigger for everyone. Held under the auspices of publisher organisation ELSPA, which is chairing their working party, O2's Anthony Douglas, T-Mobile's Neil Holroyd and Orange's Dan Keegan were joined by developer representative Fergus McNeil of IOMO to discuss various cooperative initiatives which are currently underway.
These range from setting unified release dates across all operators for certain high profile games, to defining guidelines for handset features and, more tentatively, thinking about how to make mobile communities work across all operators and possibly even publishers.
Still, the basic challenge of pushing mobile gaming wasn't underestimated. "It's hard to get customers excited by what they don't know," said Douglas, referring to the company's attempt to push Digital Chocolate's critically acclaimed game
Tower Bloxx
. "We tried to market it to them but it just didn't work," he revealed.
"£5 ($10) per game remains a huge barrier for mobile games," added Holroyd. "Some people are even scared by the term 'game'. When 3 [another UK operator] moved some of its title from the folder 'games' to 'puzzles', it saw a big uptake in sales."
Behind The Figures
Filling in the gaps of anecdotal evidence with some hard facts was Mark Burk of market polling and analytics firm M:Metrics.
"Around 25 percent of mobile phone owners have played a game but in around 80 percent of those case, they were playing the pre-loaded games that came with their handsets," he said. The percentage of user downloading a games is less than 10 percent.
Breaking down the figures on a country- by-country basis, Burk revealed the UK and Spain were the European countries with the highest proportional take up of mobile games sales, with France the lowest. A comparison of Europe combined and the U.S. suggested roughly the same level of sales.
Reformat these numbers by age, however, and it became clear that the U.S. market is more youth-focused with an 18 - 24 age peak, compared to a current shift towards 35 - 44 age group in Europe. This is also demonstrated in terms of the key game genres, with 3D games, action, shooters and sports more popular in the U.S., and quizzes and puzzle bigger in Europe.
Irrespective of location, however, the average mobile gamer is aged between 30 to 32 years old. The gender split is roughly 50:50 in most countries, although France, which is the least developed mobile market in Europe, is 60 percent male dominated.