Microsoft has had Xbox Live for four and a half years, Nintendo has the Mii Channel, while Sony is preparing to launch Home, so what's the score when it comes to connected communities for mobile gaming? Of course, Nokia's revving its next-gen N-Gage platform for a fall release, but that certainly wasn't on the agenda at the Brew Conference, as Qualcomm gave an overview of its ongoing work on the Brew Gaming Signature Solution in the "BREW Gaming Signature Solution Overview" session.
"Our plan is to provide a comprehensive solution that enables operators to deliver a compelling consumer experience, as well as publishers and developers to create the best games and continue to accelerate revenue growth," explained product manager, Jess Dominguez, of the service which due to be commercially deployed in mid-2008.
At present, much of the client-side technology has been completed, with the main focus for Qualcomm's engineers now the backend infrastructure that will act both as a virtual hard drive, as well as offering fine granular data mining options. How the service will be deployed and marketed by operators will be the final piece of the puzzle to be constructed prior to launch.
For, as with many of Qualcomm's technologies, Brew Gaming Signature Solution is being provided as a selection of optional features, with a consistent underpinning technology layer, so that operators can create custom services that mesh with their existing pricing plans and promotions.
On that basis, Dominguez demoed a reference client UI design (running on real hardware), to show what the user experience might be. At the top of the main screen was a dynamic banner ad, that could either be manually scrolled by the user, or automatically updated by the server.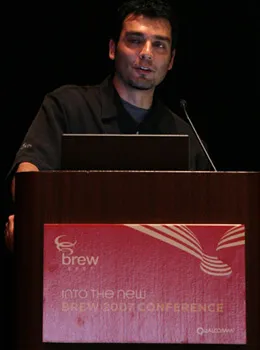 Jess Dominguez
Below this was the user profile. This consisted of an avatar, a unique gamer name, a pithy tag, and the gamer points system. Much as like Microsoft's Achievement points and Gamerscore, these points are accumulated as you play through games and act as a reputation system. Although it's unlikely to be included in the initial release, Qualcomm has plans to enable this user profile box to be embedded into web pages, so gamers can show off their prowess in the wider online environment.
Another important social interaction tool in the Brew Gaming Signature Solution is a buddy list, which can be populated direct from your phone's contacts. Combined with a dedicated in-service messaging system, and a presence system so you can tell if your friends are logged in, this will enable features such as the ability to recommend games to your friends, and issue challenges (such as try and beat my high score or laptime).
In addition, there will be a leader board system, which is something that as well as listing highscores, can also be broken down to the level of fastest laps or longest putts, depending on the type of game. Multiplayer games will feature a lobby system, where you can chat with other players before launching into a game.
The final part of the UI covered access to games, with the ability to download demos, as well as viewing new titles, which were broken down into categories such as sports, action, casual.
Offered as a white label option, the UI can be customised and reskinned for each operator.
But, as highlighted in the following question and answer session, one as-yet undefined issue with this operator-centric view of the world is that it's likely that most operators will take a walled garden approach, locking down community features to their own customers; something that would run counter to the ethos of open communities.