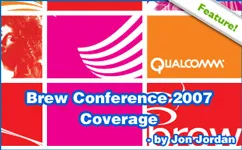 It was a surprising PowerPoint slide to find in a panel talk entitled 'Making Money with BREW 3D Games - a Publishers' Perspective', but nevertheless EA Mobile's vice president of worldwide studios, Travis Boatman, snuck it into his talk at the BREW 2007 conference.
Labelled 'Average game revenue per unique purchaser', the slide detailed the change of this metric for the top five North America mobile publishers between Q4 2006 to Q1 2007.
The figures were: EA went from $8.35 to $8.55 per unique purchaser; Gameloft from $7.36 to $7.83; Glu remained steady at $7.67 for both periods of time; while Namco rose from $7.02 to $7.42; and I-Play from $7.04 to $7.46. No source was provided for the data.
Of course, the point of the slide was to demonstrate that the increasing availability and uptake of 3D games is allowing publishers to push up prices.
"3D enforces the quality of mobile games compared to console games, as well as being more compelling even for casual mobile gamers," Boatman explained, as he showed footage of The Sims 2 Pets for mobile. "That's one of the reasons EA can charge more for its mobile games."

Travis Boatman
These higher prices are a necessity however, considering the extra cost of developing such content. Another of the panelists, Superscape's senior vice president of publishing, Donald Wisniewski, said the cycle for making 3D games, at between 9 -12 months, was around a third longer than for 2D games (typically 6-9 months).
They also require more sophisticated development tools and management processes, not to mention different skillsets such as 3D modelers and animators, which haven't previously been required in mobile development.
"But if you control your costs, you can be profitable just releasing 3D SKUs," said Wisniewski, answering a question about the commercial issues of making both 2D and 3D versions of games; something that despite the confusion created, the industry often does to try and hit the widest numbers of consumers.
Indeed, Superscape's revenues between FY05-06 and FY06-07 increased 145 percent, mainly due to its focus on higher quality, higher margin 3D mobile games such as Classic Mini Golf, he claimed. "And for certain games, prices can go higher. We'll drive off some sales but $10, $11, $12, $13 per game are all possibilities I think," he predicted.
In contrast, Gameloft's vice president of publishing, Gonzague de Vallios reckoned that the balance between pricing and sales volume still remains to be defined for 3D content. "Lack of install base is an issue for 3D games and I don't think we merchandise 3D content enough," he said, pointing out consumers didn't get specific information about whether a game was 3D or not, especially in terms of on deck selection. "I think there are more options for extra revenue streams in terms of the ability to download new weapons, tracks or levels," he said.
Also important for the European-based publisher, de Vallios bemoaned the slowness of the European mobile ecosystem to enable the mass market adoption of 3D games. "Symbian is trying to deal with 3D, but it needs to be pushed," he said. "3D on Java will eventually get better with faster processors, but the US is a long way ahead thanks to services such as [Verizon's] V CAST."