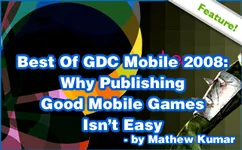 In one of the final sessions of GDC Mobile 2008 Jill Braff, SVP of Global Publishing at Glu Mobile offered discussion of "lessons learned" from a global publisher, giving insight into the challenges that Glu's sales team faces when pitching carriers.
Braff explored various reasons that could make publishing even a good game difficult: from limited handset support, crowded game genres and so on. One point she made sure the audience would question when they felt they had a "good" game in their hands: they might think the game is good, but does anyone else?
Braff recounted, "I started my video game career at Nintendo where every day we'd have kids come in after school and test the games and say what is good. It was amazing to see, and you have to get that kind of feedback."
Braff gave the example of the Glu Mobile title Space Monkey, where they made sure to focus test "everything from the name to the game play" and were pleased to see it endorsed "even by people who don't work for Glu mobile."
Trusting that the game that you're trying to sell is good, getting people to know is half the battle, Braff argued. "What we've heard over and over from consumers it's not about the price point, it's not about going through the carriers, it's about knowing what they're buying. From our early days we've gone out and sought brands that people would instantly know what they were, from Deer Hunter, Transformers to Centipede."
"Now, you could argue that with a brand like Transformers you would not know what the gameplay is," she admitted, "it could be an action game, but it could be a sudoku game for all you know! So it's all to do with the descriptions."
Braff remembered exploring carriers decks to find games that she didn't recognise and often found that many descriptions were not very well explained -- even with carriers that allowed a lot of text for descriptions. "Especially still on low end phones, and most carriers, honestly, that is still your retail experience," she explained, arguing the importance of a good text description.
Similarly, making sure your game gets launched on carriers at the right time is also a major problem. ""Not everything can be a Call of Duty 4 launch," Braff joked, "where it was a global launch day-and-date with the console release, but the reality is that if you arrange a launch date with a carrier but you are late, due to QA or something else, you are going to really burn your carrier. After all, they have to prioritize their slots."
Despite all of the difficulties she recounted of working with carriers, in conclusion Braff was wary of developers or publishers who thought that "off-deck is the answer," warning that ignoring the carriers would be very foolish. "Consumers primary methods of discovery and purchase is still the carriers, even in Europe," Braff said. "There's a lot of talk about solutions such as Nokia's Ovi and N-gage, Google Android," she continued, but explained that they were a "long way off yet."