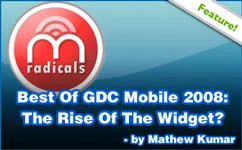 In this lecture, Paul Coulton, a developer and researcher at Mobile Radicals discussed "Mobile Games 2.0" using Widgets (seen as a primary enabler of Web 2.0, offering both ease of creation and distribution) on mobile phones as a platform for mobile game developers. Coulton used working examples and discussed potential distribution and revenue models.
Coulton's initial working example was Bombus, a simple one-button retro vector game widget which used scalable graphics (using primitives) and a time difference between frames to create the speed. Coulton explained how this development decision allowed the game to be played on almost any phone, showing that it was possible to "develop a game that takes into account the fragmentation of the market."
How did the game do in the widget community? "I think pretty damn well," Coulton beamed. Since release on October 2007, there have been over 130,000 users and over 4,000 downloads per day, as a result from user voting positively in favour of the game.
"This shows the power of the users themselves," Coulton said. "We didn't drive the pickup of the game, the users did. It demonstrates how faulty the concept of the operators deciding what is on deck is: why not let the users decide?"
A bonus of Widgets that Coulton was quick to advertise was that they allow "centralised, perpetual betas" as it is easy to update widgets "invisibly."
As an example, Coulton showed an example of the widget running on a phone right next to a PC where they had the source code open. As soon as they saved a quick alteration to the code, the phone began updating the widget instantly.
"The idea of perpetual data is a realistic possibility in this kind of environment," Coulton said.
With the second example, Boom! Coulton described how Mobile Radicals took in the concept of user generated content, allowing users to design their own levels and tile sets.
Though an admittedly "standard kind of platform game" by selecting a new user-created level players could receive a whole new set of tiles, turning from, for example, earth based world to a lunar world.
"I guess this is the bum line for a lot of people: how are you going to make money?" Coulton questioned. "There are many possibilities."
Possibilities Coulton outlined included Mobile ads, payment for new content, creating widget arcades, and creating spin-off sites, such as communities.
"We don't just have to think in terms of 'we get our money for our games,'" said Coulton. "Having talked to the widget guys they were thinking along the same lines, with the announcements of targeted ad streams on the dashboard and in-game, and the centralized billing includes click to SMS referrals, and micropayments. Remember, with the idea of perpetual data, you can update your game on the fly and keep adding new stuff for that revenue stream."
"It's end to end for developers: you don't have to go to a carrier or a publisher with your cap in hand," concluded Coulton. "We've heard countless times over the last two days that mobile games are at a watershed, we have to move on now: Widgets may be the answer."