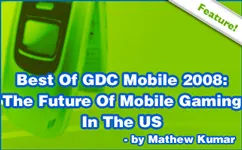 Gamevil's James Song gave the audience at GDC Mobile a "glimpse into the future" by examining case studies between Korean and US cultural phenomena, relating them to the future of mobile gaming and its business models, and arguing that a shift away from branded games towards original content would come in time for the US market.
Song introduced Gamevil, established in 2000, as a company "that has been through all of the phases of the Korean market."
"Right now I can say the US market is full of despair, and there seems to be no obvious solutions for it. A reliance on single game subscription models, which do not offer value on a monthly basis for consumers, and are difficult to un-subscribe from, are part of the problem," Song began. "In Korea, however, there are no such subscription models and the growth of the market is continuing, so I would like to use the example of Korea to explore the future of the US market."
"In Korea in around about 2002 there were a lot of popular brands from other entertainment industries swamping the market, but since then publishers have began to move away from that," Song said. The reason, he argued, that these brands were initially popular was because they, in conjunction with deck placement, were the major way which consumers made their initial purchase of mobile games.
However, he went on to explain that repeat purchases tended to be powered by "external discoveries", rather than just downloads on deck. Gamers discovered new titles through searching online and word of mouth, where brands were not helpful and so original titles were able to thrive.
As an example of the power of marketing mobile games using other methods than simply relying on deck placement, Song showed some TV adverts Gamevil had used, and the "Nom dance competition" that they ran at schools: videos of which were uploaded to YouTube in Korea and became a viral hit.
Marketing, however, was not what Song put the popularity of non-branded games down to. "What publishers should think about is games that use what mobile has that other systems do not," Song advised. "Our game Nom started a trend in Korea with its revolutionary idea of rotating the phone."
Showing Nom 3 gameplay, Song revealed that each of the Nom titles had sold over a million copies in Korea.
"With these highly successful original titles, publishers were very willing to move away from branded titles," Song said. "But in the US publishers are not willing to move away from brands. But we strongly believe it is the future of mobile gaming in the US."
The other thing that publishers must take advantage of, Song felt, included the "core purpose of mobile phones: connecting people."
"Social networking is a proven market in the online PC gaming market, so we saw no reason that it could not work on mobile."
Song showed Gamevil's social networking games, which include cross-carrier network games, both turn-based and real time. "There were some difficulties in sending packet data [between carriers] so we worked to create new ways to socially network that would also lower the cost burden of sending data for the consumer," said Song, describing "Challenge SMS" an SMS system for games where scores are sent by SMS between users. These challenge playersto beat each other's scores, and was recently used in the US release, Big Trouble On Little Earth.
"As games become more social, we need more sophisticated billing methods, such as micro transactions," Song continued. "Monthly billing fees can be very frustrating, especially for teenagers."
"We started using micro transactions to allow users to purchase new levels and characters, but we needed something more sophisticated, so we created 'G-points'", explained Song. "Through this virtual currency, users can give G-points to friends as gifts, and can earn them during gameplay. But they can also buy them with real cash, giving players a 'short cut' if they wish."
Song showed a demonstration of Baseball Stars 2008, where he purchased a new helmet for his character with G-points. "All of Gamevil's games launched in Korea since last year have involved microtransactions," he said, and revealed that certain games, such as Lapis Lazuli, Baseball Stars 2008 and Mini Lovely made almost 50% of their revenue from completely optional microtransactions.
Song concluded: "Most carriers in the US are just selling games as if they are factory goods. Games are not hamburgers. They should be treated as interactive media."