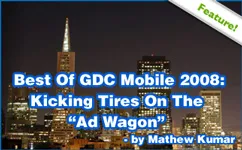 Advertising-supported mobile games have been called "the best distribution model for mobile game developers." This session, a roundtable with Greystripe's Michael Chang and Floodgate Entertainment's Matthew Bellows investigated that claim and many others in the aim of understanding the viability of the mobile ad-games channel.
"I think from the publisher's perspective we really are the idea way to launch your content," Chang began, introducing his service, Greystripe's AdWrap. "You can upload to us and within a week you can be live not only on Gamejump.com but also all of our partners."
The audience quickly began to take part in the roundtable, with one member asking if advertisers required a certain number of SKUs to be uploaded (to reach a certain level of handsets.
Chang explained, "We license the publisher's game they give us all the content (they give us all the SKUs, their ports) and we decompile the games and add our ad clients to them. That's the first part of the business. Distribution is the second part, and then there are the advertisers. Advertising is typically targeted based on country, or let's say game genre, but the advertisers don't typically care about the SKUs, but we do report to the advertisers exactly how many impressions are seen. Our model is that we get paid for every impression."
The audience asked for further explanation on exactly what the effect for the consumer was: "We did a lot of experimentation in terms of what would work for the consumer," Chang described. "We initially had a wait time, but the consumers were becoming confused about it. But now they can skip, by hitting any button, as soon as they wish. It's totally up to the consumer choice."
Bellows asked, how successful has this been for developers?
"How much money [developers make] will depend on the content. Some will make thousands of dollars per month and some will honestly made pennies a month," Chang said. "It's a channel of distribution that rewards great game quality as opposed to good deck placement.
"Take Tower Bloxx from Digital Chocolate. That game does phenomenally well on our channel because people love it," Chang said, before mentioning that one "very small" independent publisher made14,000 dollars in one quarter from AdWrap, primarily generated off of one title. "That doesn't sound like a very large dollar amount, but Greystripe's only been around for a short while and we've grown by ten times year on year, and we expect that growth to continue."
Chang went into further detail on how the AdWrap program works. "Our model is that we don't actually add ads to the game -- we add a small advertising client which downloads ads periodically. We have something called an impression cap, which I think is actually seven views, to stop consumers getting bored of the ads. Even with [as many as] seven views we have an excellent click-through rate, so people are still observing the ads."
An audience member asked if there had been any noticeable cannibalisation of sales from carriers. Chang believed that "None of thepublishers are getting pushback from the carriers as a result of using us," and asked the audience how much (free) pirated content was out there? And how much money do the publishers and carriers make out of that?
A developer in the room who had his games with Greystripe explained that "it's not a lot of money, but it's a nice income" further describing how it was positive in allowing him to sell directly to the consumer, rather than dealing with a "gatekeeper" in the form of the carrier. He noted that, in particular, certain of his games refused by carriers have made them the most money with Greystripe.
Of course, couldn't Greystripe in turn become a "gate keeper?" Describing the system used at Gamejump.com, Chang said, "We do try to shuffle the deck quite a bit, we have a new games category and try and hold new content there to see how it performs in the channel. The best games do move to the top. It's very democratic - the users do really chose the games that rise to the top."
Finally, one audience member boldly claimed that the carriers "hated" ad-supported games. Chang wondered why, and they responded that the carriers had worked hard to
"train people to pay for games and now they're becoming untrained."
Different from the content of many of the other speakers at GDC, Chang felt that the majority of consumers still needed educated as part of his explanation. "In the for pay market we're stagnant at 10%, and I think ad-supported can support the other 90%. I'd rather the other 90% were trained to play, not pay."