Epic Games' mobile version of its own popular free-to-play battle royale game grossed $25 million during its first 30 days on iOS, despite being an invite-only game for at least half of that time.
This figure comes from the mobile app analytics firm Sensor Tower, who also notes that Fortnite mobile has surpassed all other mobile games (and many other apps) in terms of cumulative daily spend during the month of April.
Sensor Tower's data says that Fortnite mobile has brought in $25 million in revenue since its mid-March release, with roughly $9.5 million of that coming in between April 1 and 15. Looking at April alone, the free-to-play game is the second highest grossing app on iOS for the period, just behind Netflix.
For comparison, the second highest earning game on Sensor Tower's list, Candy Crush, falls in the number six slot overall with $5.7 million generated during those first two weeks.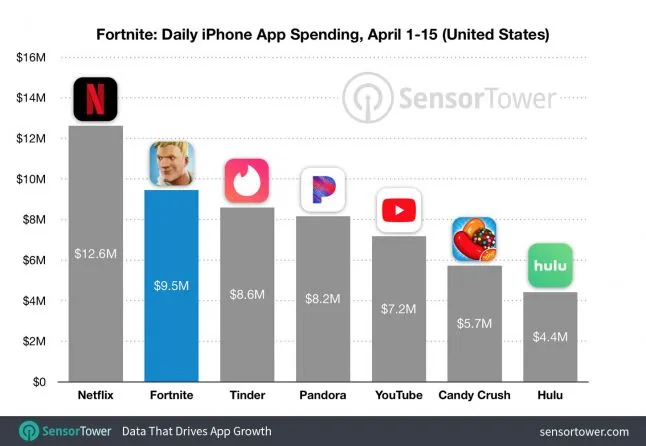 Fortnite mobile first released on March 15 as an invite-only title, later opening its doors to all iOS players on April 2. Even with just an iOS launch, the game saw $1.5 million in revenue during its first week out and Sensor Tower notes that the game could likely gross more that $500 million by the end of the year, provided Epic's yet-unannounced release date for the Android version falls during the summer.