The past few years of The Sims 4 have marked several milestones in diverse representation in games, introducing quality of life updates that have added improvements and new options for skin tones, hairstyles and textures, pronouns, sexual orientation, and more.
These changes were an active, not passive, effort by the team at Electronic Arts. In a GDC 2023 talk, series executive producer Phillip Ring outlined the steps the company took to collect and address criticism as part of their design process, and other steps they took to diversify their sources of feedback. The player base for The Sims 4 is often more gender and sexuality diverse than the general population, and they wanted their tools to reflect that.
To get a sense of what their community needed, a user experience research group was formed, overrecruiting for underrepresented identities, to study and get feedback specifically on character customization options. What they found was that character customization is a key part of the player's ability to tell stories that reflect their lives and cultures.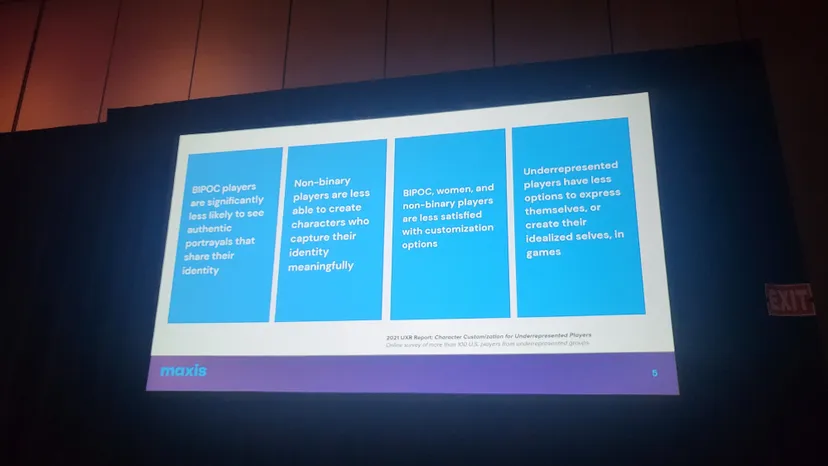 Some key insights about player identity
Breaking down what the study confirmed, Ring says that BIPOC players are less likely to see authentic portrayals of characters who share their identity than white players, that nonbinary players are less able to create characters who capture their identity meaningfully (like with pronoun options), and that BIPOC, women and nonbinary players are less satisfied with customization options than other players.
In general, underrepresented players have fewer options to express themselves, which limits their ability to enjoy games.
"Create a culture where the conversation around DEI is celebrated."
Outlining the steps they took to incorporate that insight into their design process, Ring says they first set out to hire a diverse workforce. But he says it's also vital to create an environment where your team can speak freely and cultivate that dynamic by offering a supportive and approachable response to feedback.
He uses the example of an addition to The Sims 4 that facilitated a fun feature when a Sim approached a bonfire on the beach: they could empty whatever was in their "pockets" (aka the Sims' inventory) and throw it into the fire. While this seemed innocuous at a glance, one employee spoke up to point out that not putting some restrictions on the interaction would allow the Sims to burn books, which would be received poorly.
Ring says that instead of rejecting or taking offense to the observation, they responded with validation and changed the feature. "It was good point and one we hadn't actually thought about. So we did, we changed that. And the more that we can do that, even on a small scale, the more is seen by our team. And the easier it is for us to then engage in the more difficult conversations when we're talking through representation."
"And we ask ourselves, we encourage the team to ask, what does this feature look like if you consider it through a different perspective? And that's a really important aspect of what we're trying to achieve. And this is what championing inclusivity looks like to us. It's active, it's not passive." For example, The Sims 4 only recently added hearing aids as a character customization option. Their omission wasn't meant as an act of deliberate exclusion, but impact-wise, it had the same effect. Passive exclusion can feel like active exclusion.
Summarizing, Ring offers a few specific tips:
Create space for discussions about diversity and be active in asking for input: Do not put the onus on your team members to speak up, which can be scary!
Amplify the brave voices that speak up and raise concerns.
Make time to connect and voice appreciation.
Admit when you make a mistake.
Be willing to discuss with your team that you made a misstep.
Repeat!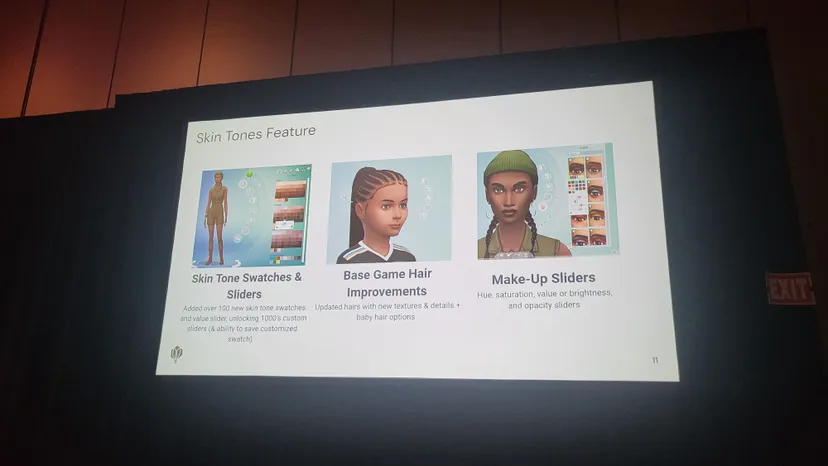 Engage the community to understand player expectations
The Sims 4 skin tones update arrive in December 2020, adding over 100 skin tones and sliders and the ability to save customized swatches. The additions were the direct result of observing players' in conversation on social media. They knew from those conversations that BIPOC players did not feel they were being adequately represented. This, says Ring, is the type of insight you can't get without talking to players, so they also had those conversations with them directly, holding roundtables and reaching out directly. They especially spoke to modders and custom content creators, whose work revealed some of the gaps The Sims 4 was failing to address. These discussions not only informed the process, they helped make the team confident about their work as well.
From those conversations, Maxis also learned they needed to do even more. The skin tone and hairstyle features, while adding thousands of new options, were not enough, makeup sliders were also added, improving hue, saturation, opacity and brightness. The reception to these additions was very positive, giving them runway to continue the conversation. Talk to your community, says Ring. "And if possible, [to] those who are eager to help you create experiences that meet the expectations of those communities and groups. This was something we continue to do in The Sims, having those conversations directly with the people who are most impacted early allows us to make the best decisions in our planning process and allows the team to have a higher confidence that we can hit those player expectations." Reach out. Discuss expectations.
Be transparent with your community
"We found transparency with our community around DEI allows for better conversations when we reach out to expert organizations to help guide us through our development," Ring says. Citing another example within The Sims development, he says that the custom pronouns feature, which was added in May 2022, was a very important one to the community but also Maxis employees themselves.
As such, they'd been investigating how to incorporate them into the Create-A-Sim option for some time, but had never spoke about it to the community. They decided to make the announcement during a livestream, collaborating with It Gets Better to provide additional context for the general audience. Later, while developing the custom pronoun feature, they also got help from GLAAD, which gave them the opportunity to learn more about modern expectations on sexual and gender identity. Reach out to organizations with expertise in the areas you're targeting, Ring advises.
Remodeling the process
Modernizing a game that had been on the market for years to meet with contemporary expectations of identity and representation meant they needed to create a better process to developing content. Ring breaks it down by phases:
Phase 1: evaluate (in the case of pronouns, examining where pronouns are used in the game gave them a baseline understanding of the next step in the process)
Phase 2: engage with the team
Phase 3: seek expertise (in this case, GLAAD and It Gets Better)
Phase 4: transparency and communication (here, they shared an early concept to the community, which facilitated Phase 5)
Phase 5: evaluate the early concept and any feedback
Phase 6: launch and continue conversations (Continuing the discussion for improvements after launch not only continued to improve the product, but gave them an opportunity to share what the Maxis design values are with their audience)

Seek legal guidance on legal issues
Perhaps the most interesting part of the talk was Ring's willingness to discuss a much-discussed issue within The Sims 4: localization and LGBTQIA+ representation. As Ring puts it, holding your values can be difficult in the global space and seeking legal guidance on both a local and international level is critical. And this was certainly true for Maxis with the content update My Wedding Stories, which featured a same-sex couple as part of the promo. As part of the release process, they had to figure out which countries they could even legally air the trailer, and of course, the content pack itself could not come out in certain countries, either.
This put Maxis in a difficult position. "We wanted to ensure our product could be experienced by as many players as possible, but we also wanted to uphold our values of inclusivity and representation for our players. Visibility is a vital part of representation." So they chose not to censor the character, which inspired lively discussion. Some in the community felt that refusing to censor and sticking to their guns was positive, while others lamented how the gay community would miss out on the content if it were not released in their country.
"After many late nights, reviewing and discussing our options, and importantly, utilizing that local and international legal guidance, we actually got to a path where we were able to release My Wedding Stories in all regions without censorship."
There will be times you will have to make difficult decisions, says Ring, but there is a path forward. It just requires courage and some teamwork.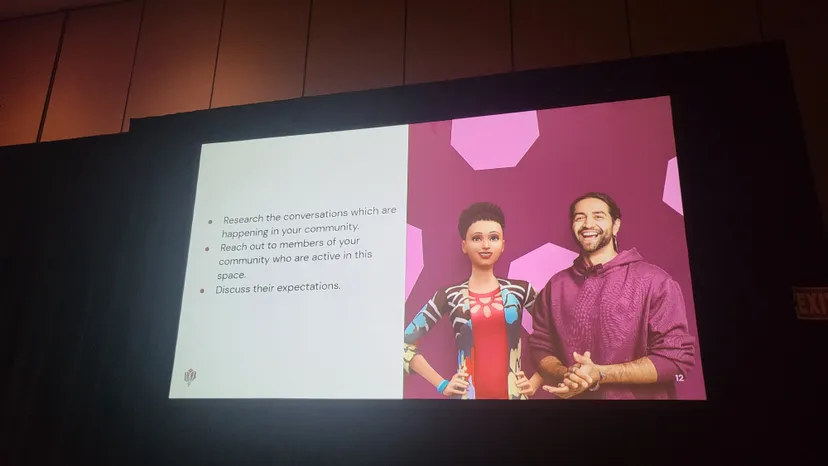 Final tips on how to support diversity-focused design values
Create a culture where conversation can take place and leverage the lived perspectives of the people within your team
Hire diversely
Leverage the community to understand their expectations and implement them early
Be transparent on DEI updates
Reach out to organizations and experts in these areas
Seek local guidance for legal issues