In a talk from GDC 2023, Mikhail Akopyan, lead game designer at Ghost Ship Games ApS, discussed the evolution of Deep Rock Galactic, exploring how this Early Access game eventually became a live service title and how the community played a role in its development. His reflections are an insightful look at how to get the player feedback you need to center the needs and interest of your audience, and how to find and implement it as part of a regular development process.
In Deep Rock Galactic, fancy beards are the end game
Deep Rock Galactic, which Akopyan describes as a mixture of Minecraft and Left 4 Dead, was launched in 2016 and sold 90,000 copies in its first week. Knowing that the team would need to sell an additional 10,000 copies per month to stay afloat, the team designed cosmetics as a major part of the game from the get-go, inspiring a strong and expressive fanbase that came to see the aesthetic as a large part of the appeal. The addition of cosmetics would also allow them to keep the game profitable without the lengthy pipeline of traditional DLC, opening up opportunities to continually engage with the fanbase and better retain their attention over time.

This relationship with the community was nurtured by the studio's pursuit of quality feedback, wherein players became a part of the development cycle at key intervals. Below is an image of what that cycle looks like in their current routine, and it illustrates what role the community plays at each of those stages, including testing during the prototyping and release phases.
The talk strongly demonstrated the success in building a game based on player feedback; Akopyan says that including the audience in the process allowed them to create meaningful content that they knew the players would genuinely be interested in.
How to get feedback from players
To get that necessary feedback, they recruited testers from a closed group of players within the closed alpha, who would get early access to builds during prototype and development. He then described three different channels of player feedback that they would tap into: Steam forums, Reddit and Discord, and the three types of feedback they would most often hear: suggestions, direct criticism, and open discussion, which the developers observed silently, absorbing what players talked about amongst themselves.
This provided interesting opportunities to bond with the players; at one point in development, the developers took to the forums to openly discuss a bug, both crowdsourcing the solution and earning goodwill from the players by being accessible and honest about the challenges of finding a fix. While the players and the team don't always agree and sometimes have to say no, the dialogue between them and the audience is important in that it shows the developers are responding and listening and will react to feedback.
As the slide shows, the Experimental Branch feature was a core part of the collecting and implementing of key feedback, allowing them to test out new features on their closed group of players before presenting to a broader audience. But despite the helpfulness of this feature, it still felt like it wasn't "enough" in terms of retaining long term interest, and they knew they would need a way to engage players in between major updates. Thus, certain themed events, centered on holidays or other special occasions, also became a pillar of the game.
At many points in the game's history, their basic development cycle was altered or extended based on their needs, and the parts that required feedback relied on different kinds of veteran players to facilitate that. Community testers formed from a group of regulars and Experimental Branch users comprised alpha-phase players. Akopyan describes the latter group as more passionate and knowledgeable about the game than the developers themselves, offering insight that would otherwise be impossible to get. He cites a massive weapon overhaul update as an example in particular, saying the production time was drastically reduced thanks to the work of community testers, and that the Experimental Branch testers also dramatically sped up the weapon balancing process.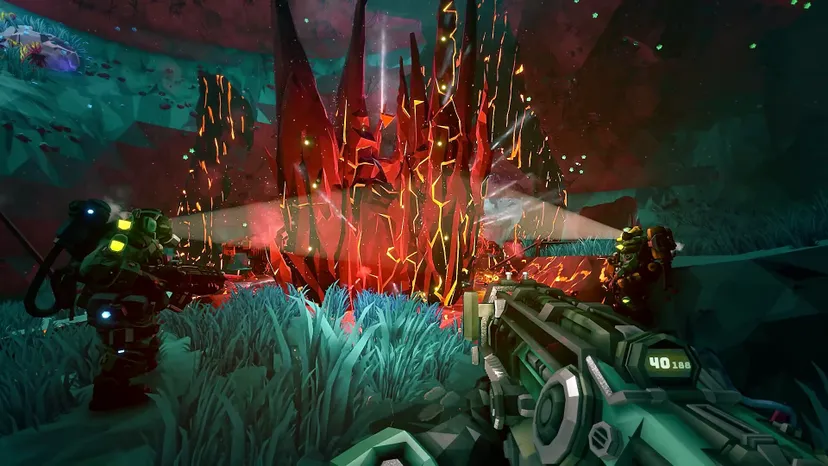 Akopyan cited the addition of Matrix Cores, essentially free lootboxes, as part of the game's transformation into a live service. Matrix Cores, which are based around timed events, would impose regular intervals at which the player would need to check in and play, but also provide rewards that are not part of the monetized in-game economy, meaning they are essentially free outside of the initial time commitment. A graph showing key spikes in activity also demonstrates a correlation between increased activity and various free-to-play weekends and events, and also the game's official 1.0 release in May 2020.
Tuning the game for new players vs. hardcore fans
The end result of the team's community inclusion and communication built a reputation that encouraged players to reach out to the team with their ideas and help "let the game evolve organically." As time wore on, however, the need for new content grew, and the common issue of needing to appeal to and appease both new and veteran players reared its head.
Thus, their version of Battle Pass arose, a free mode they call Seasons, which allows players to rank up within a leveling system contained within each period, receiving in-game currency and cosmetic items.
Again, this went through the community feedback process, gaining insight into progression, pace and rarity of the events, and further testing with the Experimental Branch further helped refinement. Overall feedback was very positive, which Akopyan attributes to their deep understanding of what the players desire from the game. The third season, now underway, has been well-received, and the iteration cycle that has seen some polish since its original implementation is more or less still in use, although some parts take more time than they used to.
While Akopyan says there's still room for growth on the horizon, their live service game is in a solid place because of incremental reinforcements facilitated by incorporating the community.