If there was one game that defined the pandemic era of gaming, it was Innersloth's Among Us. A multiplayer murder mystery where space-faring scientists had to find a killer in their confined spaceship, it became a massive hit during the 2020 lockdown, when people were stuck in-doors and craved a fun and inventive way to interact in an online game. For a game that was originally released in 2018 to little fanfare, the massive, unexpected resurgence in 2020 led to a new lease on life for the game, becoming a must-play for anyone looking for an exciting way to cast doubt and pit online players against one another playfully.
With the massive success of Among Us, Innersloth has expanded the game in big ways, including a trip into VR made by co-developer Schell Games. At a special panel at GDC 2023, senior production manager Jennifer Rabbitt, principal game designer Shawn Patton, and senior game designer Michal Ksiazkiewicz spoke about the challenges of remaking a runaway success from a perspective that puts you directly in the mystery.
The Remaking of a 'Sus' Mystery
"[Developing for] VR is no easy feat, even with an established IP like Among Us," said Rabbitt. This notion underscored the general theme of the panel. The jump to VR was not only an entirely new perspective for Among Us's 2D top-down perspective, but it also led to a rethinking of how specific actions and visual elements that players were familiar with had to be designed for the Oculus Quest 2 and other VR devices. Jennifer Rabbitt started off the panel with a candid look back on the lead up to the announcement and release of Among Us VR. Starting with 11 devs in-house at Schell Games, the dev team eventually grew to over 40, including staff from Innersloth and outside vendors to support the transition to VR. This game was also Rabbitt's first video game, and she leveraged her experience in product management in the tech sector for Among Us VR.
When it comes to content, Among Us VR is not a one-to-one experience with the original 2D game. Currently, the VR game features one level – the iconic Skell ship map – with a max player count of 10. This was, of course, intentional. In addition to maintaining performance and player networking balance, it was also designed to not overreach on the team's resources.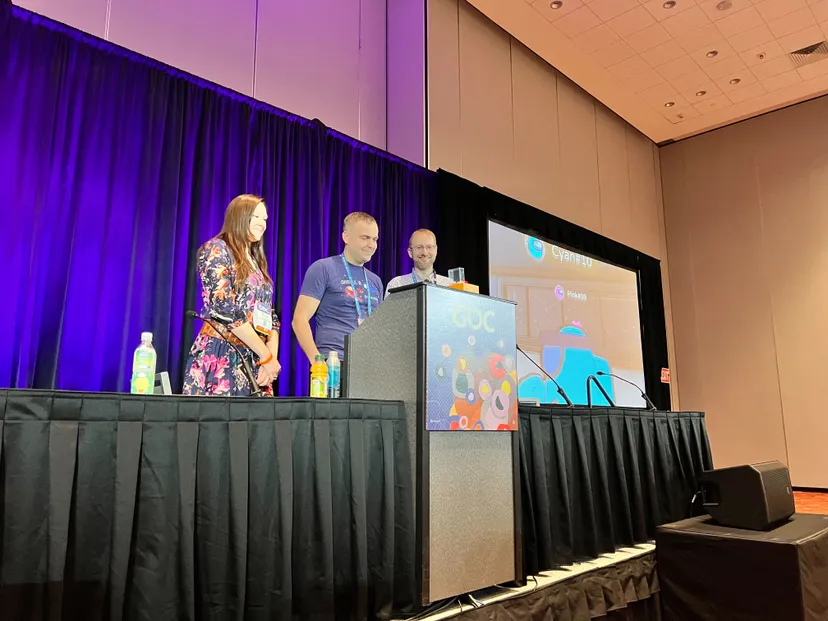 According to Rabbitt, Among Us VR is similar to the original Among Us release but with more modern flourishes and the new experience that VR afforded. She would later refer to it as the "vanilla" release of Among Us VR, with the plan to update it with new content. Regarding development, the original map served as "a beautiful corner" for the developers, where they could test the game, refine it, and bring its personality to life.

"[The ship] would not only serve as the map that people would be most excited to be immersed in but also most familiar with, and where the engineers could sort through networking solutions or as a room to bring to near polish. This would be our beautiful corner and serve as our benchmark and basis for answering what's possible [with Among Us VR]," said Rabbitt. "Now, a lot can come together when creating a beautiful corner. Part of creating the room also included creating a character, and this gave us a chance to work through size and scale for both being in this room. Once we started to narrow in on that we replicated our character until we hit our set limits for performance."
What VR gave Among Us
Senior game designer Michal Ksiazkiewicz jumped into the next portion of the panel by defining the core pillars of Among Us VR: the guiding stars for making the game. The first pillar was bringing the best of the original game's experience into VR. While this is fairly obvious, the development of translating the 2D gameplay into 3D—and fully interactable—created several problem-solving situations, such as how best to simply things for players to activate door codes or operate switches with a VR controller. The other core pillar that led to numerous testing and refinement periods was the idea of "people-play, or gameplay."
"What this meant is that our design decisions were to be in service of social deduction, and players actually interacting with each other," said Ksiazkiewicz about maintaining the team's focus on what made Among Us resonate with audiences.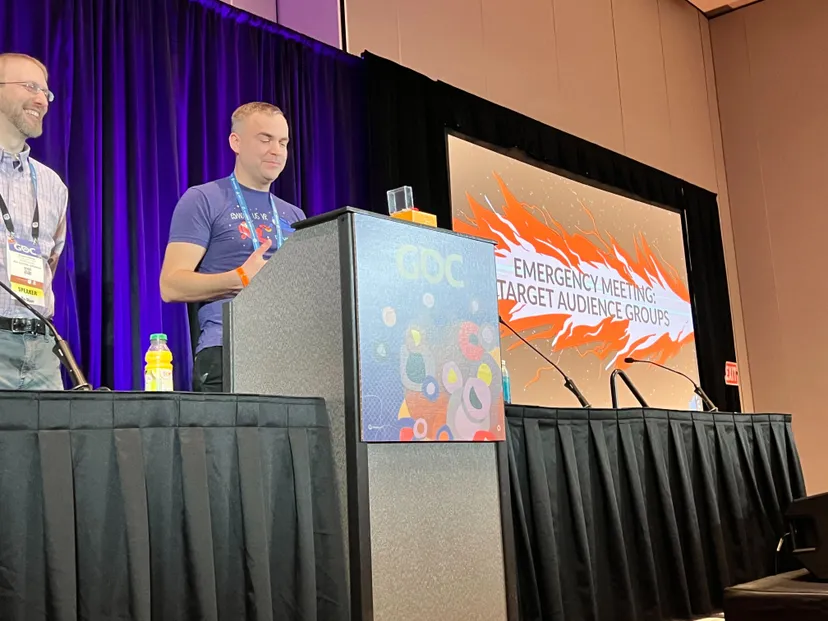 During some periods of playtesting, the developers noted that some members of the testing community found some bugs that created some intriguing social situations—and those moments became design opportunities for the team. For instance, the spatial audio that VR devices possess created situations where testers could hear other players nearby, which isn't possible in the original game. This was eventually added into the game as proximity chat, which allows players to talk to nearby players and even hear some environmental noises, which adds to the suspense.

Another amusing bug was how the ghosts of recently killed-off players could interact with the environment, for example, by opening doors. This created a limited form of communication between the living and deceased players, which opened up some clever tactics to solve the mystery of who's 'sus'. Eventually, the development team added one-way audio for ghost players, who could hear active players and respond in limited forms to communicate.

The social and meme elements of Among Us are a part of its endearing popularity, which the developers leaned into during the game's making. Principal game designer Shawn Patton took some time during the panel to discuss his work on quality assurance (QA) for the game and how finding the right testers for the VR build of the game almost seemed like a game of Among Us in itself. In one instance, leaked information about the private playtest of the game found its way to Reddit, which created the false rumor that Xbox was breaking into VR—Patton took time to clarify that information about the "Xbox Moda" was a false option to trick potential testers about their knowledge of VR.

Much like the original game, Among Us VR also leveraged social media. This was to make a push for the game, but also educate players on the new mechanics, and it eventually found success on TikTok, with some videos reaching viral status.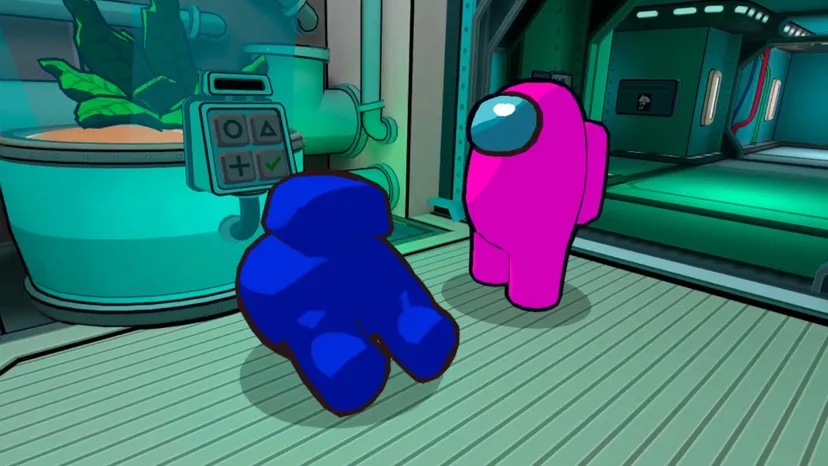 "We bought a costume, we channeled our inner TikTok [creator], and we made a series of videos," said Patton. "They were only to help build hype in the weeks before launch, but they got to educate players, it was a win-win."
In a strange turn of events, Among Us VR—a reimagining of a game that captured the attention of players who had to social distance—was made during a time where the development team also had to work remotely. While Among Us VR doesn't have the same level of content, it's shown to be a far more immersive experience that has defined itself apart from the original, and the making of this game certainly shows that there's a remarkable social element that comes from reimagining a cultural phenomenon.