The past decade has seen the release of two prolific RPGs from CD Projekt RED: The Witcher 3: Wild Hunt and Cyberpunk 2077, both of which have greatly benefited from the studio's improved and ever-evolving approach to quest design.
To give us some insight into how they've honed their techniques over the past two games, CD Projekt RED quest director Paweł Sasko spoke at GDC 2023, boiling down the studio's design principles into ten key takeaways for developers who are building non-linear narrative in open-world exploration games, highlighting such important topics as how to deliver key information to the players, how to make their in-game choices have impact, and how to deliver narrative complexity without wasting key resources.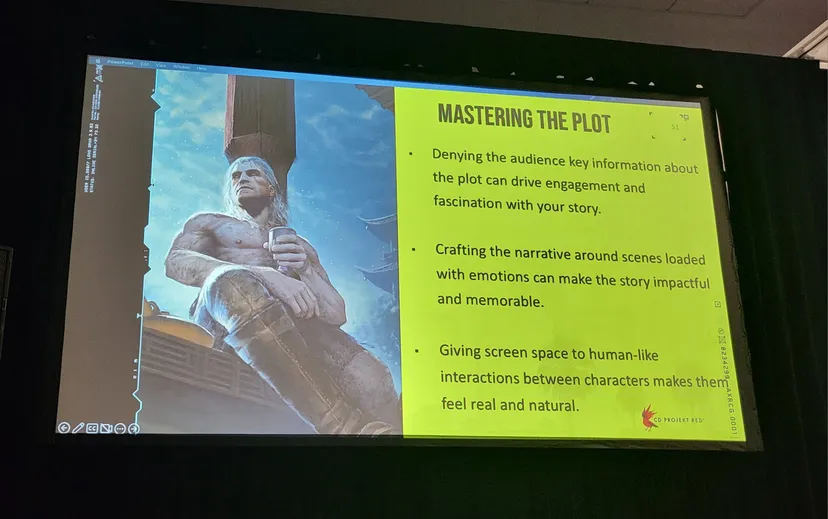 Mastering the Plot
To encourage enthusiastic engagement, Sasko says, you have to facilitate the player's desire to work for the next piece of the story, often with the deliberate absence of key information. "We want the players to want the story." Their drive to obtain information increases their interest and participation.
Sasko says the team made the goal of impacting the player emotionally a key pillar in their approach to narrative. "You need to control what the players are thinking and feeling". This means not holding back when writing an impactful scene or story. While there is temptation to form the narrative around "cool" sequences, the "real bangers", as he calls them, it is important to stay in the player's memories and make the action secondary to emotion and impact. Cool scenes without them have "no soul".
To create a believable story, the key emotional moments need to have impact. Give enough screen time and space for each story thread and do not rush. After all, Sasko argues, real life is unrushed. For example, when you go to take out the garbage, you do not do so as quickly as possible so you can get to the next task. It's also important to create humanlike, not intense, moments that give the player opportunity to create and strengthen bonds with characters. This not always need to be a labor or budget intensive process.
Sometimes small flourishes will do the trick, like body language (for example in one scene in Cyberpunk 2077, the character Panam puts her leg over another's knee while talking, a small physical gesture but one that had major impact on the audience). These moments should be about the moment.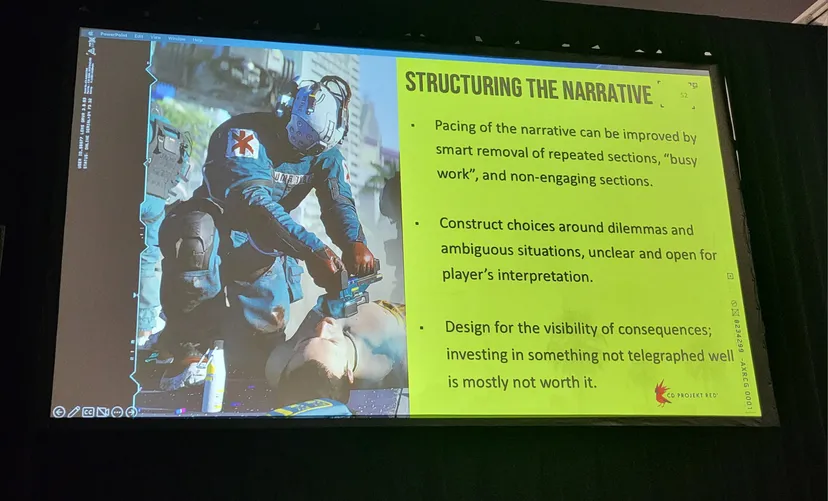 Structuring the Narrative
A good way to use resources efficiently but also keep the audience's attention is to be succinct. So-called busy work can be omitted by smartly structuring of the narrative. Look for the spots in narrative and quests where information is being repeated and get rid of it.
For example, in many questlines, players often speak to more than one character who summarizes the current events as the mission progresses. Generally, these repetitive conversations can be omitted, sometimes to superior creative effect. Exposition, meanwhile, should be divided into scenes of different weight and scope.
You do not want important information to get lost when the player engages in dialogue, so it is important to pay attention to environmental distractions. The "signal" is all the messages you want your player to take in. "Noise" is everything they can do in the same time, making the "signal" less visible and more difficult to absorb.
For example, have less important conversations occur while other actions are taking place (like the player walking with another character to a second location). But deliver important information in focused, isolated moments. Exposition can also be partially moved into the world and outside of the scenes. Let players figure certain things out through world context rather than direct dialogue.
For choices to have meaning, they have to have impact. Construct dilemmas and ambiguous situations that are unclear and open for the player's interpretation. Making a choice in a game isn't necessarily exciting so creating dilemmas for players is key. Give them something to think about.
You should also try to provide choices that are logically expected by both the player and the main character. Try to anticipate what the player's natural inclination or urge will be in the moment and write for it. When the player's desires line up with the choices they have, that's good design.
Also, don't forget to set up the stakes properly before the key choice moment.
Delayed and "really delayed" consequences make the biggest impression on players, for example, bringing back the results of an early in-game choice at a much later point in the game, at the least expected time.
Be sure to make your consequences clear and visible. When consequences are too subtle, players won't see them. Bring back stuff from earlier in the game at the least expected time.
Design for the visibility of consequences; investing in something not telegraphed well is mostly not worth it. Figure out how to the player visibly see what the consequences will be.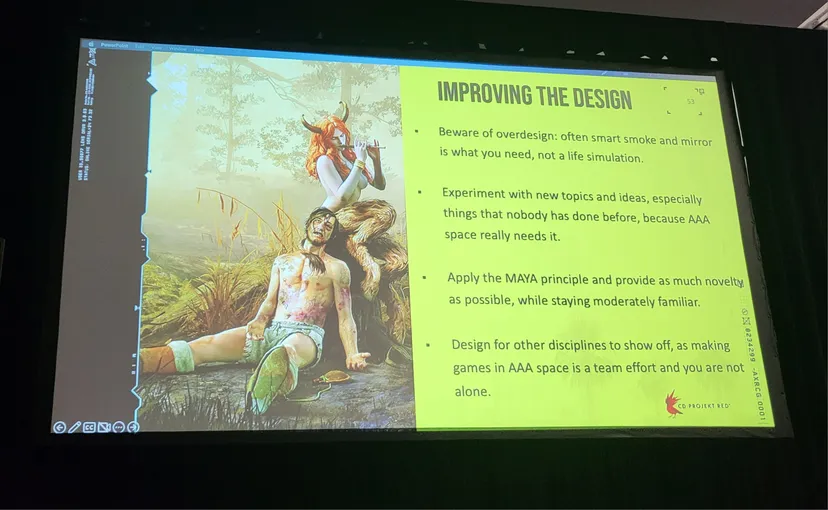 Improving the Design
Beware of overdesign. "A game is not a life simulation, it is entertainment," Sasko says. Details are only amazing when they matter and have meaning behind them. Don't add intricate things that don't make sense and blow up the budget.
Reduce and simplify elements that are not core to the experience you are creating. This touches on brevity--remove dialogue you don't need. Don't repeat information.
Experiment with new topics and ideas in the game, especially things that nobody has done before. Triple-A development is "afraid," Sasko says. While the indie space, by comparison, has had a lot of room to explore challenging topics, triple-A is "so safe with everything we're building." Create visceral experiences and scenarios so bold that other studioshave not dared to explore them them.
But also treat them with care and respect. Citing a character's crucifixion scene in Cyberpunk 2077, Sasko says to channel "artistic bravery", making impactful scenes not to be edgy but to be impactful.
Apply the MAYA principle and provide as much novelty as possible while staying moderately familiar. This means that the game should be anchored in enough familiar elements that the player is comfortable when new information is introduced.
Another thing to keep in mind is to break your own rules now and again, especially to make a point or present a new point of view. Also, be sure to first establish the rules before you break them.
Finishing the talk, Sasko gave one last bit of interesting advice: design for the other disciplines on your team to showcase their areas of expertise and interest. To do this, you need to form strong bonds with your teammates and get to know them well. Also, pay attention to
Design for other disciplines to show off, as in most cases, that you are not alone. Design for the team you have. You need to have bonds with your teammates and know them so you can do this. Pay attention to what other designers are working on to avoid repeating the same ideas in one game. Create varied content. Alignment of various disciplines is the simplest way to create remarkable content.