AMD is bringing its FidelityFX Super Resolution 2.0 (FSR) upscaling technology to Xbox later this year.
In a blog post, the company explained its temporal upscaling technology will be fully supported on Xbox and will be available in the Xbox GDK for registered developers to use in their games.
AMD explained FSR 2.0 was built from the ground up to "deliver similar or better than native image quality and is designed to help boost framerates in supported games."
Rather than use machine learning (ML) in its upscaling algorithm, which would require dedicated ML hardware and platforms, FSR 2.0 leverages a set of advanced hand-coded algorithms that AMD believes can be used to better optimise images and cater to a wider range of scenarios.
"FidelityFX Super Resolution 2.0 temporal upscaling uses frame color, depth, and motion vectors in the rendering pipeline and leverages information from past frames to create very high-quality upscaled output and it also includes optimized high-quality anti-aliasing," wrote the company in a blog post.
"As FSR 2.0 required the three data points in the diagram below at render resolution -- depth, motion vectors, and color -- developers will find it easier to integrate FSR 2.0 into games that already have a temporal upscaling rendering path."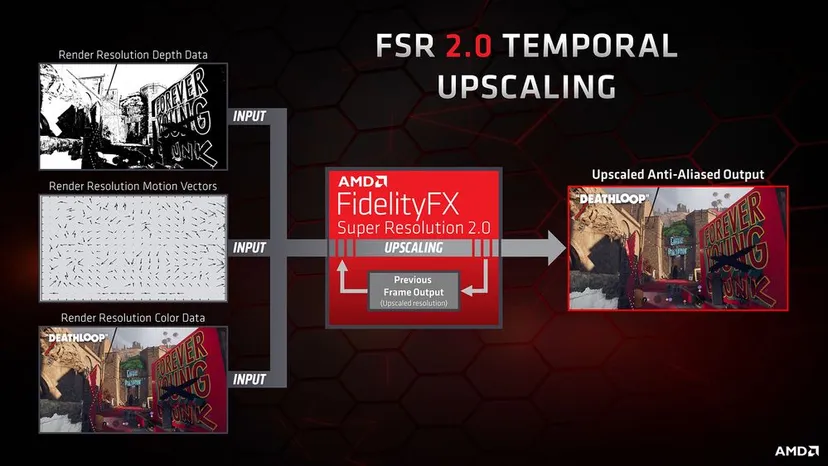 Arkane Studios' acclaimed shooter Deathloop and Luminous Productions' action-RPG Forspoken will be the first titles to feature FSR 2.0.
There's more information about the technology, including performance and hardware support information and high-resolution comparison screenshots, over on the AMD blog. FSR 2.0 is currently slated to launch in Q2 2022.