The tech site iFixit has posted a breakdown of Magic Leap's recently launched AR headset that literally breaks down the goggles piece-by-piece to explore what makes the $2300 Magic Leap One Creator Edition tick.
The teardown starts off with a handy look at how the Magic Leap One actually operates, before diving a detailed disassembly of the headset, controller, and companion 'lightpack' mini-computer.
By doing so, the site provides devs an interesting look at how the headset reads its environment to track depth, the movement of a wearer's eyes, and the position of the included controller to accurately project digital, interactable objects into a space.
For instance, iFixit digs out the small black box from the side of the headset's band to unravel the magnetic sensor coil that the Magic Leap One uses to track that controller.
Tearing into the optical bits of the headset, the breakdown offers a look at the systems and sensor arrays that actually display the AR objects themselves. After exploring those components, iFixit takes a stab at how those bits work together to project images to the wearer, as show off in the diagram below.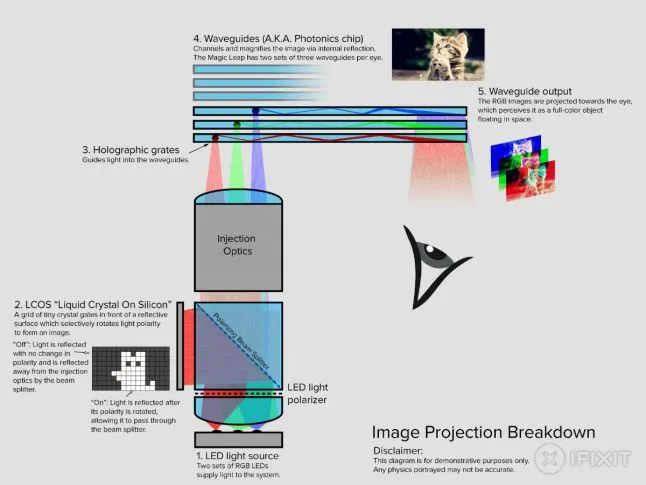 The full article over at iFixit offers a step by step look at the teardown process, as well as detailed explanations of how each of the discovered components contributes to the Magic Leap One's overall functions, and rates the tech on its potential reparability and ease of disassembly.