Results from the fourth annual Game Developers Conference State of the Industry Survey are in, revealing trends in the games industry based on the feedback of more than 2,000 game developers ahead of GDC 2016 in March.
The survey revealed that development of virtual reality games has more than doubled among participating developers, with 16 percent currently developing for VR -- up from the 7 percent of developers were working on VR projects in last year's survey.
But what specific VR platforms are they working on, and why? Today we dig a bit deeper into the VR platform data within the 2016 State of the Industry Survey to get a better sense (and a better visualization of) of where VR developers are focusing their efforts.
Oculus Rift proved the most popular VR/AR platform to make games for, with 19 percent of those surveyed saying they're currently working on a game that will see release on the Rift. 7 percent of respondents selected Samsung and Oculus' Gear VR headset, rendering it a distant second, following closely by fellow smartphone-powered platform Google Cardboard with 7 percent.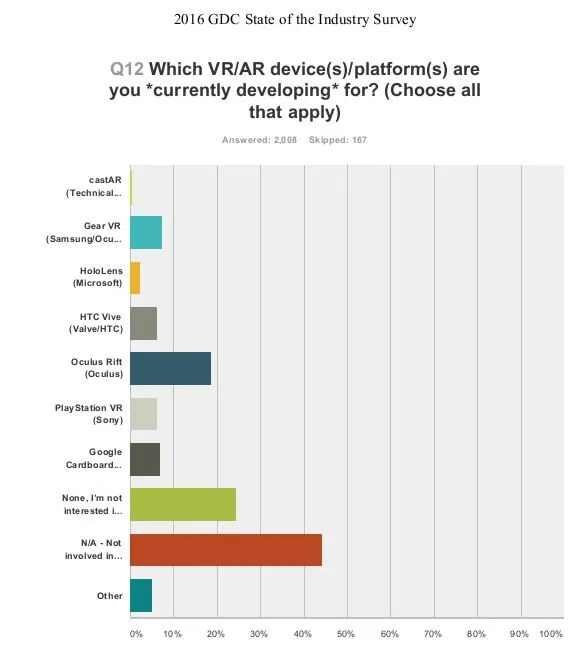 However, when asked what platform(s) they anticipated their next VR/AR project to release on, the Rift still won out -- it was selected by 20 percent of those surveyed -- but was followed closely by the 12 percent of respondents who said they were "Undecided." 9 percent said their next VR/AR game would come to PlayStation VR, and 8 percent said it would come to the HTC Vive.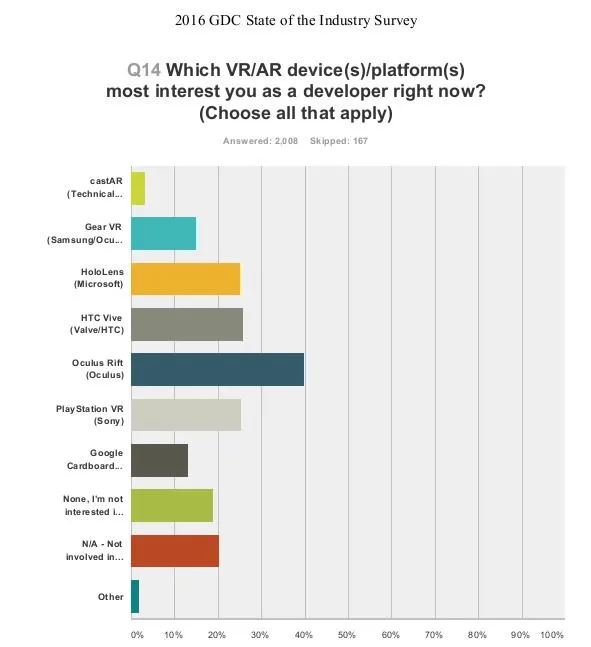 Of course, the platform you're making games for may not always be the same one that interests you the most. When asked which (if any) VR/AR platforms most interest them right now, as developers, 40 percent of those surveyed chose the Oculus Rift. The HTC Vive and PlayStation VR headsets followed with 26 percent each, followed by Microsoft's HoloLens headset with 25 percent interest from those surveyed.
Of course, a more detailed analysis of the survey can be found in the GDC 2016 State of the Industry Survey whitepaper.
It marks the fourth entry in this ongoing series of yearly reports and serves as a snapshot of the games industry to help illuminate industry trends ahead of GDC 2016 in San Francisco. Organized by the UBM Tech Game Network, GDC 2016 takes place March 14-18 at the Moscone Convention Center in San Francisco, California.
For more information on GDC 2016, visit the show's official website, or subscribe to regular updates via Facebook, Twitter, or RSS.

Gamasutra and GDC are sibling organizations under parent UBM Tech.