In 2015, Sixense Entertainment and AVADirect Custom Computers initiated their partnership to enhance the virtual reality landscape by merging their companies' visions within the industry. The Sixense STEM System is a wireless motion tracking platform that enables gamers to interact naturally and intuitively by tracking full positions and orientation at all times.
The STEM System enables the freedom of movement for any activity, spanning the spectrum from desktop competitive gaming to VR with full body tracking and locomotion. AVADirect specializes in the design, engineering, and manufacturing of customized, high-performance computers. The AVA Sixense VR Desktop Series is built using the industry's premier hardware components, coupled with our standard testing to meet the most demanding Virtual Reality requirements.
For GDC 2016, Sixense and AVADirect are very excited to announce that one lucky winner will be receiving a 5-Tracker Sixense STEM Devkit and an AVA Sixense VR ULTIMATE Desktop.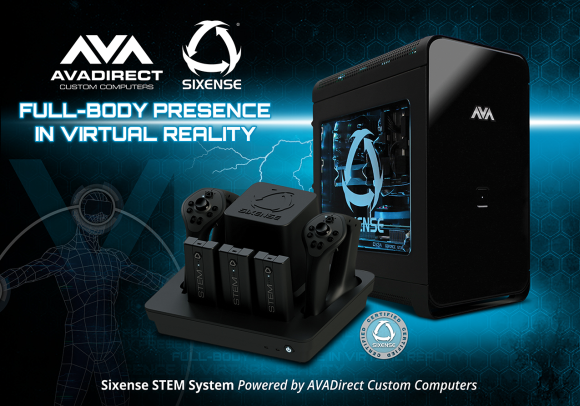 Be sure to stop by the Sixense booth, #502, to try the new multi-player Archery Game and enter for a chance to win your very own VR Gaming System:
All it costs is one business card!
Drawing will be held at 3:00 PM PST on Friday, March 18th, in the Sixense Booth #502. Winner need not be present at time of drawing.