The Meta Quest app was downloaded by 10.3 million iOS and Android device users in 2022, according to Sensor Tower data. This is a 27% improvement on 2021, when it achieved 8.1 million downloads, and comes despite 2022 Christmas Day downloads being 15% lower than in 2021—the typical peak day of the year (see Figure 1). 2022 downloads were overall higher throughout the year, particularly in the first half, before Quest 2's price was increased by $100 in August 2022.
While not an exact representation of Quest 2 headset sales, Meta Quest app download figures nevertheless serve as a good barometer, given the mobile app must be downloaded as part of the initial set-up of the headset. Sensor Tower has a robust methodology which includes not counting re-downloads, app updates, or subsequent downloads on new or additional devices for an existing iOS/Google Play account.
Despite macroeconomic challenges and a price increase, Quest 2 appears to have performed well in 2022, in line with Omdia's assumptions in our latest Consumer VR Headset and Content Revenue Forecast 2022-2027. Omdia's supply chain tracker data for VR display shipments also supports this trend.
Figure 1: Meta Quest mobile app downloads over past four years: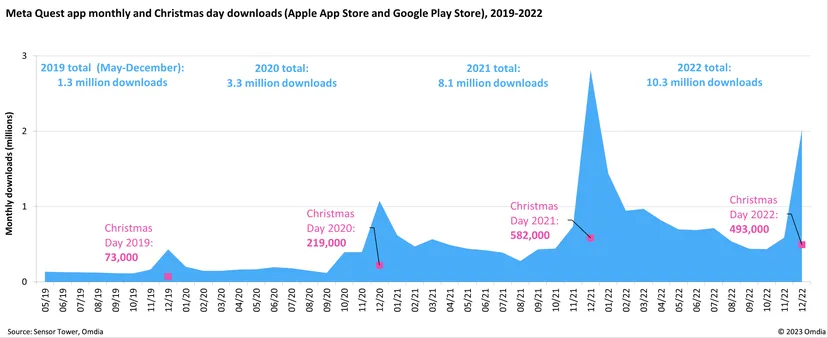 Launching Quest 3 in 2023 is essential for maintaining Meta's momentum. Omdia expects Quest 2's sales to wane in 2023, which will have to be counterbalanced with the launch of Quest 3 to further drive new sales and upgrades. Although not officially confirmed by Meta, its launch at the end of 2023 is assumed in our forecast. 2023 is set to be a challenging year for the consumer devices market, but we remain optimistic for both VR headsets and games consoles.
Having surmounted core hardware issues, VR is faced with the much bigger challenge of content
Games are the main reason people buy VR headsets, generating nearly 90% of VR content revenue today. Even social VR—or 'metaverse'—apps such as Rec Room, VR Chat, and Meta's Horizon Worlds use games as their draw. However, engagement with existing headsets remains patchy due to the limited flow of truly compelling VR experiences, hindering Meta's main goal of building a self-sustaining VR ecosystem.
With over 20 million estimated cumulative Meta Quest headset sales, Quest is the biggest VR ecosystem in the world, and the leading VR content platform. Meta is dominating the VR market, with 76% of total headset sales in 2022.
Despite its best efforts, however, mass adoption of VR remains long way off, with just 72 million headsets predicted to be in use by consumers in 2027 (see Figure 2)—in contrast to over 6 billion smartphones, nearly 3 billion PC households, and 250 million active gaming consoles.
Games studios have been tentative about making large investments in VR due to a relatively small install base of headsets, but with projected growth in the coming year, this sentiment is predicted to gradually change. The launch of Sony PlayStation's VR2 (PSVR2) in February 2023 and ByteDance's investment in VR through Pico should provide a meaningful boost to developer confidence in VR.
Figure 2: The consumer VR market will continue to be dominated by standalone headsets, led by Quest devices