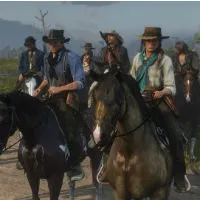 [Video Game Deep Cuts is a weekly newsletter from video game industry 'watcher' Simon Carless (GDC, Gamasutra co-runner), rounding up the best longread & standout articles & videos about games, every weekend.

This week's highlights include a rave for Astro Bot VR, why game devs aren't getting Genius Grants, and a delightful Red Dead Redemption recap, among others.

A few more reviews/impressions than normal this week, because we're into the prime of AAA (and miscellaneous indie!) holiday release season. And then, there's Red Dead Redemption 2, the ultimate holiday game juggernaut for 2018, due out this week. I wonder if that's going to sell a few copies?

Until next time...
- Simon, curator.]

------------------

Steam developers speak: Maximum profits for Valve, minimum responsibilities (Tim Colwill / Polygon - ARTICLE)
"While selling a game on Steam has never been easier, only a "chosen few" are reportedly lucky enough to have Valve's mysterious algorithm favor them with some promotional screen real estate, or popular enough to get a Valve representative to help them with a support ticket. The rest often feel like they're on their own."

'Sometimes I feel like a feet voyeur' - meet the photographer who snaps shoes of NPCs (Cody Mello-Klein / RockPaperShotgun - ARTICLE)
"Luckily, one photographer has made it his mission to document the art of virtual shoes. Leonardo Sang is a Brazilian graphic designer turned photographer who realized he could apply his photographic skills in video game worlds. "At one point while playing GTA IV," says Sang, "I basically role-played as a photographer in the streets of Liberty City and realized I was creating photos the same way I did in real life.""

Still waiting for a video game developer to win a Genius Grant (Jessica Conditt / Engadget - ARTICLE)
"The MacArthur Foundation declined an interview for this story, though a spokesperson offered the following statement: "Many Fellows work across multiple fields or change fields over time. We are continually striving to cultivate a broad, deep, and diverse pool of nominators and evaluators in order to explore the full breadth of creativity.""

'Astro Bot' Is a Nintendo Quality Platformer That's Also a VR Stunner (Patrick Klepek / Waypoint - ARTICLE)
"It's not the Mario 64 of virtual reality, but who cares? It's tremendous. What I'm saying is that if you slapped the Nintendo logo on Astro Bot, I don't think anyone would blink twice. And when it comes to platformers, a genre Nintendo more or less taken over these days, is there higher praise?"

"The Red, The Dead, And The Redeemed," By Tim Rogers (Tim Rogers / Kotaku / YouTube - VIDEO)
"Red Dead Redemption is one of my favorite video games of this decade. As its sequel looms on the horizon like a storm fixing to conclude this decade in much bluster, I replayed Red Dead Redemption. I wrote, narrated, and edited this 32-minute short film which summarizes the game's story."

Starlink: Battle for Atlas review: Cool toys, solid spacefaring (Daniel Starkey / Ars Technica - ARTICLE)
"Both games offer just about free rein to fly anywhere and do more or less whatever you will across the vast reaches of space (though Starlinkis limited to a single solar system). The key difference—aside from Starlink's additional narrative glue (at least compared with No Man's Sky at launch)—is that it's a toys-to-life game, much like Disney Infinity or Activision's Skylanders."

Return of the Obra Dinn review - prepare to be transported (Christian Donlan / Eurogamer - ARTICLE)
"Lucas Pope, who once wrung such drama from the stamps and passports of a border crossing kiosk in Papers, Please, has now delivered a great "insurance adventure", a romance of book-keeping on the high seas, four years in the making."

How Landfall Games finds the fun in physics engines (Jack Yarwood / Gamasutra - ARTICLE)
"Landfall Games have made a name for themselves over the last few years for wonky physics-based games like Clustertruck, Stick Fight: The Game, and Totally Accurate Battle Simulator. What began out of necessity due to their lack of an animator, has since become their calling card in the industry – namely making games using physics animation over the more time-consuming method of keyframing."

The Making Of Hollow Knight (David Milner / Game Informer - ARTICLE)
""I was spying on Hollow Knight's Discord to watch the community's real-time reactions, and when I saw someone type in, 'Reggie said the words Hollow Knight, I can't believe it!' I burst out laughing. It was a good feeling." That's William Pellen, Hollow Knight's game designer, co-director of the studio, and half of Team Cherry's creative core. The Reggie he's referring to is, of course, Mr. Fils-Aime, president of Nintendo of America.."

The Only Way to Get This Video Game Achievement Is to Not Play It for 5 Years (Matthew Gault / Motherboard - ARTICLE)
"According to Steam's own analytics, roughly 7.4 percent of the game's install base already earned this achievement. Some users cheated to earn this reward, while others, presumably, traveled through time. On this momentous day, I reached out to Davey Wreden, the game's creator, to see how he felt about the wait finally being over."

The Unusual Effort That Went Into Creating WarioWare Gold (Stephen Totilo / Kotaku - ARTICLE)
"WarioWare fans who were eager for the series to finally return this year had to settle for a best-of compilation on the aging Nintendo 3DS. But WarioWare Gold, is more than just a greatest-hits remaster. It actually had a lot of effort put into it, its lead developer explained to Kotaku. "We basically redrew the art for all the microgames and reprogrammed them from scratch," the game's director, Goro Abe, said in an e-mail interview with Kotaku."

Black Ops 4 merges Fortnite and PUBG into the best Call Of Duty in years (Nick Statt / The Verge - ARTICLE)
"Call of Duty: Black Ops 4 is as impressive as it is anomalous. The game contains very little that hasn't been done first by others, but it approaches those features in a way that's so polished and unique that it doesn't really matter if they're particularly original. It also lacks a single-player mode, marking the first ever modern COD game to strip itself of a story campaign — and it's become more focused and fun as a result."

Technology and nature have a strange relationship in Zelda: Breath of the Wild (Christian Donlan / Eurogamer - ARTICLE)
"I bounced off the latest Zelda, Breath of the Wild, quite quickly when it first came out, but over the last few weeks a very specific element of the game has been bringing me back. It's an animation that plays at certain moments, most commonly when you climb a new tower and unlock a new part of the game's gigantic map of Hyrule."

Allegations of sexism and harassment roil Riot Games, the developer of 'League of Legends' (Sam Dean / LA Times - ARTICLE)
""The organization today is craving accountability," Frei said in an interview with The Times. "We have set up a very intense investigative process, and their offices do not seem to be empty." Bay Area tech companies have been rocked by workplace sexism controversies in recent years, but Riot is the first L.A. tech company to reckon with a scandal on this scale. With 2,500 employees and $2.1 billion in revenue in 2017, Riot is one of the largest video game companies in the world."

In the Wake of Their Mother's Death, How Two Brothers Rebuilt Their Video Game (Steven T. Wright / Variety - ARTICLE)
"When brothers Andrew and Brian Allanson finally decided to buckle down and make their dream game in 2013, their enthusiasm seemed bottomless. Their idea fit neatly into the indie milieu that was rocketing off around that time, especially for "Earthbound"–esque games: " YIIK: A Postmodern RPG," pronounced Y-2-K, a retro 3D JRPG with a distinct low-poly art style inspired by cult 16-bit hits like "Mega Man Legends.""

Katamari Damacy's Creator Had To Move Mountains To Get His Game Made (L.E. Hall / Kotaku - ARTICLE)
"Today, Katamari Damacy is one of Bandai Namco's most beloved series, but when its creator Keita Takahashi was trying to bring his quirky idea to life in the early 2000s, he encountered numerous pitfalls along the way, mostly in the form of bureaucratic red tape. But he persevered and won, as author L. E. Hall describes in this excerpt from her new book Katamari Damacy from Boss Fight Books, available this week."

How the West Was Digitized: The making of Rockstar Games' Red Dead Redemption 2(Harold Goldberg / New York Magazine - ARTICLE)
"You can't simply stroll into the Manhattan offices of Rockstar Games. If you make it past the downstairs lobby and up the elevator, a thick metal door blocks your way. After you're buzzed inside, you'll need to wear a laminated visitor's pass to get beyond reception. It's quiet, save for a mix of Living Colour's "Cult of Personality" and the sounds of a video game cowboy riding a horse on a nearby TV. [SIMON'S NOTE: yes, this was also the interview that launched a bunch of stories about Rockstar & mandatory/implied mandatory dev crunch.]"

Despite Resistance, Crunch Continues to Define the Video Game Industry (Steven T. Wright / Variety - ARTICLE)
"Since its very inception in the laboratories and garages of America and elsewhere, the video games industry has been defined by volatility, a legacy of tiny companies like id rising to the throne, only to be summarily overthrown a year or two later by the Next Big Thing. In such an uncertain field, the expectations of executives and marketing staff can often come unaligned with the mundane realities of game development, malformed by the heat and light emitted by sudden success."

Devs highlight their crunch-free games following Rockstar fuss (Alice O'Connor / RockPaperShotgun - ARTICLE)
""If you made a game without crunch, feel free to reply to this thread!" Jan Willem Nijman of Vlambeer said yesterday on Twitter. "Everybody else: get your hands on some crunch-free games…" In came replies from developers behind games including Minit, Loot Rascals, Guacamelee!, Wandersong, Cultist Simulator, Sunless Sea, Lieve Oma, Regency Solitaire… good stuff. [SIMON'S NOTE: This is inspiring, isn't it?]"

A Game About Staying In Bed All Day (Keza MacDonald / Kotaku - ARTICLE)
"For a couple of months I've been dipping in and out of #SelfCare, a game about deciding to not get out of bed. It's nominally designed for people who don't really like video games, but as someone who has played them all my life, I've found it a fascinating experiment in game design."

How the Red Dead franchise began (Blake Hester / Polygon - ARTICLE)
"The story of the Red Dead series, one of the biggest and most renowned in gaming, starts long before its current home at Rockstar Games. In fact, it starts in the '80s in Carlsbad, California, at Angel Studios — a company initially not known for video games, but for 3D work in films and music videos."

------------------

[REMINDER: you can sign up to receive this newsletter every weekend at tinyletter.com/vgdeepcuts - we crosspost to Gamasutra later on Sunday, but get it first via newsletter! Story tips and comments can be emailed to [email protected] MINI-DISCLOSURE: Simon is one of the organizers of GDC and Gamasutra & an advisor to indie publisher No More Robots, so you may sometimes see links from those entities in his picks. Or not!]