Black chalkboard pillars with multicolored post-it notes scattered all over, each containing an idea, a thought, a task, a piece of a puzzle; lines and arrows connect parts of interest. There are printed pictures of character reference on the walls. Rare board games are set up ready to be played. Windows are turned into whiteboards with schematics and more post-its, describing gameplay ideas and last week's brainstorm results. We've got DVDs, video games, and art books on our desks. Kids gym mats are laid out on the floor for combat training and movement research. Clusters of tables fill the office space with groups of people prototyping, experimenting with new gameplay ideas, digital painting, talking about tone, flavor and game mechanics. There is a unique creative buzz in the temporary office space of Square Enix Montréal.
We're well into conceptualization and as the Game Director, I love it-- we're dreaming about the future of gaming and working on the first Hitman game to be built outside of Copenhagen.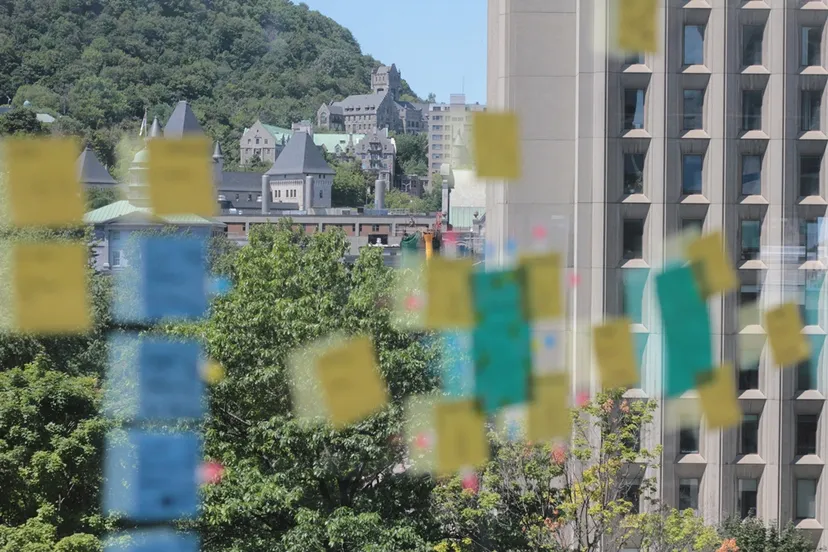 Windows are turned into whiteboards, with the result of one of our "Crazy Days" Brainstorms.

For me, the conceptualization stage is not so much about designing the game, as it is about setting the right goals for the game experience. The direction has to feel right, be ambitious enough to stand the test of time, and excite everybody. It's hard getting to that point, but it's one of the most important steps, since it usually determines the rest of the development, and the result. Design usually happens during pre-production, when we have our hands on the actual game in development.
As I write this, we just came out of another brainstorm on how to engage our players in new and interesting ways, taking away some really fresh concepts. We have these brainstorms several times a week.
We've dubbed these brainstorm sessions "Crazy Days", and they prove to be very effective for exploring new aspects of a game. We limit brainstorms to one hour, so that we get everything on the board fast, allowing us to consolidate and work in-depth with the most interesting ideas. We then present the work resulting from the brainstorm later the same day. This pace helps keep things new and prevents us from diving too deeply into only one aspect. There are a lot of new things on the table for our interpretation of the Hitman franchise, and we need to keep the game foundations at the forefront to maintain a coherent vision.
Everybody's invited to these sessions, regardless of their discipline. So, for example, an engineer could contribute a story-related idea or a sound designer could provide their take on a game mechanic. Encouraging this type of freedom outside of team members' expertise really fuels creativity, and helps us think outside of the box, while shedding new light on what a Hitman game could be. I also think it unifies our creative voice as multidiscipline teams actively interact with one another and share feature ownership, which is required to drive the high quality level we aim for.
Every time we mention we're working on the Hitman franchise, we see a smile on our peers' lips. The Hitman games best represent some of the things that gaming is all about: living, immersive worlds for you to play in, and the freedom to do things your way. Io Interactive have been doing a very good job of putting the player front and center and have given us some of the most memorable moments in gaming; emergent stories of how players completed missions shared at the water cooler, this to me is the core DNA of a Hitman game. I know how hard that is to create; I was at Io for the last 11 years. Our challenge is obviously to retain that DNA, while establishing ownership in our team and of our game.
Working with a completely new team around an established IP really gives us a unique perspective on what a Hitman game can be. We can revisit some of the "holy cows" from other Hitman games, and ask ourselves why and what in a new way, while creating a new and unique Hitman experience.
I am super excited about bringing one of the coolest IPs to one of biggest game development capitals in the world. While I can't reveal any details right now, I can promise you that there's going to be some unexpected surprises that will change the way you experience Hitman games. Forever.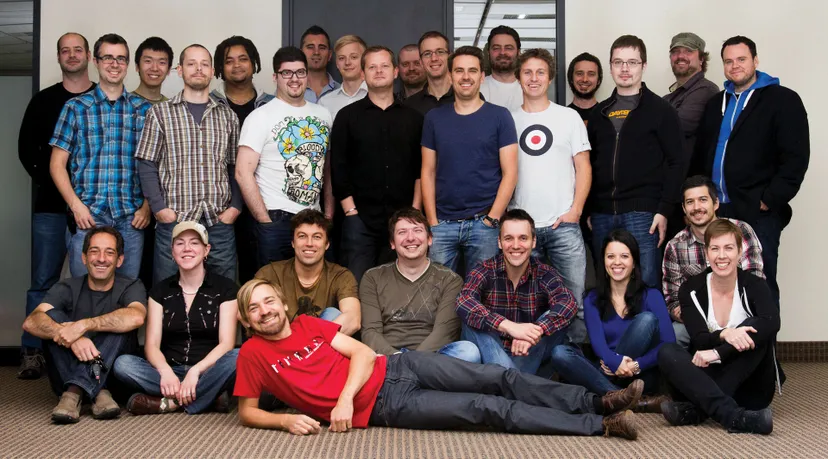 The Square Enix Montréal team as is stands today.