Welcome to 'The Esoteric Beat', the news report that provides new and unusual ways to think about games and culture. This week's column looks at Rogue, Scottish players and cinematics.
Oooh, You Rogue!
This week I've been
researching Roguelikes
, the games that resulted from that initial foray into stat-based RPGs,
Rogue
. Of course few games recognise their heritage, just as few gamers would recognise the ASCII based beast if it was plonked down on their desktops in 2006. For those who hark back to such times it's worth taking a minute to read
Glenn Wichman's account
of the early history of
Rogue
(for it was he and some other of UC Berkley's finest who invented that first version of the game). "One of the things we wanted to do was create a game we could enjoy playing ourselves," says Wichman, echoing the wishes of hundreds of developers right now.
"Most of the existing adventure-type games had 'canned' adventures -- they were exactly the same every time you played, and of course the programmers had to invent all of the puzzles, and therefore would always know how to beat the game. We decided that with
Rogue
, the program itself should 'build the dungeon', giving you a new adventure every time you played, and making it possible for even the creators to be surprised by the game." So really
Bill Roper and chums
are just reinventing
Rogue
with their procedural-dungeon epic
Hellgate: London
, aren't they? Jesting aside, its obvious how such lineages have had long term impact on the way games have developed. As I continued my research I discovered where
Rogue
and
Elite
collided, with the excellent shareware title
Flatspace
. It's no
Hellgate
, but it'll pass the time.
Scottish Authority
Spong reports
that a Scottish library has found a novel way of dealing with kids causing trouble in and around their area. In conjunction with the local police, the library has organised a gaming competition, as PC Rod Robinson explained:
"The problem was centred around the library and its staff were experiencing difficulties with the kids. I went down and chatted with them and together we came up with the idea of using the PlayStation they had in the library. We told the children we would run this tournament but they had to behave or they would be banned from competing. That really seemed to work. Some kids even told me they wouldn't be going out next week because they didn't want to risk getting excluded."
Games as tools for social management, anyone?
Comical Cinematics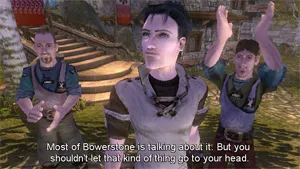 Comics site Buzzscope has run a piece of editorial by writer and game designer David Rodriguez, in which he outlines the appalling
problem of in-game cinematics
.
"It's like a minefield out there. I can't swing a cat in this game without hitting one of these things. In fact...I can't EVEN swing a cat. I can't swing a fist. I can't swing any goddamned thing at all. Apparently, I didn't buy a game about playing a game. I bought a game about walking from one contrived cinematic to another. You know, I can buy a really good movie for like twenty bucks. That twenty bucks even gets me extra discs, with director and actor commentary, and maybe even a good plot. Instead, I just gave these asses FIFTY dollars to watch a really bad movie!"
He's got a point, you know. Here's an exercise: think about how many times, and for how long, you are pulled out of a first-person free-looking perspective in the
Half-Life
games. Thinking about that? Now: think about the kind of marks given to those games by websites and magazine. Is there some kind of correlation? Could be...that's all I'm saying.
[Jim Rossignol is a freelance journalist based in the UK – his game journalism has appeared in PC Gamer UK, Edge and The London Times.]