Welcome to 'The Esoteric Beat', the news report that provides new and unusual ways to think about games and culture. This week's column looks at a study of "software art," the latest portable device from guru Ben Heckendorn, and the unlikely combination of Nissan and the Xbox 360.
Artistic Merit
Although originally posted on the German media site Media Art Net a few months back,
this essay
entitled 'On a Number of Aspects of Artistic Computer Games', by writer Tilman Baumgärtel, is worth trawling through for the links to a large number of game-inspired art obscurities. Most game-savvy readers will be aware of the first few pages of Doom and FPS modification revision, but later on it delivers page after page of thoughts on a variety of esoteric projects inspired by or creatively applying videogame technologies. This cast includes the weirdly scribbled FPS
Pencil Whipped
, the creative programmer
Tom Betts
, the artist
Norbert Bayer
, the
terrifying Painstation
, and the impressively random works of
urban art scallywag 'Invader'
. The essay concludes that these types of arts can't easily be categorised, and would only be diminished by academics labelling them as aspects of 'software art'. "Artistic experiments with computer games apply not only to code but also, along with this entire cultural and economic complex, to a mature social culture that has been built around computer games. Art that deals with computer games therefore has quickly moved beyond the boundaries within which most Internet art and software art is situated." Which is just one way of saying that, at the start of the 21st Century, electronic games are ubiquitous in Western culture.
Portable History

Ben Heck
, master of hacking videogame consoles, has created what the Esoteric Beat regards has his finest work to date -
a portable Colecovision
. Heck says of the project: "While making it I remembered (or remembered how I forgot) how advanced it is compared to an Atari 2600, or even an Intellivision for that matter. Heck, its processor is quite a bit faster than a Nintendo's even! Had the gaming crash not ended this console's life who knows what might have happened?" The Colecovision is a fabulous piece of work, although credit for the most visionary piece of hacking on Heck's site (itself a catalogue of hacking genius) must go to
the Atari 800 XE laptop
.
Tyred Games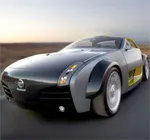 Meanwhile the latest cars are getting in bed with their virtual counterparts, which a whole host of cars boasting onboard Xbox 360 fittings. Least obtainable of these is
the Nissan URGE
, a concept car that has allegedly been put together to suit the profile created by a "survey of approximately 2,000 young car and gaming enthusiasts." As well as being fairly sporty, the URGE is kitted out with the latest generation of onboard entertainments. "Not surprisingly, most of the young, primarily male, respondents to our survey said that they want a small, fun-to-drive sports car that can incorporate the technology products that they use on a daily basis, such as cell phones, mp3 players and game consoles," said Bruce Campbell, vice president, design, Nissan Design America, Inc. That game console is, of course, the one which hosts
Project Gotham 3
. Presumably you'll need
some kind of autopilot
to get enough gaming time on the long commute to work.