Introduction
Hello, my name is Scott Wooton and I'm a student enrolled in Camden County College's Game Design and Development program. I'm one of two game designers on a team of 10 students. Our name is Team Committed and we are currently working on an exciting new project called Scorn. Scorn is an intense survival horror game that delivers a truly unforgettable experience. It is being developed using the powerful and versatile Torque Game Engine to ensure smooth game play with non-stop action. This is the first 3D game I have ever worked on so I'm hoping that we can create a great sense of immersion for players.
My main goal in life is to become a game designer for a well-respected development team. In my spare time I enjoy writing and refining my own game ideas for future projects. It takes dedication, time, and the will to see your idea go from a few sentences on a piece of paper to an exciting interactive experience on a TV screen, This passion is one of the only things that gets you through the hard work and long hours.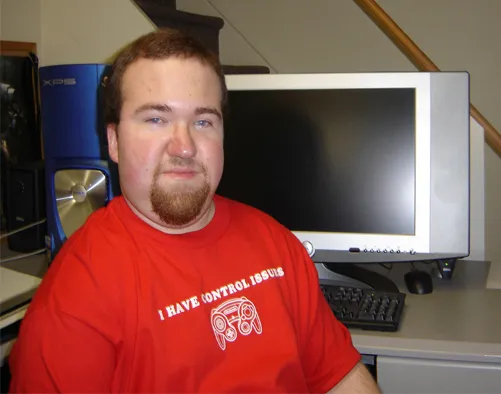 Scott Wooton
10:30 AM
I wake up at 10:30 AM; all of my classes this semester are at night so I work late and usually sleep late. It's Tuesday so I have Game Design 3 class at 6 o'clock. I'm pretty excited and anxious to get to it. Game design class is the core of my degree and is where I learn the most about the industry. Until then though, I try to get some work done from my other classes.
6:00 PM
I arrive on campus and walk into my Game Design 3 class where some members of my team have already arrived. After several minutes the rest of the class shows up and Jose Rodriguez, the team's producer, makes everyone sign off on this week's producer's report. These reports document our team's weekly accomplishments, current state, and future plans. When the report has been signed by every team member, it is handed over to our professor, Ryan Morrison, who acts as publisher.
6:15 PM
Professor Morrison gives a brief lecture to the entire class updating everyone on the current situation and what's coming up next in the class schedule. He asks to speak to me in the hallway, which I think can only mean bad news.
The team is having some issues and will be undergoing some changes. Many parts of the game design document had not been started and there was around two weeks left before it was due. Jesse Neukirich, one of the game designers, was tirelessly writing the game's story, while the other game designer had the responsibility of writing the levels.
Unfortunately, there had been a breakdown in the team and problems had arisen. I was offered the job to become Jesse's new co-game designer. I accepted the job since writing is one of my passions. I had already written the background information for the game's characters and some of the back-story as well, so I had a good understanding of where we were going with the project. I was also a game designer last semester so I knew the job and what it required.
6:30 PM
Professor Morrison requests a meeting with Jesse and me in an empty room across the hall. We sit down and assess the current situation concerning the status of the game design document. Jesse had been writing the story for several weeks. I knew from experience that writing an exciting story in a limited amount of time is one of the hardest parts of the game design document so I'm eager to help out in any way I can.
However, the biggest issue now is that no levels have been written for the game. The previous semester's game project was 2D and had only three levels, which were very linear. Since Scorn is a fully 3D game, levels will be expansive and much more complicated. We also need to have a minimum of seven levels for the final version of the game. All of this has to be done along with the other sections of the game design document within two weeks, so crunch time has begun.
Crunch time is a strange thing for me because I both enjoy and loathe it. I feel motivated and ready to take on the job, but for the next two weeks, I know I'm going to feel stressed out. You sometimes have to put your other class work on hold to get things done. When you're working on a team, you make a commitment to every member to do your best work and help out whenever you can because in the end, your potential failures become their failures.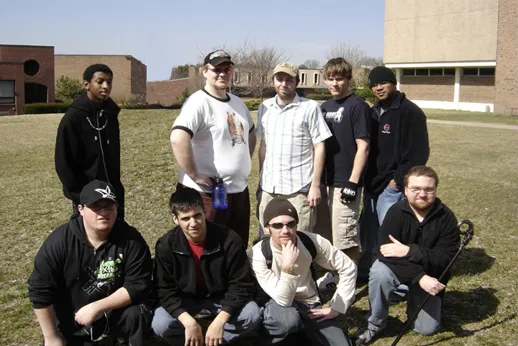 Team Committed
7:00 PM
Jesse and I return to the class room and discuss our ideas for the levels. I take out note paper and write down all the basic details. In one hour we have a clear direction for the look and feel of each level. We're now ready to move on to the next step. Each level needs a brief description, a map, and a detailed walkthrough. Jesse takes on the level maps, and I will handle the descriptions and walkthroughs. We speak with one of our programmers Mike Bristow, and ask him about doing an outdoors landscape for the final level in the game. The game engine should have no problem with it.
8:30 PM
I leave campus and head over to my friend Pete's apartment, where he, my other friend James, and myself play at least 30 matches of Super Smash Brothers Melee. While the game may be somewhat cartoonish, we take it so seriously that it's practically our religion. We hurl insults at each other when we lose, and gloat when we win, so it's a fun time. This is also the last time I will probably be able to play a game for awhile.
12:00 - 3:30 AM
I arrive at home, where I drink some soda to wake myself up and I immediately start working at my computer. I begin to type the level descriptions which I will use as a starting idea for the larger and more detailed level walkthroughs. After about 45 minutes I receive an instant message from Jesse; he has the level one map completed and sends it to me. I send him the description of level 1. AOL Instant Messenger can actually be a very valuable tool when trying to coordinate work. In a half hour Jesse sends me the level 2 and 3 maps and I send him the descriptions. This process went on until around 3:30 AM. When my caffeine rush wears off, I have to go to bed, or collapse at the computer. Caffeine is your life blood when working late, but it can only get you so far. I go to sleep with a sense of accomplishment as I got a fair amount of work done for the day.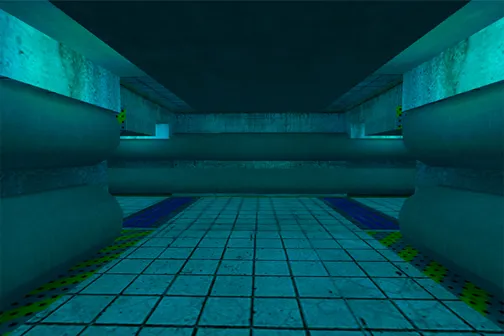 Scorn
_____________________________________________________