[In this Intel-sponsored feature, part of the Gamasutra Visual Computing microsite, middleware firm Havok discusses its new products - from Havok Destruction to Havok Cloth - its acquisition by Intel, and plans for the future.]
Physics - that fascinating branch of science that traditionally puts high school students into a REM sleep state - has also given birth to innovations as modest as the roulette wheel and the unicycle, and as awe inspiring as the hydrogen bomb and the Apollo space missions.
Depicting real-world events realistically in 3-D computer games requires a physics engine that is capable of applying the rules of Newtonian physics to the interactions of characters and objects.
This objective guided the successful rise of Havok, from its origins in Dublin, Ireland, in 1998 to its current position as the preeminent provider of physics software for triple-A computer games. Havok continues to gain stature and recognition in the technology industry for its expertise in producing physics, animation, and software-development tools for game developers and the movie industry.
The Havok Physics engine simulates the nature of motion, particle systems, and collisions in the environment and provides them algorithmically for use in computer gaming. Combined with Havok Animation, which offers an extensive slate of animation capabilities to game developers, the functionality makes it possible to recreate scores of physical events, from the collision of two billiard balls to an out-of-control motorcycle careening through a traffic-filled intersection.
Characters also gain new realism in gameplay through a motion pipeline that helps determine their responses to one another. Packaged together as Havok Complete, these physics and animation capabilities are now available as a product for downloading and use at no cost.
Intel's acquisition of Havok in September 2007 set the stage for some very high-profile advances in gaming. Long-time partners, Intel and Havok engineering teams worked closely to refine and improve Havok's HydraCore technology, which optimizes game physics behaviors on platforms based on Intel Core microarchitecture.
Intel has pledged that Havok will continue with its cross-platform philosophy and Intel will employ a hands-off management approach, giving Dublin-based Havok the opportunity to take maximum advantage of Intel engineering resources and software tools, while enhancing its popular middleware for the strongly competitive game market.
I talked with David O'Meara, the managing director of Havok, about product announcements at Game Developers Conference (GDC) earlier this year, the nature of cross-platform game development, rising industry costs, and the benefits of Intel and Havok working together.
The Response to New Havok Products
I understand you received a very strong response to your new product introductions at the 2008 GDC.
O'Meara: Havok launched two new products at GDC this year and both of those products have been exceptionally well received. One of them is called Havok Destruction and the other is called Havok Cloth. Together, they are going to significantly improve the experience for gamers. The Cloth video demo had 370,000 downloads in 24 hours. That is phenomenal.
These new technologies, Destruction and Cloth, on top of our existing products, will give games that come out in a year or two another breakthrough in terms of the look and feel and the gameplay. They are also very important for the type of thing that Intel wants to achieve with future hardware for visual computing, with the capability of doing things with Destruction and Cloth that you might not get with smaller platforms.
Is the nature of game development changing?
O'Meara: In the games industry, the cost of developing these games has risen dramatically: it costs around 30- to 40-million, USD, to develop a game. Five years ago it was around two to five million. Costs have increased substantially for a number of reasons.
One is that the consumer expects a compelling story and a compelling video experience, which requires a lot more thought, effort, technology, and movie-like appearances in the game. So, that has obviously increased the cost significantly. Secondly, there is the increase in the cost of developing across these really advanced technical platforms, like PlayStation 3 and Xbox 360, compared to the type of platforms we had five years ago. Thirdly, in game studios today there will be over 100 people working on a game.
At a business level, Havok is providing one piece of software to work across a huge range of hardware that varies greatly in complexity: sophisticated PCs, sophisticated PlayStation 3 consoles with lots of special processing units, and then right down to mobile devices with limited capabilities at the moment.
---
Is your HydraCore technology adaptable to the full range of game consoles and computers? How easily can you take operations such as multi-threading and work them across a huge range of platforms effectively?
O'Meara: The heart of why Havok is the most successful provider of software in this space right now is that no one else is as good as we are at supporting multiple platforms. No one has come close to being as good as we are at doing that.
I think the secret of this gets down to being no great secret in the sense that we are the most battle-tested software company in this space. There are over 200 triple-A video games released using Havok components. There are 100 in production this year due for release that will use Havok.
And, it is the experience that we have gained with those publishers on those triple-A games that gives us the insights we need to ensure that our software is as elegant as it can possibly be across a range of platforms. It is not easy to operate across a range of platforms.
We optimize for the most complex piece of hardware out there. Currently, we have teams working, optimizing for hardware that is not yet on the market (including upcoming hardware from Intel).
The insights that we have gained from working on hundreds of games and understanding how the game developer will want to utilize the upcoming platforms give us an edge in providing tools that developers need.
A Freebie for PC Game Development: Havok Complete
You also announced a free downloadable version of Havok Complete for the PC earlier this year. What was the reasoning behind making the software freely available?
O'Meara: We are hoping to see a lot of the universities and a lot of the kids getting very familiar with the technology and we are hoping to see those who have the initiative to then develop things themselves. They will be able to do this without incurring the significant upfront costs of licensing the technology.
We expect widespread experience of the Havok software and we expect to see breakthroughs coming from some of these people, many of whom may develop small games or develop ideas that they can then show to a publisher and say, "look what I am able to do with this game. Are you interested?"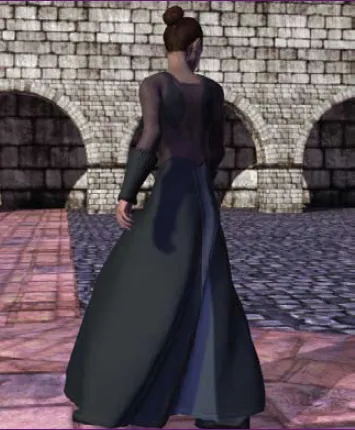 The drape, flow, and motion of garments is simulated by Havok Cloth.
What is the importance of using the PC platform for development compared to game consoles?
O'Meara: PCs are often the platform on which critical breakthroughs are made in gaming. A platform like PlayStation 2 can be two or three years old; the PC can have advanced much more than that PlayStation 2 has after those two or three years.
The newer PC is capable of providing game experiences that wouldn't have been possible on the PlayStation 2. Typically, the PC is technologically ahead of the capabilities of the consoles. The PC is very important for critical breakthroughs in gaming.
Secondly, the PC is very important for online gaming. World of Warcraft, Second Life, and other games where people are using the platform to access an online game are very important uses. Important gaming milestones - from id Software's Doom to the cinematic storylines of Valve Software's Half-Life 2 - were launched on the PC platform.
Because technological advances in computing typically emerge first on the PC, game-development studios often target these high-end platforms for their more ambitious coding efforts and scale down to achieve maximum cross-platform support.
---
Havok and Intel Working Together
Whenever one successful company buys another successful company, everyone wonders what the ultimate outcome will be. Is Havok's operational independence important to ongoing business prospects?
O'Meara: I think our independence is hugely important to Intel for a couple of reasons. One is that the credibility that Havok has with the gaming industry spills over onto Intel. But if Havok isn't independent, it won't have that credibility because it would be seen as partisan.
For Intel to make a much bigger play in gaming itself on the hardware side, it is really helpful to Intel that Havok is independent- because of the credibility Havok has. And Intel is going to gain hugely from the industry if the industry sees that Intel continues- as it has been doing- to allow Havok to be independent.
How has the relationship with Intel benefited Havok?
O'Meara: There have been a number of things that have been very good already in the six months since we were acquired by Intel. For example, the PC initiative underwritten by Intel [offering Havok Complete for free] is really great, because this initiative has the capability of significantly expanding the market beyond just the triple-A developers.
Broadening our capabilities beyond the entertainment industry is another anticipated development we expect to gain with Intel. In other words, we will go into serious gaming. Serious gaming includes non-entertainment applications, such as industrial and military simulations and training. Intel offers Havok a lot of capabilities and resources to enable us to go beyond the entertainment space in a couple of year's time.
Finally, I think there are technologies within Intel that are developed by Intel (without Intel looking for a commercial application from them). It would be very nice if we could create some commercial applications for some of the technologies that are being developed - take them out of Intel and put them into Havok. And that is part of the concept for Intel and Havok.
New Technologies, Future Breakthroughs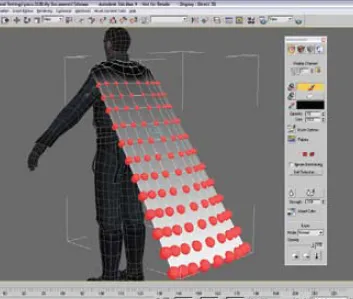 Gaming platforms will continue to advance and incorporate new technologies, with parallelism, new caching techniques, and other technologies expanding the realism and richness of the gaming experience.
As long as there are multiple audiences running games on platforms of varying capabilities, Havok will be providing tools to developers that bring the best in physics and animation to each platform.
Working together, Intel and Havok will certainly play a key role in exploring future options and extending the possibilities for achieving fast, efficient, realistic animation within 3-D worlds.
These efforts should also help open new avenues for less-experienced developers to create both 3-D objects and object behaviors based on sophisticated physics that will be the foundation of online environments such as Second Life.
The prospects for breakthrough animation advances for gaming and movies are extensive and a worldwide audience awaits the results of the collaborative activities of Intel and Havok.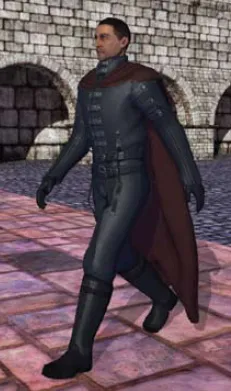 Snappily-dressed game characters are wearing the latest fashion statements from Havok Cloth.
About Havok
Havok, an Intel company, was founded in Dublin, Ireland, in 1998 and is the premier provider of interactive software and services for digital media creators in the games and movie industries, with world-leading expertise in physics, animation, and tools.
Havok's business is to turn customer's creative aspirations into technical realities. Havok's modular suite of tools gives power to the creator, making sure that clients can reach new standards of realism and interactivity, while mitigating the overall cost and risks associated with creating today's leading video games and movies.
For their technology advances, Havok has earned an impressive collection of industry awards, including the National Academy of Television, Arts & Sciences Award, Game Developer Frontline Award, and a Develop Industry Excellence Award.
Havok has offices in Dublin, San Francisco, San Antonio, Calcutta, Munich, and Tokyo.