Jason Thibeault is Senior Director Marketing Strategy at Limelight Networks. Join him and Gamasutra for a free webinar on Thursday, February 26. Register now!
Ugh. The discount bin. Could there be any worse future for a game than to end up marked down to $4.99 and relegated to some plastic trash bin at the back of the store? Probably not. But why does it only happen to some games and not others?
Before I answer that question, let's set some baselines first. For example, what do I mean by "game delivery?" In short order, game delivery refers to two things. First, it refers to getting the game into the hands of your audience. That's packaging, marketing, and distribution. All of that helps to create an overall brand for your game. Second, though, delivery in this day and age also refers to moving bits. And given that in 2013, 92% of PC games were delivered via digital download (according to DFC Intelligence), game delivery addresses the experience your audience has when they download your title or additional content (i.e., DLC).
And that brings up an important point about my discount bin analogy—despite the picture above, the discount bin is not only about physical games. Although the iTunes App store doesn't have a "discount" area, there is a veritable "back of the store" at all times. In fact, according to mobile analytics company Adjust, nearly 80% of mobile apps and games in the iOS app store don't get any measurable downloads. In fact, they call them "zombie" apps. We could debate why this happens but I'd argue that it's because of delivery. The games that don't "see the light of day" aren't packaged well. As I'll talk about shortly, there's no brand, nothing cross-platform, and no reason for people to be engaged.
But what does "being relegated to the discount bin" really mean? Is it just about pricing? If you lower your price are you screaming, "I'm a discount game?" Not exactly. My analogy is more sinister than that and has really nothing to do with price. It's all about people caring about your game in the first place. You see when a game first comes out and it gets some attention (i.e., it goes viral, packaging is good, marketing is hot, game delivery is excellent, whatever) there's a valley that needs to be spanned. Most games never clear the gap and if they don't, they fall into the valley of dispassionate ambivalence. AKA: people don't care about your game anymore.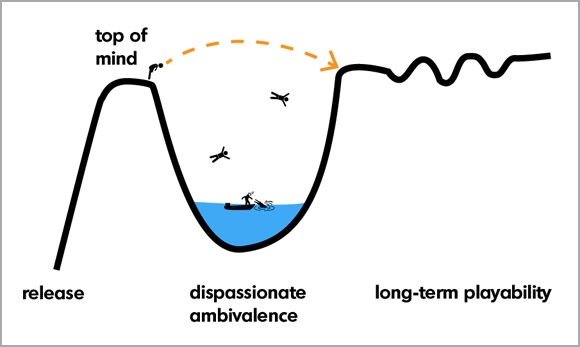 But why do people stop caring about games? There are many reasons this might happen. The storyline may be boring. The gameplay and mechanics may be too hard. The game could be bad. Marketing the game could wind down before it really catches and goes viral. When any of these things happen, you'll find it supremely hard to get across that valley. But there are also a host of other reasons that could doom your game to the discount bin. You see, games are an experience now. People want to engage with a title that has longevity that provides them something other than immediate gratification. Think about recent successful titles like TriviaCrack. Sure, you get to play a trivia game and answer some questions which is fun but the game is so much more than that because of social integration. You play against friends. You get to talk smack via an in-app chat functionality. It's more than just a game, it's a social adventure. It's an experience.
The way that you deliver a game—how you package it up and how you get it into your audience's hands—is critical to defining your game experience (which is so much more than just the obvious flashy graphics and cool soundtracks). In fact, I'd argue most relegated games suffer from a bad game experience that stems from one or more of seven key attributes.
Lack of Brand
Games with a great experience have brand. Think Minecraft. Not only did the game catch on over time, but it extended well beyond the property itself (i.e., Minecraft Legos). Every time a game like Minecraft or AngryBirds or Cut the Rope extends outside of the digital into the physical (with cute, fuzzy plush toys, for example) the game experience is accentuated for those engaged with the title. This helps create long-term attachment.
Lack of a Good Storyline
This is an obvious one. If the game is boring to play, people aren't going to play it. And thanks to the prevalence of end-user and professional reviews, consumers are hypersensitive to what other people think about a title. I'm surprised how many studios don't incentivize people to leave reviews (i.e., here is an in-game credit for leaving a positive review) so that they can build up credibility of their title. You can't rely solely on Metacritic anymore.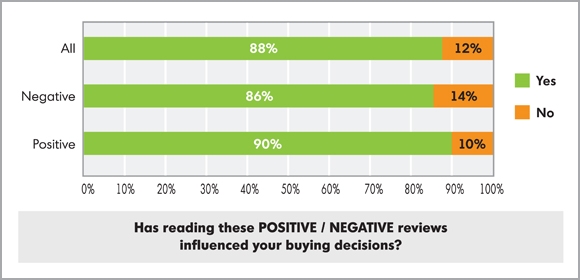 In fact, according to Dimension Research, almost 90% of consumers say buying decisions are influenced by online reviews.
Bad Game Mechanics
This isn't so obvious but makes total sense. If the game is boring, if it's hard to play, it's going in the bin…and quickly. Similar to a bad storyline, reviews are the kiss of death for games that are too hard to play or feature mechanics that don't make sense. Although it's probably worth noting that sometimes, a challenging game mechanic (i.e., FlappyBird) can actually be the reason for a game's success!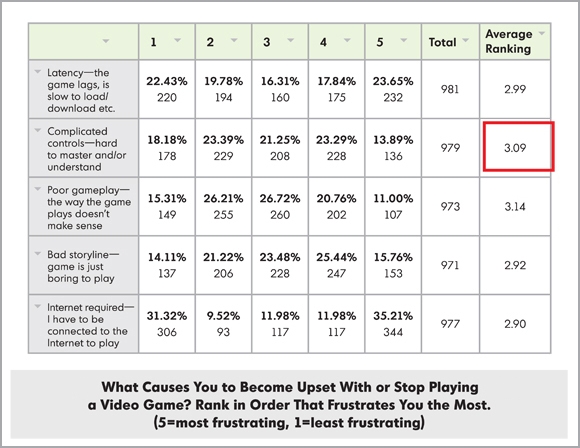 According to the Consumer Gaming Trends report (which surveyed over a thousand end-user gamers in the U.S., Canada, and the U.K.), game mechanics is the number two reason people become frustrated with a game. And frustration equates to a bad experience.
Slow to Download
In today's game industry where approximately 90% of PC games are downloaded, there are simply too many titles for not enough gamers. Sure, a lot of people enjoy gaming today thanks to mobile platforms and digital delivery systems like Steam, but there are thousands of games produced and published each month across console, PC, and mobile. If part of the game experience encompasses delivering the title to the player, what happens when that delivery is slow? Simple. The audience turns its attention to another title that downloads faster. Of course, there are exceptions to this rule (think Activision's recent Call of Duty: Advanced Warfare which topped over 45GB in download) in which a rabid fan base will look past this part of the game experience.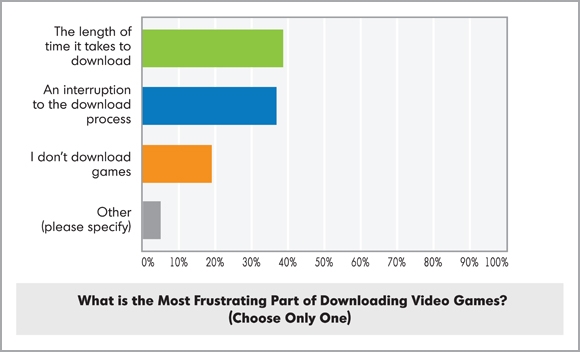 But don't rest on your laurels, even if you have a strong brand. Downloading games is the one part of the game experience that frustrates your audience. In fact, almost 40% of respondents in the Consumer Gaming Trends report indicated a frustration at how long it takes for a game to download.
No DLCs or Updates
What happens when your game ends? Do the credits role? If that's the case, your game may already be destined for the discount bin.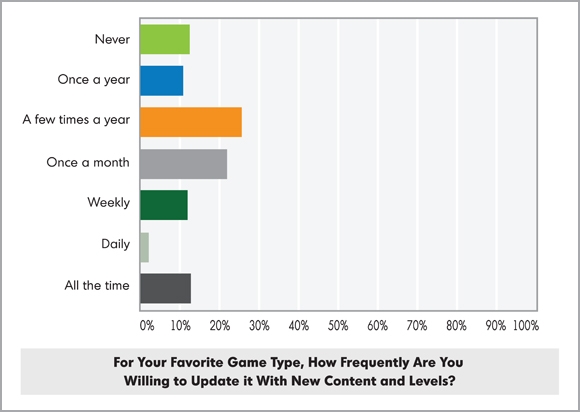 According to the Consumer Gaming Trends report, most of your audience expects there to be frequent updates to a title. In fact, almost 50% are willing to update their favorite games once a month. Think about the popularity of games like Candy Crush Saga. The levels never stop. There's always new content to play. I'll give you a personal example. I played Wasteland 2 when it came out (Kickstarter game from the guys who created the original 1980s Wasteland) and loved it. Wanted to keep playing it. But when the game ended, that was it. There was no DLC. No updates. And that was a few months ago. The problem now? I've pretty much forgotten about the game. I'm off to play other titles. The easy analogy is that a game is like a series of books. You want to keep reading the series. But imagine that a new series distracts the author and he stops writing the one you're reading to write the new one. Yeah, that's Wasteland 2 for me.
No Long-Term Engagement
Wrapped up with the DLC/updates problem is a lack of engagement. Many game developers create very linear storylines for their games. A leads to B leads to C, etc. But successful MMOs teach us something about gaming behavior. The latest installment of World of Warcraft provides a reason for players to return every day to collect resources for their garrison. This kind of daily engagement promotes continued play that keeps gamers attached to your title and brand. Think about what no long-term engagement means for a game when consumers have so much choice. For example, according to information from pocketgamer.biz about appstore applications from Apple, approximately 3,461 games were submitted so far in February, 2015 equating to around 250/day. What makes someone stick with a game and keep playing it? There has to be a reason to return day after day after day (hint…hint, Candy Crush Saga).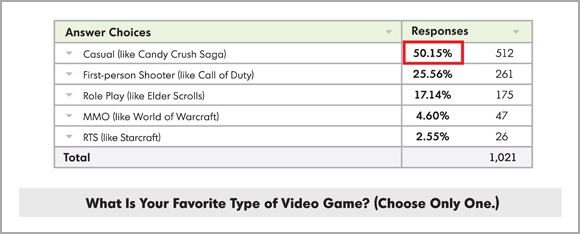 There has to be a "casual" element to it especially when you consider that according to the Consumer Gaming Trends Report, 50% of respondents indicated that casual was their favorite game category.
Single Platform
What do super successful games have in common? They extend their brand beyond a single platform. Look at Call of Duty. Although it began as a console/PC game, it expanded into mobile with Call of Duty: Black Ops Zombies, Call of Duty: Strike Team, and Call of Duty: Zombies all of which are really highly rated. What's more, they have even extended the console gaming experience through second screen with Call of Duty: Advanced Warfare Companion. Rovio's AngryBirds is another excellent example of cross-platform gaming: smartphone, tablet, browser, Roku app, console, graphing calculator, etc.
End of Life
Let's face it; most titles don't stay around forever. Why? Because studios and publishers move onto other projects (and people move onto other studios and publishers). But more importantly, it's a natural progression in the lifecycle of a game. Over time, every title's potential to hit the discount bin increases simply because new titles are released that compete for audience attention. Of course, continued DLC, daily engagement, and other features can help mitigate that potential, but it's ultimately inevitable. The goal is to help your title have the longest lifecycle possible; to keep it out of the discount bin until there's no avoiding that time.
The Experience is Holistic
When it comes down to it, great game experiences aren't just about the game itself anymore. There is simply too much competition to rely solely on the storyline.
In order to avoid the "discount bin," studios and publishers must create a game experience that delivers the title to audiences in the best way possible. Of course, that starts with a great game, one that extends beyond a single platform, one that provides "casual gaming" elements (if it isn't a casual game in and of itself), and one that promotes long-term gameplay through downloadable content. But it doesn't end there. Part of that game experience involves how you physically deliver the game to your audiences. Even if you are relying on third-party delivery systems (like Steam or an app store), disruption in the download process reflects on your game experience, not necessarily the delivery platform.
It's clear that consumers are becoming hypersensitive about the game experience. The question remains, though, will your experience keep them coming back day after day to your title? Or will it lead to that plastic bin in the back?
To get the complete analysis of the Consumer Gaming Trends Survey, download the report. You have two opportunities to hear more from this author in the near future. The first is a Webinar titled "5 Ways to Deliver a Great Game Experience" -- you can register for it here. The next opportunity is Jason's session at Game Developer's Conference on Thursday March 5th at 4:00pm in Room 2024, West Hall. And be sure to stop by the Limelight Networks booth #2434.
Author:
Jason Thibeault
Senior Director Marketing Strategy
[email protected]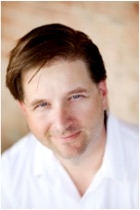 Jason Thibeault is the senior director of marketing strategy for Limelight Networks. In this role he helps direct Limelight's corporate messaging and positioning, develops whitepapers and e-books, blogs, and evangelizes the Limelight solution offering to audiences around the world. Jason is also the co-author of the award-winning marketing thought-leadership book Recommend This! Delivering Digital Experiences that People Want to Share (Wiley) and is an inventor on a number of technical patents. In his spare time, he writes young-adult fiction, games incessantly, coaches youth hockey, and hangs out on his boat with his wife, four kids, and dog. You can follow him on twitter @_jasonthibeault
Sources