Hi to All!
My name is Arsid Alijaj and i am just a young man ( 21 years old ) who want to create something and be indipendent. 5 years ago me and my twin brother were just playing a game... ( Yeah a ihave a twin brother) and we said to each other " the school it's not for us and we know it cause in the school we felt like we were in the prison , loosing time only.
So once at home we started learning how to do games , from youtube and other forums sure.
We past the last 4-5 years trying to get there out in the stores something new... but WE FAILED , I FAILED. I have don 13 projects and only ONE it made something but that was not the type of games i wanted ( it was a funny game a jokin one... not even a game. ). So i quit.
Yeah! I know , i am not the only one who wanted to quit . This happens to every one. If you did not fail so hard how can you make a success? Like the rovio EXample .... they failed 51 time. So i know that feeling.
Well here it comes the story!
One day 21 jannuary 2017 my brother showed my a game , initially it was just a project he was joking on , an example and he said " How about working together" and lets try to make a Cool and Unique game that has never ever been done before? Maybe we get the success we deserve!
I just said ok let's try.
I Don't know how to use Unity 3D and he does, so the pact was ( I JUST SAY HOW TO MAKE THE GAME and he Does the coding ) and so we started!
Here you can see how our game #SpondaBall was when we started and how we made it after.
( ITS AN OLD BUILD)
So this was the beginning of our Game #Spondaball which we are working on it for About 6 months.It was so hard cause we wanted to make it unique and my brother didn't know to pregramm so well with unity so he had to learn how to do the Features we wanted DAY and NIGHT awake.
We were broked so many times , cause it's stressfuly to make a game alone , this was what we learned and if you don't have enought Coffee in your home .... DON'T EVEN START!
After many and many times we were broken and we were not ok in some features we always continued to do the game.
We are searrching and we don't work and this make thing difficult for us cause our family need money. How every other family. We decided not to stop and day by day we started and continued to Add features!.
Spondaball The Game.
SpondaBall is a Simple, fun and suitable Physic Game specially designed for kids and Adults for all ages with passion for puzzle games!

here in this gif i am testing the Slow Motion feature with 3D touch for IOS.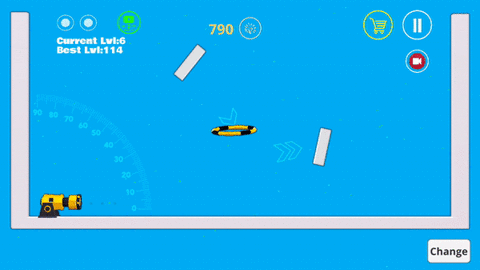 and i have to say that it's really great!
and we didn't stopped here! We wanted to create something that it's not so easy to do, something unique so we added EDITOR MODE!
This is Editor Mode:
here i am testing the Editor mode Physics and Objects.
In Editor mode you can:

◆ Use your imagination and build a lot of Levels in Editor Mode and Challenge your friends!
I have to say that it's really a great and the biggest feature we implemented in #SpondaBall!
Conclusion
We are really so happy with the final version on which we are working on it right now, we added a lot of features , we are really so happy cause the game it's almost finished! IT WAS HARD but i think we will get something back. At last what we deserve!
You can follow the Game Updates here:
Facebook: https://www.facebook.com/ArsmenGames/
Twitter: https://twitter.com/ArsmenGames
Reddit: https://www.reddit.com/r/SpondaBall/
Coming soon on iPhone®, iPad® and Android®

- Made by Arsid Alijaj ,Armen Alijaj (ARSMEN)