Kris Graft (@krisgraft) is editor-in-cheif of Gamasutra. See #TrainJam day one here. Day three is now available.
I wake up to the train coming to a stop somewhere in Colorado. It's around 7 a.m. Friday, the sun is just starting to come up, and I got about four hours of sleep, which doesn't seem too bad for Train Jam sleep. Cellular reception -- and therefore our internet -- is still very spotty, proving so far that the jam's theme of "disconnected" was well-chosen.
Searching…
Directly across from my cramped cabin is Shahid Kamal Ahmad, who in the past few years has become known as the doors-always-open business development guy at PlayStation. He's been a key player in onboarding interesting indie games for PlayStation platforms. But he's not here to strike new deals with dev partners. He's here to make his own game.
"I'm too old for this," he says to me, smiling. He's been in game development for over 20 years. "In my day, we were called 'bedroom programmers,' nothing cool like 'indies,'" he laughs. While there's a lot of action and collaboration going on with jammers in the observation car and elsewhere on the train, Ahmad's been working alone on his laptop in his cabin.
"I feel like a pretender," he says, shrugging. I disagree with him, and tell him how unusual it is for a key decision-maker at Sony PlayStation (he doesn't act like your typical "corporate guy") to be attending a game jam on a train; that it's good for an executive to remember the creation process that comes well-before the handshake and the signature.
It's been a long time since he has made a game. I can tell he's apprehensive about getting right in the mix. He's out of practice. But, he is on the train.
Searching…
I take a walk around the train to see who's up and making games this morning, and I run into developer Zoe Quinn at the food stand. She's getting an energy drink.
"I've been up all night and now I'm over-caffeinated!" she says with a wide, pierced grin. She heads back upstairs to work on her game, which is about surviving the indie game convention circus.
The work ethic of the developers on the Train Jam has been admirable. Everyone is having fun, but all of them signed up for this to work and create -- to have something to show for this 56-hour trip once our route terminates in Emeryville, CA. This is their passion, their interest.
Searching…
It's been interesting to see game development happening in front of "ordinary people." Instead of being largely hidden from the public as with the typical game jam, the Train Jam has somewhat demystified game development and game developers.
People are curious about the jammers. I hear about how an Amtrak attendant last night tried on the Oculus Rift VR goggles. She said she wants to use it for her interior decorating. One man, an Army veteran who lost use of one of his arms in a job-related accident, talks about how he's been thinking of getting into mobile game development. We share dinner tables with passengers, and I hear a middle-aged man wish a couple of Train Jammers good luck with their game.
It's good to have non-game developers see the creation of games happen first-hand. They ask questions, and they see the collaboration, creativity and intelligence that's being expressed. Video games aren't so nefarious — they have a face, a brain, a spirit.
Searching…
"Sorry, the Rockies don't like your cell phones," the Amtrak attendant says over the PA. "If you've seen the movie Under Siege 2 starring Steven Seagal, you might recognize some of this scenery."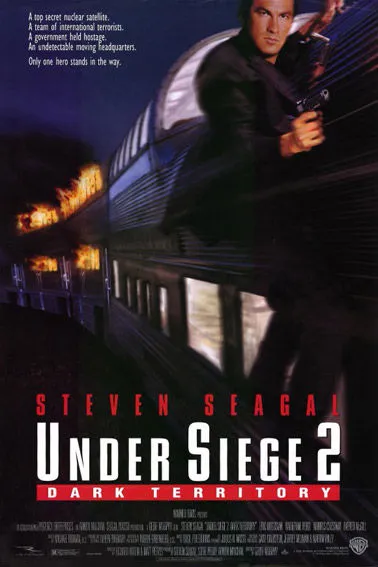 The Train Jam is basically Under Siege 2
Searching...
Searching…
I was taking a break in the evening, back in my little sleeper cabin playing some Super Meat Boy. I heard some serious huffing and puffing happening, and I poke my head out of my door. It's Shahid Ahmad. "You ok out there?" I ask. He's fine. He actually just got done doing a set of pushups at the end of our hallway (which is also the end of the train — yeah we're in the "caboose"). Ahmad says he's been on a pushup regimen, and been making nice gains over the course of several weeks.
"I'm 48!" he says, slightly panting. "I've never done 20 pushups in my life."
I ask him how his Train Jam game is coming along. He says he's made good progress since I talked to him earlier in the day. It's a music-based game that deals with the disconnection and emotional distance between a father and son. But they are still able to connect through one thing: making music. "You're the first one I've talked to about it," he says.
When I talked to him this morning, he seemed less sure of himself, worried that his game dev muscle may have atrophied — that he was an imposter, or as he put it, a pretender. Now there's a sense of optimism in his voice. Over the course of a day and a half, he's reminded himself that he's a video game developer. "It's like being unshackled," he says.
NO SERVICE