This interview is part of our Road to the IGF series. You can find the rest by clicking here.
Attentat 1942 is a look at World War II through the eyes of its survivors, using multiple perspectives and play styles to share in a personalized look at its events and horrors. Using fictitious, but heavily-researched and scripted interviews, historical footage, and graphic novel segments, the game seeks to immerse players in the period and give them a look at things through the perspective of those who lived through it.
Vit Sisler spoke with Gamasutra about the development of the Excellence in Narrative-nominated Attentat 1942, talking about how its interactivity can help players truly connect with the effects of the period, and what games can do to help enrich players' internalization of history and its events.
What's your background in making games?
I started designing and programming my own video games in the late 1980s on the Atari 800 XL. These were mainly text-based adventures, a genre that was massively popular in the socialist Czechoslovakia. Later on, we started to develop two large-scale games with two friends in high school: a turn-based game and a real-time strategy title. We never finished these as both projects were too big for us to complete. Finally, I was the lead game designer of a strategy game, Europe 2045, which was a simulation of the European Union and diplomacy for high school students. This game was quite successful and is still used in Czech high schools.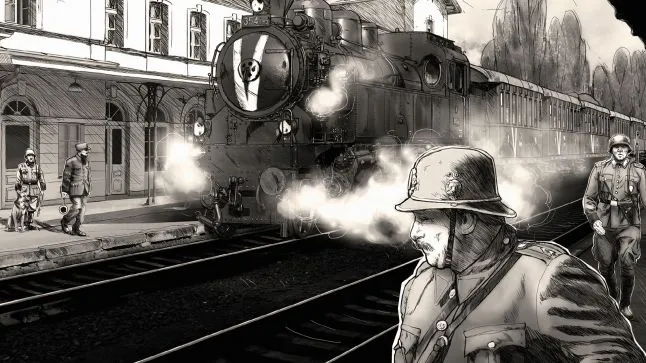 How did you come up with the concept?
For a very long time, we wanted to make a realistic game about Czechoslovak contemporary history that would present key moments through personal stories. Yet, we knew such a project would be a massive endeavor that would not be possible without a team of professional historians and institutional support. After the success of our first game, Europe 2045, we felt ready to initiate such a large-scale project.
We formed a team of game designers and game developers from Charles University and reached out to historians from the Academy of Sciences, asking them if they were interested in such a project. They were, so we started securing finances and writing the concept of the game. It is important to say that the historians were involved in the core game design from its very beginning. Unlike in other games, where you can see historians in the role of consultants, in our team they were actually writing the initial versions of dialogues, decision trees and mini-games. I would say this is one thing that makes Attentat 1942 special, since it has a deep and engaging story that is neither schematized nor trivial.
What development tools were used to build your game?
We have developed our own online game editor in which our script-programmers constructed most of the game. Only a few parts had to be custom made. We have used Adobe AIR to run the game on desktop, and Adobe After Effects and Adobe Flash Pro to prepare movies and assets.
How much time have you spent working on the game?
We have been working on Attentat 1942 for almost five years, but none of us was working on it full-time. We all have other jobs and responsibilities. I am an assistant professor at New Media Studies at Charles University, and the game's lead programmer, Jakub Gemrot, is responsible for a new Game Development program at the same university.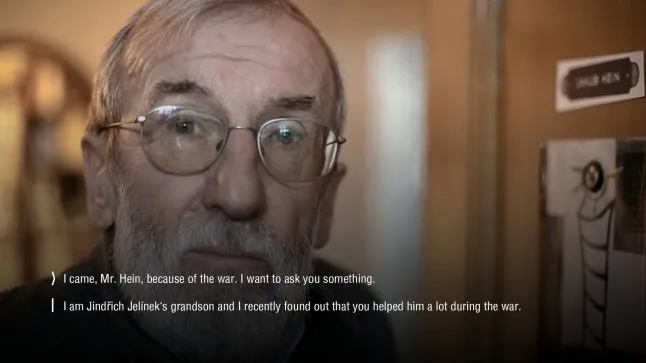 What made you want to capture this human side of the horrors of World War II? Why capture it from the perspective of its survivors?
There are many realistic video games about World War II, yet their realism focuses mostly on warfare and military operations. The civilian perspective is typically missing in war-themed games, with few notable exceptions. We wanted to show the impact the war and the totalitarian regime had on the lives and minds of ordinary people. Also, we wanted to show contemporary history from different perspectives. In the game, you have eight different characters and each of them is providing you not only with a different story, but also with a different evaluation of events that happened in the past.
How did you decide to add multiple elements (live interviews, historical footage, graphic novel segments) to tell Attentat 1942's story? Why these different storytelling techniques?
The characters in Attentat 1942 and their stories are fictitious, although based on historical research and real testimonies. Therefore, in the game you have a combination of real historical events and fictitious ones, typically related to the personal lives of the in-game characters. Also, the game has two time planes. In the present time, you are investigating why the Gestapo arrested your granddad after the assassination of Reinhard Heydrich, a prominent Nazi official and the Deputy Reichsprotektor of the occupied Czech lands. You are doing this mostly by interviewing people, reading diaries, and so on. In the past, you are replaying the memories of your interviewees and revisiting the events they are talking about.
We wanted to clearly separate all these layers of the game in order to make it easier for players to grasp what is happening in the past and what is in the present, what is a real historical event and what is a constructed one. Thus, black and white archival footage is used for real and well-documented events from the past, color video footage is used for interviews with the in-game characters in the present, and black and white graphic novel segments are used to render these in-game characters' memories.
What do you feel that the interactivity of Attentat 1942 adds to our reception of its message and historical story? What more do we take away from it through living through it through interactivity?
History is oftentimes perceived as a list of important dates and events. Through the interactive interviews in Attentat 1942, we connect these overarching narratives with concrete people's lives. The interactivity of the game - the fact that players have to make decisions that matter - immerses players more deeply into the story. The interactive graphic novel segments help players imagine the atmosphere of the times the eyewitnesses are talking about. Overall, the game enhances the understanding of the complex and multifaceted decisions these people had to make.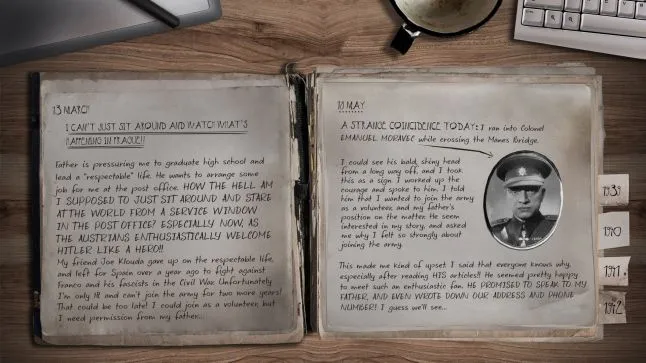 What do you feel that video games can add to our learning of history and our internalization of its messages and importance?
There are many games with historical settings and their genre varies. Adventure games, like Attentat 1942, are particularly good at telling stories and in providing multifaceted perspectives on a certain time period. Strategy games can be great in simulating large and complex phenomena like diplomacy, international trade, or cultural flows in history.
The key questions in constructing historical games are the ones of selection and schematization. As a game developer, what do you choose to be included in your game and what not? How will you represent (and possibly schematize) complex economic, political, and social processes? There is no single answer to these questions, and every game developer has to answer them anew with every game project.
Have you played any of the other IGF finalists? Any games you've particularly enjoyed?
In our team, we have played Night in the Woods and really enjoyed it. It has superb graphics, great narrative, and very well written and smart dialogue. I am personally looking forward to Where the Water Tastes Like Wine and can't wait to try it.
What do you think are the biggest hurdles (and opportunities) for indie devs today?
With crowdsourcing and diversity of financing patterns, more and more people can put their hands on indie game development, which is great. At the same time, the competition is huge and there are many great indie games out there that have hard times reaching their audience.