Recently, Gamasutra had a chance to speak to Keiji Fujita, Taito's senior producer for mobile products in the U.S. The Japanese company has found success with its evergreen franchises -- such as Bust-a-Move, Bubble Bobble and Space Invaders -- on mobile platforms.
But that's hardly all there is to the company. Acquired by Square Enix in 2005, the company has currently found success on Wii and DS with the Cooking Mama series. Here, Fujita reveals details about its current operations, its relationship with Square Enix, and other fascinating insights as the company gears up for the 30th anniversary of Space Invaders.
Can you tell me your personal background and how long you've been with Taito?
Keiji Fujita: Sure. Actually, I joined Taito in September 2004. I spent three years over there, then I was transferred from Taito to Square Enix here in Los Angeles to be a staff member for all aspects of the mobile gaming business, especially for Taito's content. So it's been about one year since I came to the U.S. I originally belonged to Taito Corporation [before the merger] so I'm taking care of all the Taito game titles for the U.S. market.

What are Taito's operations like in the U.S.?
KF: Taito used to have an office in the United States more than 15 years ago, I believe. Then they closed down the running of the company, actually. The company was called Taito Corporation of America, and I think they were more for the arcade machines, to sell and distribute them in the U.S. Then they closed down, and since then, Taito has sublicensed our games for consoles to other local game publishers here. Even now, we are still working with Majesco, Codemasters, and Natsume.
Since then, Taito became one of the Square Enix group in 2005. So now we are a subsidiary of Square Enix. That's how I was requested by my big boss to transfer to Square Enix U.S.A. to be in charge of our titles, because I was doing exactly the same business when I was in Japan.
But I realized and believe that it is much better to be stationed here and to be in contact with the mobile game production, because it is very difficult to develop the games for the U.S. market in Japan. We are completely unable, because we can't conduct proper QA, network-to-network programs aren't there. Time difference is a problem, actually. It is good to localize the production from Japan to the U.S., and that's how I decided to come here. Of course, I also take responsibility for the sales and marketing of the Taito game titles, so all of the U.S. mobile carriers are in the States, so it's good for me to meet up with them to discuss our roadmap and business strategies.

So how many people are there working on Taito?
KF: In Square Enix, actually I'm the only person taking care of the Taito mobile games.

So you're the Taito person?

KF: Yeah. The other Japanese guy came from Japan, and he's from Square Enix. He's now responsible for the Square Enix game titles. I think everybody knows Square Enix doesn't launch many games in the U.S. market, for mobile, so they're pretty quiet.
Is it actually going to be Taito's brand on the mobile games when they come out?

KF: Mm-hmm.
Interesting.

KF: Actually, most of Taito's arcade classics are already live on most of the major mobile carriers here, but I'm still trying to add new content. Especially in 2008, it's the 30th anniversary of Space Invaders, so I'm planning a new version of Space Invaders for the mobile phone. And I hope you know about Cooking Mama. We've made the second version of the DS title, and we're trying to launch the mobile version of Cooking Mama in the first quarter of 2008.
We are going to launch the multiplayer version of Bust-A-Move. It's also known as Puzzle Bobble. So you can play with your friends on the mobile phone, and we actually provide a lobby, so you can find your friends or whoever, as a player, message to him or her, and fight against each other. You can also register your friends, so you can see whether your friend is online or not.

Interesting. So it is Taito self-publishing these games?
KF: Yes. It's self-published. Basically, the publisher is always Taito Corporation. We don't leave the name Square Enix for Taito game titles.
---
And by the way, the best version of Space Invaders is the PC Engine. I don't know if you've played it. It's the best one, just so you know.
KF: It's a long time ago! (laughs)

Also I noticed that Exit is coming out on Xbox Live Arcade, but I have not seen any other publisher name but Taito on it. Is that also self-published by Taito? [Ed. note: Exit was published on the PSP in the west by Ubisoft.]

KF: That is self-published by Taito.

So will Taito be doing more of that going forward, and are you also in charge of that?

KF: I'm not really in charge, because the Live Arcade version is being taken care of by Taito headquarters in Japan. I know the story about it, because I want to launch local Taito games for Live Arcade since I'm here. After I had a discussion with them, they decided to go on their own and go directly to Microsoft to publish their games.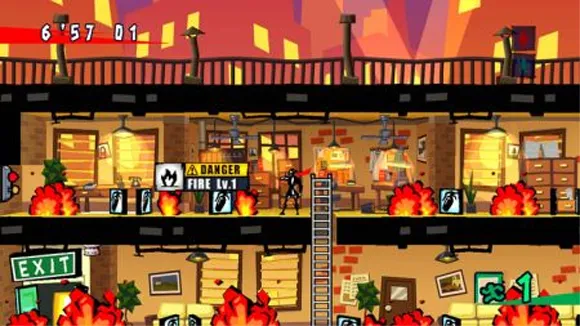 Taito's puzzle platformer, Exit

So they go with it in the Japan side, and then it gets released here?
KF: Yes.
It's an interesting tactic, considering the U.S. is where it can actually succeed, and in Japan, who knows?

KF: Actually, they should make use of Square Enix, which is the company that exists here. I think it's because of a management decision, but I don't know exactly why they decided to go [that way].
I was wondering how the relationship was between Square Enix and Taito right now.
KF: Square Enix owns one hundred percent share of Taito Corporation, so it's a fully owned subsidiary, actually. Branding-wise, they make it separate, so Square Enix doesn't want to show their name for Taito game titles, because they're totally different kinds of games. One is famous for RPGs, and the other is famous for arcade classics and causal games. The taste is totally different, so they want to make it separate.
But do they have management control of Taito?
KF: Basically, the president is the same. Square Enix's president is also the president of Taito Corporation now. And then Taito has an office in Tokyo. We had a separate location, but now we moved to the same building as where Square Enix is located. It's a different floor, but we're under one roof. We are actually cooperating on some of the projects, but before consumers, we don't really mention much about the relationship between Square Enix and Taito. It's kind of confusing. Even myself -- I use the Square Enix name cards, but I'm actually in charge of Taito Corporation. It's quite confusing.

Yeah, it can be confusing. I had been wondering about it for a while. It's interesting you're in the same building. I had been waiting for Taito to make some Square Enix arcade games, or for Square Enix to publish Taito's games here.

KF: We did in Japan. We had Dragon Quest, which is a very famous game in Japan, but not really overseas.

So you did the coin redemption one?

KF: It's a card battle game. Something like Sega's Dino Battle. Something like that.

Yeah, like Mushiking and stuff?
KF: Yeah, like Mushiking and stuff, exactly. Taito developed the arcade machine of these Dragon Quest games, and of course the games survive in Taito's own arcades, as well as other companies' arcade market spaces.

---
I was wondering if Square Enix would ever bring back the old Taito brand... in the U.S. it was called Lufia, but I forget what it was called in Japan.
KF: It's Estpolis.

Yeah, Estpolis.
KF: Actually, I'm trying to launch the game for the mobile phone, but due to the technical specification and limitations of U.S. mobile phones, I'm still waiting for the right time to launch this game. I know that Lufia is pretty popular in the U.S. market.
Was it released in Japan already?

KF: On mobile?
Yeah.
KF: It is, yeah, for the [carrier] SoftBank mobile.
Does Taito's U.S. operation have any plans to expand? I know right now they're doing Live Arcade in Japan, but it seems like they would eventually want to do stuff like that here.

KF: The console games will be published by Square Enix in the future, for the U.S. market. There's no point for us to work with other local game publishers, since Square Enix locally has an office here, right? Square Enix doesn't have much [in the way of] game titles to release, so I think it's kind of a mutual benefit between Taito and Square Enix. Taito doesn't have a distribution channel in the United States, and Square Enix doesn't have many products to sell.
Yeah. They're constantly doing Final Fantasy everything.
KF: Yeah. Exactly.

Will your office expand when that happens?
KF: Yeah, actually I'm trying to expand. I'm kind of starting [this] business from scratch.

Yeah, you're not in an easy position. You have a lot of bosses, and they're all over there.

KF: Exactly. Mobile gaming is very competitive. But there's a lot of things good for us. Carrier tech always shows game titles and game descriptions, and even screenshots sometimes. So if there's a brand new game which is a very good game, but people cannot recognize it by looking at the game title only. But Taito's games were previously developed as arcade machines, so people recognize the name of the game. This is a strong point for Taito, actually. That's how we've survived in the market.
Speaking of that, what are the most challenging differences between the Japanese mobile gaming market and the U.S. mobile gaming market?
KF: I would say the game availability for the phones. Japanese phones are very standardized, meaning that if you build an application, it will support most of the handsets in Japan. However, the U.S. phone is very different from the Japanese phone, and I must admit that there are still a lot of low-end devices, while high-end devices also exist. If you want to target the entire U.S. market, you have to support all of the five major U.S. carriers.
In that case, I have to develop a game for more than 200 phones. It is very challenging, and even in the game's specification, we have to consider the low-end devices as well. Mobile carriers are always a hassle to launch the games, so once they authorize approval to launch the game, we have to deliver all the applications within three months' time. So we have to find a very good third-party developer which can provide low cost, fast delivery, and better quality.
---
So the U.S. Taito mobile titles are developed third-party by U.S. companies?
KF: Yes, exactly. But I rely on porting -- the conversion to many mobile phones, and I rely on them for porting only. Basically what I do is I ask Taito's in-house programmer or in-house developer or a third-party in Japan to develop a master application. I always ask them to make three kinds of applications. It's actually the screen size [that's the problem]. So I make small-sized, medium-sized, and large-sized screen applications. After that, I ask the porting house in the U.S. to start porting games to the more than 200 phones. I think this is the best way to maintain the game quality and the fast delivery.

Are you trying to bring a porting house inside? I know when Konami built up their mobile division in the U.S., they actually bought my friend's company Blue Label, which was a porting house, and then brought it internal.

KF: So far, we don't have such plans. We have to do exactly the same things in the future. Before that, I have to maximize the revenue first. At the moment, I rely on third-party developers to take care of the games.
But making a master application in Japan is pretty good, because nowadays, most carriers want to see the working application on the phone to evaluate it. Previously, we gave them one piece of paper about the content, a game plan. It used to work, but it's no longer viable. Now they want to see what a game looks like and how it is. So it's safer to ask to make a master application first, then show them and get approval, then start porting, so we can minimize our risk in this case.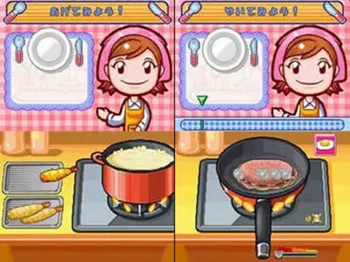 How important are franchises like Cooking Mama to Taito? It seems like the biggest hit Taito has had in a while, even though it's a very small game.

KF: Exactly. Actually, Cooking Mama was awarded as IGN's Best of E3 last year, and 700,000 copies have been sold already in the U.S. market, with another 500,000 copies in Europe.

How much in Japan?

KF: Almost a million, actually. It's kind of a blockbuster game for us, after more than ten years of silence. We used to have blockbuster games in Japan, but we didn't launch this game... have you ever heard of Let's Go By Train?

Yeah, Densha de Go!
KF: Yeah. That is popular in Japan, but we didn't release it overseas, because the game is not really suitable to the overseas market.
Of course. It's also about Japanese train lines.
KF: It's a very unique Japanese culture, actually.
I have the Saturn controller.

KF: (laughs) I think after Let's Go By Train, Cooking Mama is the most successful game of Taito's titles, actually. I'm confident the mobile version of the game will be successful in the U.S. market as well.
What's interesting to me is that Taito, for a while, was very good at arcade-like games, like action games and shooting games, all the way until 1995 and '96. Then, the focus changed to trying to make more console-like games, and those didn't do very well, but then Cooking Mama is really simple, easy, and fast. It's just like the old Taito arcade games to me. It's like going back to the way it used to work is suddenly working so much better.

KF: Exactly. (laughs)

---
It's kind of funny. Do you know if Taito has plans to do more things of that style?

KF: I think Taito's roadmap for console games is [mostly] remakes of the old games -- just like what I'm doing for the mobile phone in the U.S. The new version of Space Invaders, called Space Invaders Extreme, will be released [in February 2008] for the Nintendo DS, and Arkanoid [was recently] released for the DS as well, together with the optional game controller. Exit will be released for the DS as well, and Cooking Mama 2 is also [released]. I think they're targeting more for DS because of the [size of the] market. They're trying not to develop games for Xbox and PlayStation 2. They're trying to minimize the focus to the DS and PSP.
Although downloadable titles seem appropriate, like obviously Exit is coming out. I don't know if there are more plans for XBLA or PSN stuff.

KF: I think Taito actually participated for the Virtual Console for the Nintendo Wii. The games are already available in Japan, and I hope such games will also be available in the United States in the future. [Since this interview was conducted, Bubble Bobble has launched for Virtual Console in the U.S.]
I would hope that Taito will bring more original titles like Exit out on those platforms. I think that would be good.
KF: Do you think I should make Exit for mobile phones? Actually, we did release a game for mobile phones in Japan.
It's a tough question. I think it would work if people played it, but that's the problem, of course -- getting people to play things when they have no idea, and it'll never show up on the deck.
KF: Exactly.
The short answer is yes, but the longer answer is maybe.
KF: That's exactly the same as my opinion. That's why I'm focusing more with Cooking Mama, because people recognize the game title. Of course, the multiplayer version first, which is one of the key products for 2008, and of course Space Invaders' 30th anniversary.
Exit didn't do too well, on PSP in the U.S., right?
KF: That is sold by Ubisoft.

Yeah. I think it will do much better on XBLA.
KF: And I hope it's [better than] PSP. (laughs) I think they made the wrong choice for platform. But the DS one is coming up in Japan, so it should be followed by the U.S. as well.

Yeah, the DS one is coming soon. The graphics are squishier, but it looks okay. XBLA will be good. One thing about Cooking Mama versus Exit is that Exit is based on time, and obviously all phones have different processor speeds in the U.S., so it might be very difficult to get the time right on everything, whereas Cooking Mama is not as much based on time-based stuff, except if you're stirring things. That's the only time.
KF: Cooking Mama relies on the touch screen, so it's technically unable to be developed for the mobile phone. So we changed the game control functions to make it work with phones. There are two modes... As I mentioned, I'm trying to launch this game.
---
I think it's probably a good idea. How many people are working at Taito now? The whole company, if you know?
KF: One-thousand, as official employees. And we have temp staff, that's another thousand.

And all the permanent employees are in that same building? The one building?
KF: Yes. We have two offices, actually. The headquarters is in Tokyo, and we have an R&D center outside Tokyo. It's in Kanagawa prefecture. Actually, I used to be at the R&D center. Of course, Taito's got their own branches nationwide, so there must be [many more] employees there in charge of things, like the shop manager, and plenty of temps work there.
This is the multiplayer version of Bust-A-Move. You can play alone, but in that case, you have to play against the computer. [A game demo is shown.] We may develop Bust-A-Move as a standalone game for iPhone.
Actually Cooking Mama for iPhone would be very natural, because you have touch.
KF: Yeah, exactly. At the moment, due to technical problems, I don't think we can develop Cooking Mama for iPhone. Maybe we have to wait for Apple to allow us to develop native applications for iPhones. At the moment, they don't allow us to develop any native applications, so we have to develop the games working on the web browser. There's a lot of technical limitations.

Yeah. That makes sense.

KF: Let me talk about Space Invaders, the 30th anniversary one.
Do you know how many remakes of Space Invaders...
KF: In the past?

Yeah. There have been a lot, at least like twenty.
KF: Officially, four or five. The first one was Space Invaders, then the second one was Space Invaders Part 2, which is almost the same as the original Space Invaders.

Do you not count Space Invaders DX? It had a color film display on it.

KF: DX, I think they changed the name. DX should be Space Invaders Part 2 in Japan. The third one is called Return of the Invaders, and the fourth one is Majestic Twelve. I think it was released as Super Space Invaders '91 in the U.S. market. After that...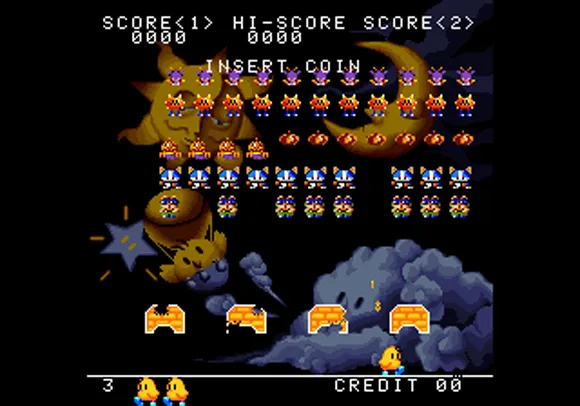 One of the "official" Space Invaders remakes, Space Invaders DX
Oh wait, I think that was the PC Engine one that was released.
KF: I think so.
But that was not the same game, because the one you mentioned was like Super Nintendo, I think.

KF: Part five was called... I think this game is only developed for the Japan market. It's called Akkanvader. There's no Space Invaders characters, but instead we put different characters. But the character design is not really suitable for the Western market, so that's why they didn't release it here.

It was very cute, like with octopus and stuff.
KF: This is for arcade machines, and for consoles, there were plenty of Space Invaders. And Space Invaders Extreme is coming out... so that will be the latest one. Before that, we launched another version of Space Invaders five years ago, which was the 25th anniversary. This Space Invaders includes a 3D mode, adding 3D graphics to Space Invaders.

I have it.

KF: Oh, you have it? Great. There's also versus mode, where two players can fight against each other.

It was kind of interesting. Since Taito was traditionally an arcade publisher, have there been big size changes over the years? Obviously it was huge for a while, but then when consoles were much more important, did it shrink down?
KF: I must admit that we have been downsized a bit, because we used to have more than 1,000 on staff. I think more than 200 of the staff are gone, so now the number of permanent staff is slightly less than 1,000, I believe. It might be 900-something. It's because of the new management policy, meaning Square Enix.

Because Taito used to be in the Kyocera Group. They used to be a shareholder, but they are no longer actually a shareholder, because Square Enix took over their stock. Before that, Taito was Taito. But the founder of Taito corporation, Michael Kogan, passed away in the late 1980s. He passed away in Los Angeles, actually. It seems like he didn't believe in Japanese hospitals. He preferred to come to the U.S. and be hospitalized, actually. (laughs)
Since he passed away, his wife couldn't have taken care of the business. That's how they decided to sell the personal stock to Kyocera, and that's how Taito became one of the piece of the group.
---
How did the Square Enix thing come about after that?
KF: I think they [saw] some synergy effects, like Square Enix and Taito's specialties are totally different. Taito has the arcade, and Square Enix is most known for consoles. So this is kind of a mutual benefit. It's the same thing with the mobile business, as well.
Was it a mutual agreement, or did Square Enix take over?
KF: Square Enix is considered as the one only shareholder of Taito Corporation. Some management staff has been sent from Square Enix. Some Square Enix executive staff have taken care of Taito as well, actually.
But not the other way?

KF: No, not the other way around. So you can take it as a subsidiary. They still want to maintain the name of Taito Corporation, because Taito is pretty famous for its arcade classics. Branding-wise, they still clearly make it separate.

If you know, how is the arcade market doing in Japan right now?
KF: Good question. I think there's still a market in Japan. It's very quiet in the overseas market, I guess. I heard from our arcade team -- I thought they were selling arcade machines for arcade space in the United States, but it was not true... What I was explained, that the classic game collectors actually purchase the arcade machines and put them in their home. That's amazing! That would never happen in Japan, because you know Japanese houses are...

Very small.

KF: It's amazing. I think Namco is Taito's distributor of arcade machines here. I have no idea if Square Enix will take over this business, or if they'll ask Namco to take care of it. Namco has experience and distribution channels here, and Square Enix doesn't have any experience with arcade machines, so I guess Square Enix will not take care of Taito's arcade machines.

In Japan, is it still a good market?

KF: I would say that it's a good business, cash flow-wise. It's cash-based, the arcade machines. It's pretty good, actually. We're not only putting Taito's arcade machines in our shops. Actually, all the Namco, Konami, and Sega arcade machines -- all the other publisher's arcade machines are also there, actually.

I've been to Hey and some other places. I've been to a few of the Taito-owned arcades. Do you also operate in pachinko at all?
KF: No, we don't do that.

Interesting.

KF: We don't do that, but I think we've developed a Space Invaders slot [machine].

Or is it just a license?

KF: No, it's an in-house arcade production, actually. I know exactly who is making it.
It almost seems like you could make a Cooking Mama arcade game, like with stirring and chopping.

KF: Taito has the skill and the quality of arcade machines, so they could develop an arcade version of Cooking Mama. A virtual knife and cooking board or something...

Yeah, they really should do that. It would make sense. You should tell them to do it.

KF: Maybe they're planning! I don't know.