My trip to GDC did not start that well. I missed my flight to Chicago and was worried I would eventually miss the train for TrainJam. Luckily there was an extra flight out later that day. Apart from that GDC was an experience I will never forget. Here's my story.
TrainJam
My first stop was Chicago to take part in TrainJam. I was so hyped for TrainJam! I had initially heard about TrainJam at a talk at GDC Europe the year before by Adriel Wallick. It was an amazing experience riding a train for 52 hours from Chicago all the way to San Francisco with over a hundred people in the game industry.
The idea was to meet at a restaurant inside the train station on the day the train left where everyone would be introduced to one another and register. Once the TrainJam theme was announced I found three other people to join, Daniel Marifjeren and Austin Areaux from Eastern Kentucky University and Luis Van Slageren a game developer from Australia. My personal goals for TrainJam were to create a legitimate game but not something too ambiguous. The game we created was called Chase, a 100-meter sprint for cars on train tracks. Chase is a local 1 vs 1 player game where each player controls a ship. The game consists of six tracks where each player must switch onto the green lighting lanes in order gain as much speed as possible as finish first.
Indie Hostel
Once arriving to San Francisco everyone was racing to get to their hostel/hotel. Being at the Indie hostel was great as it gave me chance to talk to people behind such games as BroForce, Relativity, BeatBuddy, Reassembly, Desktop Dungeons and many more.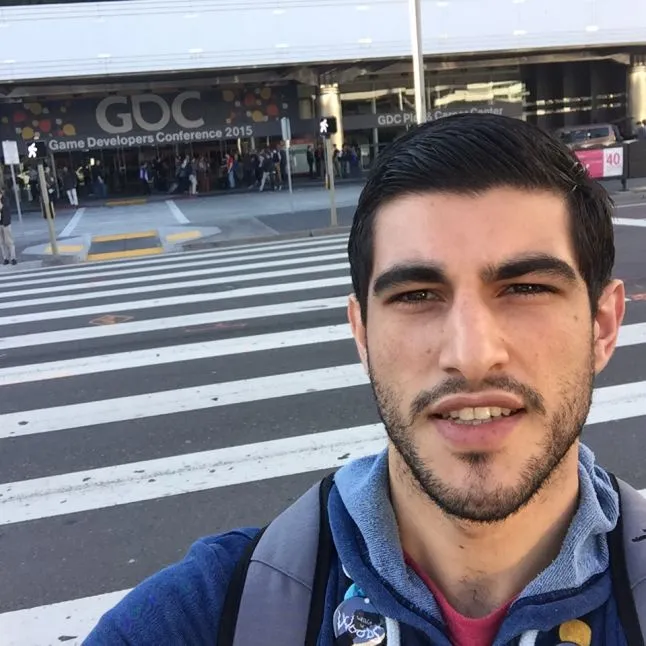 Day 1
Monday was a very excited day. I woke up early and made my way to breakfast. Being at the Indie Hostel was amazing as I got to hang out with tons of people attending GDC, talk games and exchange each other's information.
I arrived at GDC West hall early and made my way to the 3rd floor where both the Indie Megabooth and a booth made specifically to show off all the games created during TrainJam, incuding Chase, the game I helped developer for TrainJam. After quickly skimming through the games and talking to some people I made my way to the first talk, "Scroll Back: The Theory and Practice of Cameras in Side-Scrollers" by Itay Keren who is soon release Mushroom 11. Itay explained in detail a lot of aspects I was by-passing on my game Gloom on how to use cameras. This talk was vital for me to attend.
I quickly noticed a big different between GDC and GDC Europe. GDC in San Francisco had so much more going on outside of the talks and sessions that you end up spending most of your time going around, checking out games, and meeting interesting people.
In the afternoon, after going around the main showfloor, I made my way back to the Indie Megabooth. As I was heading up the escalator I heard someone state that there was a Humble Bundle Towerfall party at night, which I had not heard about. From then my goal for the day was to find out a way to get on the list. As I continued my way up to the Indie Megabooth I saw Kevin Regamey at the Mashroom 11 booth. I had previously met Kevin earlier in the day at the Mild Rumpus booth. Kevin is the creative lead at PowerUpAudio and has worked on multiple games, including Darkest Dungeon, Crypt of the NecroDancer, TowerFall Ascension and Mushroom 11. I initially recognized Kevin from a talk I've seen on FullIndie called "Making the most out of Conferences", which I highly recommend anyone watch before attending a conference. I also remember Kevin being a close friend with the people at Indie House in Vancouver that also hosted the creator of Towerfall, Matt Thorson. So as soon as I so Kevin at the booth I took the opportunity to go over talk to him. We got discussing on stuff and I initially forgot to ask about the Towerfall party, however as the discussion progressed I eventually asked him if there was any chance he could get me on the list. Being the rad person he is he contacted some people and got me on the list. Kevin if you reading this, thanks man!
As the day was coming to a close I wanted to attend a talk by the team behind Night in the Wood at the Mild Rumpus. It was fascinating hearing the highs and lows of the development process of the game. Right after the talk I headed to the Towerfall party, which even though I got destroyed in the second round, it was great fun.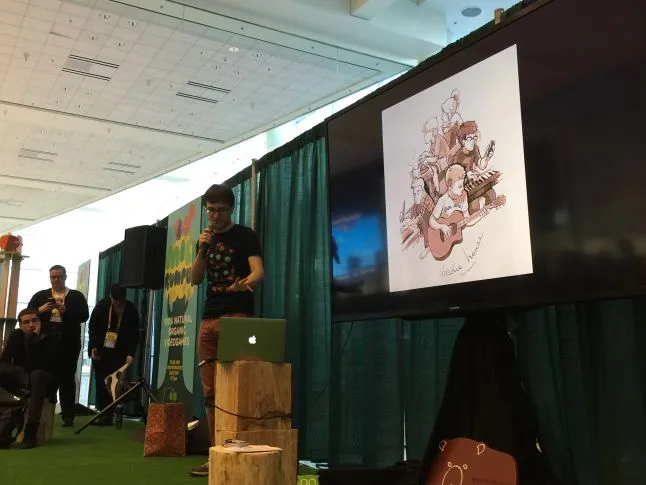 Day 2
Tuesday would be similar to Monday in that I only attending 2 talks and spend the majority of the time going around and meeting people. Being I run IndieMeetup podcast I took to incentive to schedule an interview with Mike Rose. It was great talking to Mike as he's so down to earth. For anyone wanting to be respected and heard in the video games industry, the most important character is to be cool around each other. We discussed that even though one might find it hard to socialize with people they don't know, make an effort to introduce yourself and most importantly DO NOT BE A JERK! Always remember everyone is at GDC to network, hang out and talk video games.
Day 3
Wednesday was a day full of business meeting. With the Expo opening that day I wasn't that interested in the talks that day so I decided to shuffle my time between meeting and checking out the Expo floor.
It didn't take me long to get to the Unity booth where I ended up speaking with several Unity people. Each one of them was still on a high with the official release announcement of Unity5. At this point I had a list of three Unity people I wanted to meet, Will Goldsmith, Mike Geig and Sara Cecilia. I managed to introduce and talk to all three of them by the end of the day.
The big surprise of the day was winning a Unity 5 Pro license at the Unity booth. When I went to receive the reward I knew there was going to be a VIP Unity party that night but had not managed to get on the list. At this point I decided to take the incentive and ask the person handing me the Pro license if there was a way I could attend the Unity party. He was kind enough to give me his details and contact him once I arrived to let me in.
Later during the day I made my way back to the Indie Megabooth where I had a chat with Rami and Itay Keren at the Mashroom 11 booth. I got a chance to talk to Itay about the development of Mushroom 11, who was eager to answer all the technical questions I had about the game. We went into such topics as how he was deforming sprites/meshes, fixing hinge joints and most impressively the process for how the mushroom actually deforms and resizes.
As the day came to a close, the highlight of the day was the IGF Awards, which was quite mind blowing to be in the same room with so many people in the gaming industry, especially individuals like Nathan Vella, Tim Schieffer, Hironobu Sakaguchi and Lucas Pope. Being the nerd I am I got there early to managed to get a seat in the front row.
Right after the awards I made my way to the Unity party where I got to hang out with David Helgason. I finished the night off by attending the Wild Rumpus party, where I felt right at home as right opposite the dance floor was two big screens with intense games of Gang Beasts.
Day 4
My main events for Thursday where PocketArcade Indie BIG Pitch and GameLoading:Rise of the Indie World Premier. The PG Indie BIG Pitch is all about getting your game in front of a panel of leading journalists and potential publishers/partners and the potential to win prizes. Its a sort of speed dating style pitch event where you have to sell your game. I might not have won top 3 but I got valuable feedback.

The day finished with the highly awaited world premier of GameLoading: Rise Of The Indies, a feature length documentary about the exploding subculture of indie game developers from around the world. After the premier most of the people I've met made their way to a Marioke party, but myself I was starting to feel the drain of the week and decided to make it an early night.
Day 5
After breakfast I made my way to the conference with Adriaan de Jongh. I find Adriaan a very interesting person, having a unique and creative spark to create games that are social and unusual. We arrived at the expo early and being I had the Indie pass I was not suppose to be allowed inside the expo, however the security guards didn't notice. It was nice to walk around the expo with no queues to wait in line for any of the booths. It also gave me a chance to speak to people, one of which was in deep discussion with the developer of a•part•ment.
To finish off the last night in San Francsico, Friday night I got the chance to hang out with the Unity team. After dinner we made our way to a couple of bars for some drinks.
Conclusion
My first experience attending GDC in San Francisco was better then I expected. I met so many interesting and made connections that will surely help me in the coming future.
To finish I'd just to advice if you're planning to go GDC or any other major conference, be cool and approachable. A hug always goes a long way too.
Feel free to get in contact with me DirkSchembri.com or follow me on Twitter @dirkmalta.