I am a man determined. After failing to make heads or tails of Thecatamites previous thrill/nightmare/opus, Space Funeral, I was determined to understand his most recent game, haphazard Ace Attorney parody, Murder Dog IV: Trial of the Murder Dog.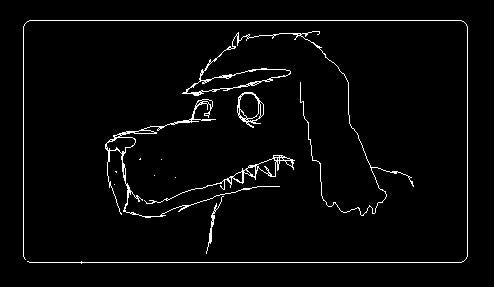 The game begins with our mutt Murder Dog in custody, about to begin trial for his crimes against humanity, namely, murdering almost all living things he comes into contact with. It's the player's job to hoodwink the court and help Murder Dog evade his punishment. Throughout the course of this very short game, players will refute (and sometimes eat) evidence, examine or intimidate witnesses, and murder things. Unfortunately for me, after having played it a dozen times I am still flabbergasted (a word I don't use lightly).
Interpretation 1: Murder Dog is about exactly what it's about, revealing the absurd ceremony of courtroom proceedings for what they truly are. All those involved in a trial disregard what they might actually know to be true while they try to attain a "logical" ruling by following carefully constructed rituals. Trials are in and of themselves games.
Interpretation 2: Murder Dog is not about what it's about. It is such a gross worst case scenario of the failings of the judicial system, so black and white in it's morality, about as subtle as a brick in your back, it couldn't possibly exist as Thecatamites critique of international criminal courthouses. The heavy handed message of embracing the system which Murder Dog seeks to destroy in order to be set free is clever, but not necessarily illuminating. It's absurdism, not satire.
Interpretation 3: What Thecatamites does is isolate the disonnect between player and protagonist by creating a character that is so clearly evil and wholly unlovable that our desires couldn't possibly be synchronous, leaving us with conflicting emotions by "winning" the game. He tricks us into helping Murder Dog escape his punishment because we view that as the win condition of the game, despite our obvious moral outrage at the character. (And yet, in a way, a part of us does love murder dog for his devotion to chaos, his passion for murder. Murder Dog is the id unleashed, and we are thrilled, deep down, by his bloodthirsty work).
Like Beautiful Escape before it (another equally fascinating indiegame) , Murder Dog asks the player to put aside the moral compass in order to elicit a win condition. Clever that both games end up playing with the definition of what it means to win.
Interpretation 4: Murder Dog was designed to make you question the value of justice. Murder Dog's most respectable ending (there are six in total) is the easiest, and quickest to achieve. Merely press "Guilty" at the start of the game, and listen to the narrator (Commentary Pooch, of course) reflect on how nice it is for everyone to be in agreement as Murder Dog is sentenced to death. Or achieve the super secret Canonical Ending, which left me feeling the most uncomfortable out of them all (though if I'm honest, it also left me with a giant grin slapped on my face). Although the game quits after every playthrough with a warning "SO TURN OFF THE GAME!", I didn't hesitate to start it back up again a moment later.
What a fool I was for opting to waste my time seeking satisfaction in the morally black paths I chose trying to keep Murder Dog from his well deserved execution. The game pretends it is not meant to be played again, knowing full well it will be. What a fool I was to circumvent the designer's intentions, and re-start the game. Each new ending is a new exercise in dissatisfaction. But what satisfaction is there to have? Either a living being is executed, or a psychopath walks free. We aren't supposed to feel good about any of these outcomes. The game was designed as a meditation (can I even call it that?) on the problematic nature of justice.
Interpretation 4: There's one more option, one that I've been afraid to mention. It's that I'm an idiot. Murder Dog is the absurd mindspill of a diseased mind, a unique art-game operating on instinct, not intellect. A game that, irregardless of its intent or interpretation, must be played because it is unknowable, which is in itself endlessly fascinating.
The game is insane, Murder Dog is insane, Thecatamites is insane, and I'm a little insane for having played it. I did, afterall, help a mass murdering canine abuse the judicial system to escape conviction. I loved ever second of it.