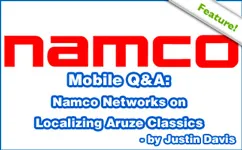 We spoke with Namco Networks' Vice President of Sales & Marketing Scott Rubin, following the company's
announcement
that it had acquired the rights to localize and release North American mobile versions of the company's classics
Mr. Do!
and
Mr. Do's Castle
.
GamesOnDeck: First off, can you give me a little background on the success Namco Networks has had with its retro mobile releases, and why you anticipate these two Aruze titles will be mobile hits?
Scott Rubin:
PAC-MAN
and
Ms. PAC-MAN
were some of the first games available on JAVA and Brew phones and continue to be two of the most downloaded games across wireless devices. Not only do arcade classics, such as
Dig Dug, Pole Position II
and
Galaga
, have nostalgic appeal, but they are also perfect for mobile phones, with the up-down-left-right game play making it easy to control.
Because of our experience with these retro titles, we can recognize which arcade classics are fun and would work well on mobile.
Mr. Do!
and
Mr. Do's Castle
were extremely successful in the arcades. They are classics designed to be instantly addictive. Personally, I think that they are fun because there are multiple ways to clear a level which puts an interesting spin on the game. We think that these titles will be extremely popular among fans of arcade classics and casual games.
GOD: As Aruze is a Japanese company with no US division, how did this relationship come about? Was there any help from Namco Bandai in Japan?
SR:
In addition to the original games we are releasing, one of Namco Network's strengths is developing and publishing perfect ports of arcade games on phones, so it's a natural choice for companies with arcade classics to partner with us. We are always thinking about arcade games that consumers will enjoy on mobile. We remembered how these were great hits, enjoyed by fans worldwide; so, we are working directly with Aruze to bring these games to the U.S. mobile market.
GOD: Can you provide any information about plans beyond these two titles? Does Namco intend to bring over other Aruze titles, or retro titles from other Japanese publishers?
SR:
At this time, we haven't announced other titles that will be coming out in the US as a result of our partnership with Aruze. We are also in contact with many other video game publishers regarding the publishing of their content, such as our partnership with G-Mode that will enable us to distribute future titles.
GOD: Is it too late for Japanese or other Eastern game companies to set up American branches? Gamevil is just getting started self-publishing in America, and seems optimistic. Do you believe we're going to see more Japanese developers opt to have their mobile titles distributed and/or localized by American companies? Do you believe Namco is in a better position to fill this need than other publishers? Why?
SR:
Namco has been involved in mobile gaming from the inception of the technology. During the past five years, we have built an organization that is dedicated to being a leading provider of fun, high-quality entertainment for wireless device owners.
Developers, both nationally and internationally, are eager to work with Namco to utilize our expertise and our experience. From our focus on quality to our strong relationships with carriers, partnering with Namco provides companies like Aruze, G-Mode and others with a strong competitive edge within the U.S. mobile game industry.
GOD: In a broader sense, how is this going to change the mobile gaming landscape? What does this shift mean for publishers, and for consumers?
SR:
This partnership allows us to bring quality and unique games from Japan. Because of this, consumers will have access to a larger catalog of fun, casual games.
GOD: Is it a two way street? Should U.S. mobile companies be doing more to actively seek Japanese or Korean partners, or is the foreign landscape more ripe for them to set up shop themselves?
SR:
While Namco has a worldwide presence, I can only speak to the U.S. market.
GOD: Anything else you'd like to add about this emerging dynamic you see of Japanese companies partnering with Western publishers?
SR:
With experience and success as a leader in this space, we very much understand what consumers are looking for and expecting in mobile games, which is beneficial for international publishers looking to get into the U.S. market. We are eager to work with Aruze to bring
Mr. Do!
and
Mr. Do's Castle
to the U.S. to be enjoyed by consumers.
[This interview was produced in association with Modojo.com.]