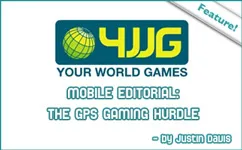 It's 2006 and we are on the verge of the PlayStation 3 and the Nintendo Wii joining Microsoft's Xbox 360 in the next-generation console wars. However, if you were to add all three companies' existing and expected next-generation sales some people might be surprised to find out that not even the big three combined can beat the cell phone in terms of units on the street or in market penetration. As technology advances, cell phones are increasingly being jammed with more advanced features such as memory chips, graphic cards and even Global Position Satellite (GPS) chips.
There has been a lot of talk these last few years about what GPS capability could mean to gaming in general, but thus far there has been little to show for all this talk. There have been a few attempts by various companies to enter the GPS gaming market with GPS-only games, but nothing that has captured the imagination of those willing and able to play.
Why is it that GPS gaming, or more specifically location-based gaming, has had such a hard time taking off? There is a host of reasons, but at the end of the day, one reason more than any other comes to mind – failure to follow through and remain dedicated to educating the gaming public.
I would say that the responsibility to push location-based gaming rests predominantly on the shoulders of developers and publishers. Obviously operator support is imperative and any game developed won't sell without deck placement, but an operator can't sell something that does not exist. Yes, there are a few location-based games out in the marketplace, however, take a look at them and one will quickly find they are games that lack the feature-set which would allow gamers to play when they don't have a GPS or cell Internet connection.
It makes perfect sense to make a game that only supports GPS gameplay if companies assume gamers know what GPS games are and how to play them. The big problem with location-based games thus far is that we are making these assumptions and that, predictably, consumers are not responding as well as we might want them to. Location-based games are new and we cannot expect a gamer to change their gaming habits overnight without a few growing pains. It is totally unrealistic to expect gamers to pick up a full fledged location-based game without easing them into the technology.
Game developers and publishers need to educate the public about the benefits of GPS gaming, slowly easing them into this new genre. An analogy I like to use when trying to describe what Your World Games has done with
The Shroud
, our first GPS-enabled game, is that Your World Games assumes gamers are new to the world of mobile and most certainly GPS gaming.
So, we take them into the kiddie pool, then, after some practice with learning how to "swim" with blow up floats and other support devices, we lead them into the shallow end of the pool and have them start "swimming" on their own, giving them the confidence to mess around a bit all the while knowing they can't drown. Eventually once the gamer is ready to jump off the high board, Your World Games will be right there alongside them.
Perhaps it's a bit of a silly analogy, but it's valid nonetheless. Basically what I'm trying to say is that we can't expect a person who has never played a GPS game to go out and buy a video game that only uses GPS without incorporating non-GPS gameplay. A key feature to
The Shroud
is that to support the great GPS gaming we incorporated single player and networked gameplay that rivals any other game on or coming to the market.
Gamers are smart, they know what they want and one of the key things gamers want these days are choices. The ability to play alone while sitting on the subway where they don't have a network or GPS connection; the ability to play while sitting in the store via a GPRS connection against 10 other gamers with connected leaderboards; or the ability to play in the streets battling evil or other gamers via GPS.
The problem with location-based games and their rise to prominence in the mobile world is not with the lack of interest on the part of gamers, but rather in that gamers are confused. I make GPS games and even I find them confusing. I would really like to see location-based gaming grow.
To do that the industry needs to release games that evolve location-based gameplay, with a variety of different location-based gaming elements. Giving gamers choices and helping them to understand location-based games certainly can't hurt the industry, but it might make all the difference in helping it grow.
Robert Sprogis
Vice President, Your World Games LTD
Robert and the rest of Your World Games are currently putting the finishing touches on The Shroud, the company's first release, and the first GPS-enabled mobile RPG.

[This mobile editorial was produced in association with
Modojo.com
.]