Today's Media Consumption, a weekly look at what our favorite personalities in the games industry are consuming in the four basic media food groups of music, film, written word and video games, speaks to Reflexive Entertainment programmer and
Wik & The Fable of Souls
designer Simon Hallam. Hallam's games industry career began at Rare Ltd., where he designed the operating system for their early 90s proprietary arcade hardware, "The Razz Board." He also either programmed or co-programmed a number of games for the Nintendo Entertainment System, including
One On One
,
Time Lord
,
Marble Madness
and
Pinbot
. Hallam also developed software for the Acorn Archimedes line of computers, including the paint program PaintBox, the beat-em up
Grievous Bodily 'ARM
, and the
Picture Book
line of educational games. Additionally, Hallam was lead programmer on the Sega-published Saturn title
Mr. Bones
, designed the 3D engine for
Metal Fatigue
, and lead development on
Deep Space Nine: The Fallen
for Simon & Schuster. The following Media Consumption responses came to Gamasutra via email: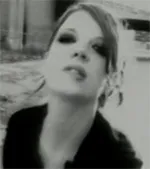 Sounds:
My 'favourites' playlist contains everything ever recorded by Garbage and Angelfish (lead singer Shirley Manson's (left) previous band), U2, lots of Sneaker Pimps tracks, Weezer, Sixpence None the Richer, old Depeche Mode tracks (101, Violator and Music for the Masses are my fave's), Save Ferris usually lifts me up if I'm ever feeling kinda fedup. Weezer - which always makes me realize that us nerds really can be cool, Concrete Blonde (The Vampire Song often gets stuck in my head for hours), Marcy Playground (title album), Green Day - Dookie and International Superhits - truly inspiring stuff. Cherry Poppin' Daddies - Zoot Suit Riot, hillarious. Elvis Costello, there are waaaay too many incredible tracks by Elvis Costello to even begin to describe how amazing a writer/performer he is. Nirvana - Nevermind, of course. Jack Johnson, Fiona Apple, Offspring, Wendy & Lisa, Prince, Frank Sinatra. Pretty much everything by Morrissey/The Smiths. Texas, everything by No Doubt - especially love their early albums.
Words:
Timothy Zahn: Heir to the Empire, Dark Force Rising and The Last Command were three of the most exciting books I have ever read, I was self employed during the time when they were released and when each one was released I literally did no work from the moment I got home with the books until the time they were completed. Zahn's Conqueror's series was also amazing, I've read almost everything he's written, but those two series in particular were amazing.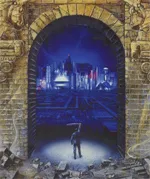 I've read all of Neal Stephenson's books up until Quicksilver - which I still haven't finished yet. Snowcrash (right) and The Diamond Age were books that completely changed how I thought about the future of technology, but the characters he creates are the main reason I respect his work so much, who would have thought a pizza delivery dude could be such an awesome character! Vernor Vinge: A Fire Upon the Deep, the sheer scale of the universe the author creates in this book is staggering, and the idea that the very laws of physics are different based upon how far you happen to be from "the galactic center", and the sheer volume of space that the characters get to explore as a result just blew my mind! Peter F. Hamilton: The Reality Dysfunction, The Neutronium Alchemist and The Naked God, currently my all time favourite book series. A single paragraph towards the end of The Neutronium Alchemist - where a certain weapon (I don't wanna spoil it for anybody) is launched and detonated - is so beautifully understated, the incredibly short description of what actually happens has been so perfectly set-up by this & the preceeding book, that I lterally had goose bumps as I read it. Douglas Adams, of course - huge fan, "The ships hung in the sky in much the same way that bricks don't." nuff said. Orson Scott Card: Enders Game, Enders Shadow, should be required reading for anybody developing videogames.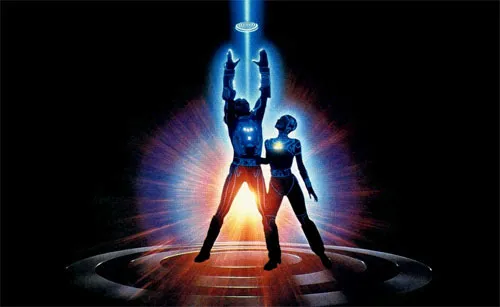 Moving Pictures:
Tron (above) - I still wonder if somewhere in there our programs wonder about the mythical 'users'. The Last Starfighter, made me wish I had a Cray XMP so that I could render 3D videogames in real-time as amazing as the one Alex Rogan played before he was recruited by the Star League to defend against Xur and the Codan armada - hmm, apparently I've seen that a few too many times. I always thought that the explosion effect in the game looked cheesy though, space ships explode into hundreds of indentically shaped triangles? Really? The Matrix, a life changing event for me. I remember being intrigued by the advertisements on TV before the movie came out. I remember sitting in the theater without high expectations, and being utterly stunned by what I was seeing within the first five minutes, then it just got better and better. I also loved Reloaded and Revolutions, I have seen The Matrix well over a hundred times, and the following two twenty or so times each. I was one of the nerds in line around 5am or some crazy time for the simultaneous worldwide release of The Matrix sequels. Firefly. Incontrovertible proof that studio execs are idiots and Joss Whedon is a genius. I love the show, my girlfriend recently gave me the DVD set as a gift, and I was able to see the episodes in the order that they were originally intended to be shown. Even though I already liked the show - it's amazing how much more sense it makes when the episodes are seen in the correct order. The movie Serenity (which continues the Firefly story) is great, the cast feels more like family than in any other show/movie I have seen, it was nice to see them again, but I was sad all over again when the movie ended :(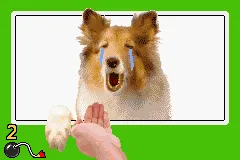 Games:
Recently I've been playing lots of
Project Gotham Racing
on Xbox 360, and more than my fair share of
Geometry Wars
. My favourite games of all time are - Coin-op:
R-Type
,
Defender
,
I, Robot
,
Star Wars
. PS1:
Ridge Racer 4
. N64:
Mario 64
. Sega Genesis:
Ghouls and Ghosts
. Sega 32X:
Virtua Fighter
. Gamecube:
Pikmin
. GBA:
Wario Ware
(above).