Finding Opportunity in the Japanese Gaming Market
There is no denying that the Japanese video game market has suffered from the downturn in the economy. Enterbrain estimates game sales in Japan for 2009 were $5.4 billion, down 6.9% from 2008.
Dean Takahashi noted in a recent VentureBeat article:



In Japan, unit sales fell 2 percent (a 5 percent decline in console software units and a 1 percent decline in portable game software. While the recession gets some of the blame, so does the shrinking PlayStation 2 software market, which saw a 57 percent decrease across the top global markets (56 percent down in the U.S., 67 percent down in the UK, and 55 percent down in Japan).
According to the Japan External Trade Organization, also known as JETRO, there were several reasons for the downturn in video game sales last year:
Overall console sales were down
Retail hardware prices were cut
On the software side, there simply was a lack of big title hits available
Moving Forward
Moving forward, JETRO sees hope on the horizon, noting that while the Japanese market did decline last year, they believe Japanese game companies are looking forward to new opportunities in several areas:
Moving beyond mainstream video game users and targeting new market demographics
Exploring and expanding into international markets
Developing new segments including expanding online and mobile games
Japan's Emerging Mobile Social Gaming Market
This last point of mobile social gaming is an area where Japan has already seen growth. According to a recent study conducted in Japan by Mobile Marketing Data, 75.4% claimed they accessed social media sites through their mobile phones and not from their PCs. Only 2 % accessed social networks exclusively from their PC.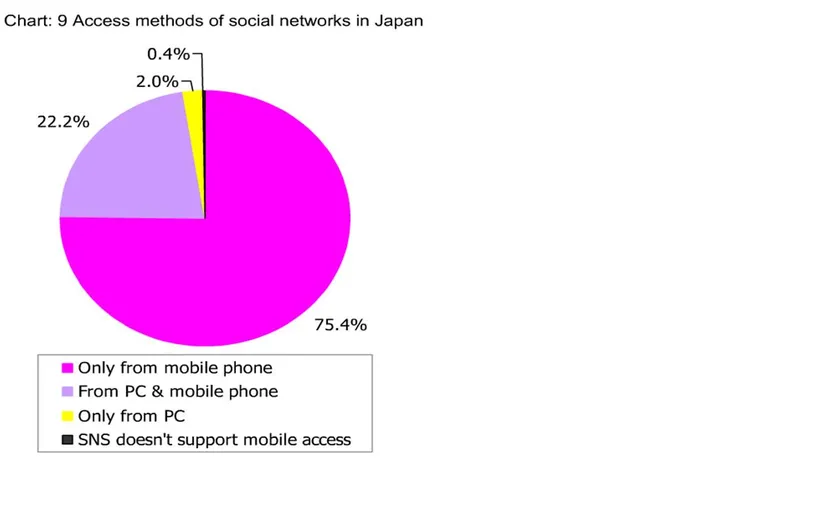 Source: Mobile Marketing Data
There are a number of Japanese companies targeting the mobile social gaming market, such as DeNA. DeNA has a mobile game portal, Moba Ge Town (Mobile Game Town), with over 250 games available. Tomoko Namba, the CEO of DeNA will be speaking on a panel at the upcoming GameBeat Conference during GDC, on March 10th, 2010.
Also, back in late January, Square Enix announced they raised close to $400 million through a convertible bond. Many believe the company is looking to use the money to help fund new games and acquisitions in the social gaming space, given past comments made by Square Enix's President and CEO, Yoichi Wada.
JETRO at GDC
Yes, Sony has been struggling to rectify its brand and Nintendo is working on how to keep the liquid gold flowing, but there are a number of companies that remain in the shadows of the big Japanese powerhouses.
JETRO is working with a number of established Japanese companies who are looking for partners. Part of the organization's activities includes assisting a group that will be taking part in the Game Connection during the Game Development Conference, in San Francisco, March 8 - 10, 2010.
Following are the Japanese companies attending GDC this year and looking for partnership opportunities. (Contact information for scheduling appointments during GDC is provided at the end of the article).
For the past 10 years, Acquire has been one of the developers that has formed the backbone of Playstation and Playstation 2 development in Japan. Acquire still continues to create highly original titles for the Playstation 3, Xbox360, and PSP.
ARC SYSTEM WORKS is a well-known developer of action games, particularly in the 2D fighting game genre. With a 20 year history of developing games for leading publishers, ARC SYSTEM WORKS has a wide range of OEM development projects, from small to large, including an as-of-yet unannounced project for a major U.S. publisher.
Bauhaus Entertainment (DigitalScape Co.)
Bauhaus Entertainment is the game development studio for DigitalScape. As a production studio, Bauhaus develops CG for all the major gaming platforms. The company's services also support real-time 3D model graphics, modeling and animation, and engineering core game systems.
In Japan, Compile Heart is recognized as one of the leaders in both female-oriented games and strategy RPG games. The company develops between 30 and 40 titles a year for the Japanese market. For the US and European markets, Compile Heart co-develops games, especially RPG and Adventure games, with Capcom, Sega, Koei, Nippon Ichi, Gust, and Red Entertainment.
CyberStep, Inc. has developed an online social gaming service that allows players from all over the world to communicate with each other. Creating animated characters with customizable game functions allows players to create their own original characters.
D.A.G INC. (Digital Artists Guild)
D.A.G Inc. is an established CG production company headquartered in Tokyo. For over 12 years the company has specialized in video game art production including modeling, animation, concept art, matte painting, compositing, pre-rendered and in-game cinematics, as well as other services. D.A.G Inc. maintains studios in Tokyo and Hakata, Japan, as well as Los Angeles, California. Digital Works Entertainment, Inc. Digital Works Entertainment has been developing games for major publishers for over 10 years. With a development studio of 170 people, Digital Works is a multi-platform studio that specializes in graphics, animation and programming.
Digital Works Entertainment, Inc.
Digital Works Entertainment has been developing games for major publishers for over 10 years. With a development studio of 170 people, Digital Works is a multi-platform studio that specializes in graphics, animation and programming.
GCREST is an online game developer and publisher. Focused on their game portal site, G CREST provides avatar chat service, social MMOs, MMORPGs, simulation and mobile games.
Besides having extensive experience in developing Wii, PS2, PS3, XBOX360, PSP, DS, GC, PC Flash, iPod, iPhone, and Japanese cell phone applications, Landho also provides production services for television and radio programs.
MagicPictures, Inc. is an award-winning visual effects studio which started in Tokyo in 2000. For the past ten years, MagicPictures has provided high quality realistic computer graphics animations and visual effects for game cinematic, TV commercials, films, and music videos. To create its high-quality CG animations, MagicPictures has developed its own internal animation software. Having experienced digital artists and advanced R&D, MagicPictures has been offering unique solutions for a wide range of game cut scenes and cinematics on various platforms. MagicPictures recently opened a visual effects studio in Los Angeles.
NetDimension has developed the MatrixEngine, a 3D authoring solution and game for game developers. There is also a playback engine that works on a PC, Android, iPhone, or any mobile devices. NetDimension has been working in the avatar and online game community in Japan for many years. The MatrixEngine helps game developers reduce costs for both development and maintenance. MatrixEngine enables creators to visualize their idea with less programming skills, and this designer-friendly tool is also used for prototypes.
VANGUARD is a console, mobile and PC online games development studio. VANGUARD also has experience in different genres of game development including RPG, Action, Puzzle and Strategy, etc. Clients include Namco Bandai Games, SEGA and other top Japanese publishers.
Set Up Meetings During GDC
To arrange meetings with any of these developers, please contact:
Sonoko Saito (Meeting Coordinator)
Location:
JAPAN BOOTH at Game Connection 2010 (WEST Exhibit Hall 2nd Floor)
Moscone Convention Center
747 Howard Street San Francisco, CA 94103
Game Connection Meeting Room Hours:
March 8, 2010: 09:00AM-06:00PM
March 9, 2010: 09:00AM-06:00PM
March 10, 2010: 09:00AM-06:00PM
** To access the Japan/JETRO booth, you must register as a visitor for Game Connection 2010. For more information about Game Connection please visit:www.game-connection.com ** You need to have an expo pass to attend the expo at GDC 2010 and must register as a visitor for GC 2010. For more information about GDC and GC registration for the expo, please visit: www.gdconf.com www.game-connection.com
Japan External Trade Organization (JETRO) The Japan External Trade Organization (JETRO) is a non-profit government related organization that promotes trade and investment between Japan and the rest of the world. Our six U.S. branches are located in Atlanta, Chicago, Houston, Los Angeles, New York and San Francisco.
For more information, please go to: www.jetro.org/gc2010
Learn more about the Japanese entertainment industry at: www.jetro.org/epj
Any questions or concerns, please: [email protected]