As I sit at my desk writing this, women are leaving the workforce at a pace far exceeding men. Throughout 2020, just during August and September 865,000 women left their jobs. In December of 2020, another 196,000 jobs were lost by women. In all, 2.5 million women have left the workforce in the last year. In addition to flat-out leaving jobs, women are considering leaves of absence, voluntary part time work, reducing their working hours or moving to less stressful jobs. Women of color have been particularly hard hit. Also skewing the unemployment numbers are the many unreported women who are no longer actively looking for work due to family care responsibilities brought on by the pandemic.
All of the above is extremely disheartening, yet I sit ensconced in my Iron Galaxy bubble contemplating none of these things.
I started at Iron Galaxy in 2010 as a Senior Producer. I was one of two women hired the same day (the other is a programmer). I have never felt othered, nor discriminated against for being a woman at Iron Galaxy. So much of what I have enjoyed about the role has been the trust and autonomy afforded to me by the Founder, Dave Lang, as well as by my Iron Galaxy peers.
Having been in games for about five years before coming to Iron Galaxy, I was used to it being a male dominated profession. There were times when I was the only women in a studio of over 60 people. Mostly, I didn't think about it, but sometimes I felt dismissed. I never let this stop me from doing the best job for my teams possible, though. When I hit challenges, adversity, or adversaries, I don't give up. I rise up.
I feel fortunate at Iron Galaxy to have never really given much thought to my gender nor sexuality in context of my job. There were no barriers aside from the ones I created for myself. It is only recently, that I think more about these aspects. I have always felt equitably treated and compensated. I have used my privilege and position to make sure this same treatment applies to everyone. We continue to review our policies and practices to ensure they remain equitable and that any unintentional discrepancies are rooted out and promptly rectified.
When I identified the fact that we didn't have a Maternity Leave Policy in place over six years ago, I researched other companies and polled friends to understand their benefits. We had a Paternity Leave policy in place, but never had someone give birth themselves before. After doing some research, I decided to instate Primary and Secondary Caregiver Leave. The intention was always to create an inclusive policy, so as my understanding evolved, so did the policy. We now have Recovery and Bonding Leave, recognizing both the physical and emotional aspects of the experience. We understand that the traditional Maternity and Paternity structure doesn't see everyone for who they are.
I am so proud of all our Iron Galaxy women. We have been hiring and retaining women since I started. We now have representation in every department, aside from IT. We are producers and programmers and artists and QA and designers. We are in Ops, Communications, and HR. We are a growing minority in our industry.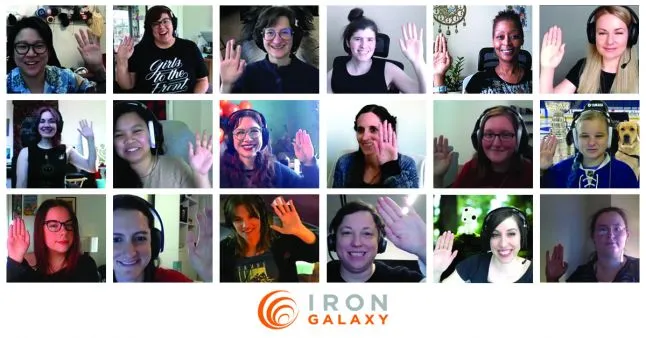 We also have a great community. Our IM chat is always abuzz with issues and encouragement. It's a space to celebrate wins and share disappointments. We also have a standing monthly casual lunch (in-person pre-COVID, now virtual).
My first boss in games had told our freshman crop of producers, who were all women, that very few of us would still be in Games in 10 years. Burn-out is real and many people found it impossible to juggle a career in games and a family life. We were also pioneers, in a way, trudging through the male-dominated landscape. There was a lot of "boys will be boys," while women were expected not to be too direct, nor too commanding.
He was right, by the way. I am pretty sure that only one woman, aside from me, is still in Games. (She even took a couple years hiatus.) This was the woman who led me to Games in the first place, poaching me from Retail Management. I am happy she did.
I am also happy to now be part of a studio that always identified women as essential in the workplace. I am proud of our efforts towards diversity and for continuing to strive to improve and do more. During COVID, we have made over 59 hires with 30% of them being women. We do not intend to stop there. We believe our diversity makes us stronger. We will continue to search for new perspectives.