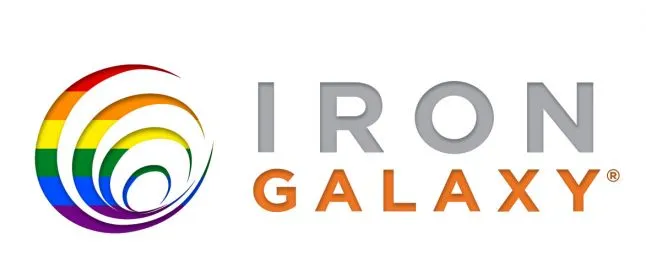 Everyone is welcome! We want you to be you. At IG, we celebrate and nurture our differences and know they make us all better every day. We are committed to an environment where staff can be their authentic selves regardless of race, gender, age, religion, ability, identity, orientation or experience. Diversity is how we will produce the best work in the business. This broad spectrum of perspectives and experiences contributes to our stability, which has been Iron Galaxy's #1 goal since the day we were founded in 2008. As the cornerstone to our values, stability informs nearly every decision Iron Galaxy makes. We want Iron Galaxy to be a place that you can and want to retire from (the average tenure is more than five years), and our company values of People Partners, Capability, and Continuous Improvement help us do just that.
At Iron Galaxy Studios, our approach to diversity, equity, and inclusion has evolved over the years. Early in the company's history, there wasn't a lot of thought around specific DEI initiatives, but Iron Galaxy has always been a welcoming work environment. I never questioned that I belonged. I was one of the first two women hired by Dave Lang, the founder, during the second year of the company. I was given autonomy and trust quickly and rose through the ranks, spearheading cultural initiatives, mentoring, and product success.
In 2019, we did a studio-wide employee survey, to diagnose our company culture through the eyes of our people. We had done surveys before, but this was the first time we really dug into DEI issues. As a result, we learned that, while our employees really "felt welcome" at Iron Galaxy, they were not as impressed with the amount of diversity in our workforce.
We took that to heart. I became a champion of our DEI initiatives. Being a good advocate means doing a lot of research and being as informed as possible on the ever-changing landscape of DEI and culture. We recognize the value in various perspectives and the systemic injustices many groups face.
One of the first things we did was to provide our staff with unconscious bias training. Everyone participated in a seminar, and many employees dug deeper during supplemental workshops. We also provided harassment training to make sure everyone had the tools they needed to speak up if they witnessed anything inappropriate.
I launched a Diversity and Inclusion Committee comprised of self-selected staff members who care about making a difference both within Iron Galaxy and their communities. The D&I Committee has participated in feedback sessions for the incubation of new IP, spearheaded cultural learning opportunities and celebrations, and advocated for more robust hiring diversity practices. To this day, they continue to be a sounding board for many topics. We have also committed to hiring a DEI Coordinator in 2021 to drive these initiatives full time acting as a liaison to leadership and an advocate and accountability partner.
One of the most powerful contributions made by our D&I Committee was helping us update and amend our existing Company Values to better encapsulate diversity, equity, and inclusion. New virtues were added to each of our existing Values of People, Partners, Continuous Improvement, and Capability. This expansion of our company mission highlights respect, welcomes different backgrounds and experiences, promotes a willingness to learn, and an acknowledgement of the challenges involved in aiming to embrace varied audiences.
In order to hold ourselves accountable and recognize the continuous hard work and education it takes to be a good ally and accomplice, we brought in a series of facilitators to lead workshops for the D&I Committee. We recognize the need to challenge our own privilege and assumptions while organizing our thoughts around diversity efforts. We hope to expand these learning opportunities both within and without of the Committee itself. I have personally attended all our internal workshops, as well as outside webinars and talks. I work hard personally and professionally to inform myself around issues relevant to DEI like race, gender, and ability. This will be a never-ending learning process.
During the pandemic, issues of work/life compassion, flexible schedules, and comprehensive family friendly benefits have become even more important. We have worked hard to remain an inclusive culture, even given the challenges of a fully remote setting. We recognize the varied issues our employees are facing impacts their mental health and we aim to support our staff through the upheaval of 2020.
In June, we hosted a Diversity Rally celebrating our LGBTQ+ staff as well as the varied cultures represented by our staff. At over 15% LGBTQ+ out and self-identified, our staff far exceeds the national average of 4.5%. We also recognize that LGBTQ+ employees deserve the same family leave as anyone, something only 20% of US companies offer. We embrace and appreciate what makes us different and do not want our staff to spend valuable emotional bandwidth "covering" in the workplace.
In order to ensure Iron Galaxy remains focused on diversity, we have put a spotlight on our recruiting efforts. We recently hired a recruiting manager to aid us. About 30% of our 2020 hires have been non-male identified. Almost all of our diversity statistics outshine national employment averages as well as game developer averages generated by IGDA polling. While, that is encouraging, it does not detract from our efforts to continue growing our diversity and being welcoming to all.
We also have recently endowed three scholarships to promote diversity. One is from the University of Central Florida's graduate program called FIEA (Florida Interactive Entertainment Academy). The other two are through DePaul (one undergrad and one grad student). The Iron Galaxy Diversity in Gaming Scholarships aim to promote diversity in gaming programs at the above universities. We know that the path to diversity in game studios starts long before people enter the job market. We want to invest in our communities of Chicago and Orlando to help build those pipelines and encourage minority students to pursue their dreams.
Diversity, Equity, Inclusion, and Belonging are ongoing conversations. Luckily one of our Values is Continuous Improvement. We always strive to do more to enhance the lives of our people, as well as the people who may join us someday. These DEI initiatives build our future and we are excited to continue taking steps toward to being the best company we can possibly be.