There are few experiences in life that result in a complete overhaul of the way in which we think.

For me, the Game Developers Conference 2015 was one of those experiences. At its core, GDC is a learning opportunity; a conference spanning 5 days, packed with presentations and panels from the best and most promising in the industry. The GDC experience, however, is far more than that, with the expo hall, career centre, networking, and parties all being an integral part of the week. For young professionals and students alike, it's the best place to kick start your career by learning how the industry works from professionals and making contacts from both top games companies and rising indie stars.
The conference is a brilliant place to expand your knowledge and understanding of the huge variety of areas related to game development. Round tables, talks, and panels cover a plethora of topics from physics programming to art direction, AAA to indie, advocacy and more. With so much going on, it can be difficult to decide what to attend - however an All Access pass also provides access to the GDC Vault, with years of inspiring talks and presentations available, just in case you missed them. For a young professional, attending GDC isn't only an opportunity to learn about the most innovative areas of game development, but also a chance to put your best foot forward in starting your career. I was lucky enough to receive one of the IGDAF Intel Scholarships in it's inaugural year, which allowed me to attend the conference for the full 5 days. This gave me the opportunity to meet some incredible people, and make contacts that would help me learn about career options that I never thought possible. These contacts are important assets at any point in your career, and can be extremely useful if utilized correctly, however do remember that they shouldn't be used selfishly. Build genuine personal relationships with those around you and they're more than willing to help you out - from advice on interviewing and portfolios, to even a full employment reference.
Constantly brushing shoulders with industry legends at daytime talks and evening events means it is near impossible not to learn something: career options, how your favourite game was made, specific day to day role details, or even something about yourself. Networking can be a daunting idea for some, however it's an integral part of GDC and being thrown in at the deep end really helps with this. Everywhere you go there's someone new to speak to, whether they're sitting beside you at a talk or standing in line to get a coffee, and they're all so willing to share their knowledge. Even if I asked someone a question they didn't have an answer for, they'd often direct me towards someone that did. For me, the most valuable thing I took away from these exchanges was a new found sense of confidence. This confidence is what pushed me to introduce myself to new people even after GDC, to ask them questions that before I may have thought were stupid, and get my career off the ground in a way I never thought possible.
As women, we often have a tendency to be sufferers of "imposter syndrome". We are not the sole victims of this curse, but I have met many young women who constantly downplay their achievements so as not to be perceived as bragging. One of our coordinators, Sela Davis, discussed this concept at Thursday's #1reasontobe panel. It can be easy to tell ourselves that the industry isn't welcoming, or that we have no role models, but in possibly one of the most emotional talks I've ever attended those theories were completely debunked. It simply isn't true, and it's so incredibly important to be ambassadors for the games industry in order to tell others, as Amy Hennig said, "Come on in, the water's fine".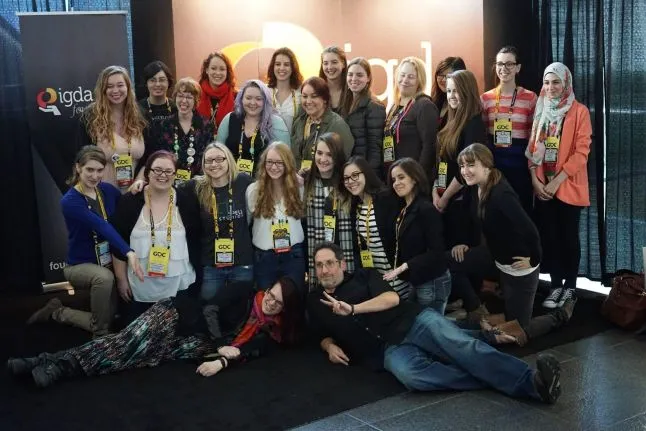 Image Courtesy of Dave Churchill
I arrived at the Moscone Center on Monday morning a scared little girl. I was so overwhelmed with the magnitude of the event that I wanted to run and hide. I stood on a staircase holding back tears, with a lump in my throat telling me that I wasn't good enough to be there - but that's precisely why I, and many others, needed this experience. I left empowered, motivated, and determined to get the best start to my career in the games industry that I possibly could - and that's exactly what my time at GDC gave me.
Being able to attend the conference for all 5 days is an opportunity that doesn't come around often for students, especially those outside of California, as tickets to attend, hotels and flights can be extremely expensive. I couldn't have even dreamed about attending the conference without the help of the IGDA Foundation and Intel. The scholarship is now under a new title, IGDAF Women In Games Ambassadors, however the premise remains mostly unchanged. I cannot stress enough how valuable this opportunity is - not only for the chance to go to GDC and visit San Francisco - but for the people. My fellow scholars were 28 of the most talented and inspiring young women I've ever met. I still watch their updates in awe at what they are doing with their student projects, their careers, and their lives. They are constantly my motivation, as we need diversity in our industry in order to continue creating fresh and innovative content. Though applications are now closed, I implore you to keep tabs on the scholarship, involve yourself in your local games community, and - most importantly - keep making games.