Knowing your players is critical to the success of games studios and a growing area of importance that is often overlooked is that of culturalisation.
The success of a game in different markets does not hinge merely on translation (aka localisation). It is important to understand who your players are, for example, their context (e.g. where and how they play the games) and behaviours (e.g. how they connect, communicate or pay), hence their expectations.
Games Culturalisation
What does culturalisation mean? How does it differ from localisation?
Localisation focuses only on how to tailor content to a local audience through translation. On the other hand, culturalisation involves going the extra mile not only to deliver culturally appropriate and meaningful content to local players, but also to know how best to communicate with them and provide them with a great experience.



"What we learned about international markets is that it's not enough to localize the content by just translating it. Instead, we have to culturalize it."
-- Craig Alexander, Vice President of Product Development for game studio Turbine

When it comes to culturalisation, admittedly it could feel overwhelming. The questions of : Where do you begin? What to look for? Who do you involve?

Introducing Three Levels of Culturalisation. It is a model which shows the breadth of adaptation a company could explore and apply. It can be used as a reference to guide companies on the areas of focus to make sure they are providing the experience their players in different countries are after.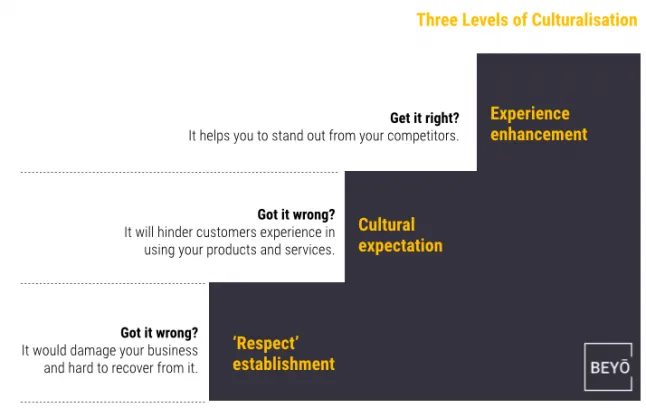 First level: 'Respect' establishment
This is an imperative level. It is the basis of forming a relationship between you (the game) and the players. Imagine a new neighbour from another state or country just moved into your local neighbourhood. Before you decide if you want to hang out with them, you might want to have a quick conversation or some kind of interaction with them first to gauge the level of trust and respect. If you found them being insensitive and ignorant of your culture, customs, religions and beliefs, it would probably safe to say that there won't be any kind of relationship between you and them, if you have the choice.
It is the same between your games and your players. If you 'accidentally' offend your players, for instance, in your game design, it shows lack of respect or understanding. This not only might ruin the relationship you have with the local players, but could also damage your business and reputation both on the individuals and government levels. In some cases, even when mistakes were rectified, apologies were made, it could still be challenging for a game to recover from it.
For example, Hearts of Iron was one of many games which were banned in the People's Republic of China based on content. The game depicted Taiwan under Japanese control and Tibet, Sinkiang, and Manchuria as independent nations. It was rooted out on the Internet, CD shops and cybercafes and the game was not publicly released in China.
While Call of Duty: Modern Warfare 2 and Warfare 3 were not being banned, complaints were received in 2012 after players in the GCC (Gulf Cooperation Council) noticed that in a bathroom to the popular level Favella, there is a picture frame carrying Islamic text (which translate in English to "Allah is beautiful and He loves beauty"). In the Islamic religion, it is forbidden for Muslims to utter Allah's name in a toilet or carry books/papers with his name written on them. Having the Islamic text in a bathroom showed disrespect of the religion and traditions of the Muslim gamers. The Call of Duty publisher, Activision, quickly apologised and removed the texture from the games before any further damage.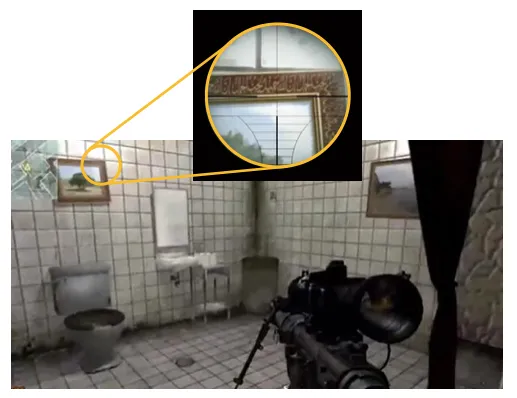 Picture credit: Gamezone
Games culturalisation is not a new topic. It has already been talked about for many years. However, they mainly focus on this level (e.g. geopolitical issues). Getting this right is important, but there are more than that to make your games successful in different markets which brings us to the second level.
Second level: Cultural expectation
This is about creating a games ecosystem that works within the context of the local gamers. If you do not get this level of culturalisation right, it will not ruin your reputation or possess the risk of being banned. It will, however, hinder your players' experience when approaching or playing your games.
Providing a user-friendly experience to your players is key. However, how your German players define as 'a good or user-friendly experience' might be slightly (or significantly) different from your Russian or South Korean players. What they are familiar with, expect and like might vary. This could include design elements such as the design and use of icons or the positioning of buttons, the social media channels they use to talk about games, the payment methods they frequently use to pay for games or for in-game purchase, and the platforms they use to find and download new games. You want to provide them with a seamless end-to-end experience from the point they discover your game to them playing then sharing the games and their experience with others.
A successful case study is Honor of Kings which was launched in 2015 and struggled as a 3v3 mobile MOBA in China. Then two things happened - the game was redesigned to 5v5 and location nearby feature was integrated socially. This made the game viral because location nearby was integrated with WeChat (which has 1 billion users then) and it was easy to quickly connect and get into games. Chinese players were able to play pick up games with anyone nearby using a local quick team feature where you can just share and enter a 4 digit lobby code to instantly team up with gamers next to them. The game has over 80 million daily active users. In April 2018 it generated an estimated $185M in one month.
Take ZeptoLab as another example. When ZeptoLab decided to launch their mobile games 'Pudding Monsters" in China, through their local partner, they learnt about how Chinese users are accustomed to getting digital content free. The way developers monetise in China is via in-app purchase or ads - Go Freemium in China. Weeks before their launch, they change their payment strategy.
On top of that, to combat rampant app piracy, ZeptoLab decided to distribute authorised versions of the app to forums and other free download sites such as AppChina or Wandoujia where they knew Chinese consumers would be hunting for the game. With these strategies, they have more Daily Active Users in China than they do in the U.S for this game.
Third level: Experience enhancement
Nailing the first level of culturalisation will enable you to gain trust from your players and to build a fundamental relationship with them. Getting the second level right will provide your players in a specific market with a smooth, frictionless experience when approaching and playing your games. The third and final level is where you can make your games stand out from others in a country by enhancing and delighting the players' games experience.
For instance, according to Neogames, Japanese females use different words and expressions than males. Age and position in the hierarchy of society affect the expressions used. NetEase knew this well when they brought their mobile battle royale 'Knives Out' into Japan. For its content update, NetEase appealed to Japanese gamers by consulting the writer of the original Japanese film 'Battle Royal' on its newest updates. This film is one of the most popular films in Japan so the players could very much relate to the games. Knives Out and Line also joined forces to create a new social experience for the game. The collaboration enables users to log in to the game with their Line account, making it possible to view the game data of Line friends at any time and, with a single tap, share exciting moments from the game or invite Line friends to form a quick team. Japan accounts for over 90% of NetEase's Knives Out total overseas revenues in 2018. Japan is a coveted and difficult-to-break mobile games market. The success of NetEase on Knives Out as an outsider is rare.
Let's talk about the Inside Out movie by Pixar. It is not a game but is in the media and entertainment space. In one scene, Riley's dad struggled to feed Riley broccoli. Like most toddlers, she was disgusted by the vegetable, refusing to eat it. In Japan's cut for the film, however, broccoli was replaced by bell peppers. Why?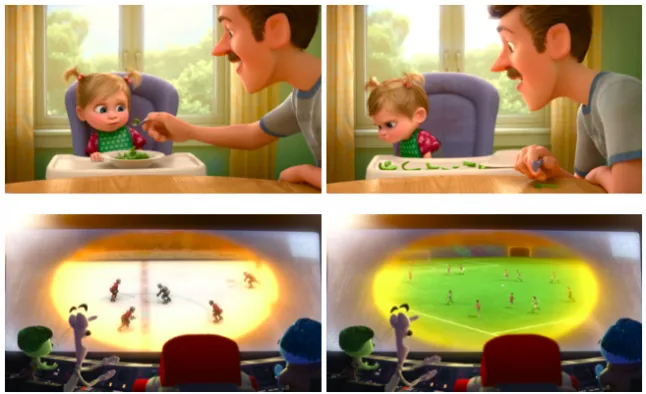 Picture credit: Pixar
In a statement released by Disney / Pixar: "We learned that some of our content wouldn't make sense in other countries. For example, in Japan, broccoli is not considered gross. Kids love it. So we asked them, 'What's gross to you?' They said green bell peppers, so we remodelled and reanimated three separate scenes replacing our broccoli with green peppers."

Another local adaptation Pixar made for this movie was the sport which was played in Riley's Dad's head in his daydream at the dinner table. Depending on the country the movie was shown in, for countries which are not familiar with hockey, it was changed to soccer.



According to Pixar, there were a total of 28 graphics across 45 different individual shots which were culturalised.
"It makes sense—empathy matters in all movies, but particularly when it comes to a movie that's all about emotions." - Pete Docter, Director of Pixar's Inside Out
This also applies to games.
This level of culturalisation requires an in-depth understanding of your players in their local context. It, therefore, often involves having access to your players in the markets that you are focusing on, gathering insights by observing and talking to them. It is a powerful way to get a holistic view of your global players.
The 'experience enhancement' culturalisation can be applied in various elements of your game's process: From your in-game graphics to characters and storyline design to sound design to partnerships. It is where you can unlock the potential of achieving and retaining a high number of your player base globally.
Bringing it together
Knowing your international players and adapting your strategy (e.g. design, build, production, monetisation, marketing) to their cultural context is not a nice-to-have but a total necessity.
Culturalisation input and review could be conducted in all stages in games development - from concept all the way to post-launch (including every stage during vertical slice, pre-production, production, open/close public testing to launch). There really is no excuse to not include culturalisation into the process.
Ultimately, it is about increasing the install rate, retention, stickiness and revenue for each market. You want to optimise your market reach (where you can easily reach out to your local target players) and maintain effective communications with the players.
It is also important to ask: What are the embedded risks if culturalisation is not being considered in your games design and launch? A thought worth pondering.