Together with younger brother Chris, Jason Kingsley formed Oxford-based developer Rebellion in 1991. Their first published title was Alien Vs. Predator on the Atari Jaguar, which was released in 1995. It wasn't until 1999's PC game Aliens Vs. Predator however that the studio gained wider acclaim. The following year, the Kingsleys bought famed UK comic publisher 2000 AD, gaining access to hundreds of intellectual properties, including Judge Dredd, Strontium Dog and Halo Jones. The first fruits of the deal came with 2003's PlayStation 2, Xbox and PC game Judge Dredd: Dredd Vs. Death, while Rogue Trooper, released in 2006 for the same platforms, has been its most successful comic-to-game transition.
Rebellion's development headcount has grown with the purchase of Eidos' Core Design (now Rebellion Derby), and Empire Interactive's Strangelite (now Rebellion Liverpool) in 2006, and Ignition's Awesome Developments (Rebellion Banbury) in spring 2007. The Kingsley brothers also set up book publisher Abbadon, currently dormant film production company Fearnort and have a controlling share in Oxford-based motion capture studio Audio Motion.
As for its current workload, it has just finished the PSP version of Harry Potter and the Order of the Phoenix for EA, and is working on various SKUs of The Simpsons Game. Its main Oxford HQ is also developing PSP-only Star Wars Battlefront: Renegade Squadron for LucasArts, while its Derby office is working on Vietnam-set zombie-shooter Shellshock 2 for Eidos.
Rebellion seems to be in expansive mode at present. Was this something you planned?
Jason Kingsley: We've always planned the future in terms of things like how many titles should we be doing and what platforms should we be working on, but our acquisitions have been opportunistic. When it came to dealing with nextgen, Chris and me sat down and worked out our team sizes would need to be between 50 and 100, with budgets in the high single millions of dollars.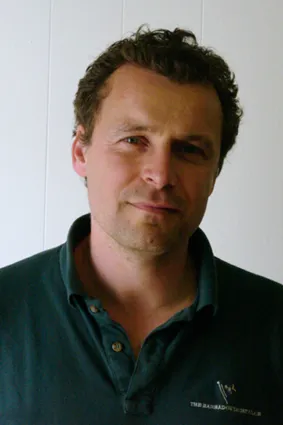 It would have been difficult to build up teamsizes to that scale organically, so the opportunity to buy entire studios has worked out well for us. We've always thought having one game in development is risky, both for the developer and the publisher. It's risky for the developer because the publisher has the power. But it's also risky for the publisher because the only option if the project goes wrong is to shoot the developer dead. There's no middle route.
How many games do you plan to have in development then?
JK: We work on the process of having five at different stages of development on the basis that a project takes, roughly, two years. If you want to release a couple of projects a year, you need four projects in development at any one time, and a fifth one would be really good. We thought, let's aim for five sizeable projects. How many people do we need? Obviously you won't need 70 people working on a project from start to finish, so we thought it's probably something like 250 to 280.
---
Are you being offered a lot of games at the moment?
JK: We're turning down loads of work. We just don't have the bandwidth. I hate turning down projects because I think people will be offended but if I don't have the people to do it, I can't do it. Partly it's because over the past couple of years, a lot of developers have gone bust or shrunk down, leaving a landscape that's screwed up. It's like a big tree has collapsed in the jungle.
There's now this giant space, which small start-ups are beginning to fill up as the business landscape has changed and allowed them to do things like Xbox Live Arcade, Sony Marketplace, or whatever it's being called this month, and Steam. But in terms of the medium-sized guys like us, we've either died off or had to get bigger. Similarly, what we've heard anecdotally is a lot of the big publishers think there are only between 10 and 20 developers in the world who can do nextgen games. This means they are competing for a smaller number of slots.
Something else I've noticed recently is there's a lot more PlayStation 2 work popping up again. Publishers are saying, 'You know we said we didn't want a PS2 version of that nextgen game you're working on? Well we've done some projections and we'd like one now'. That's an interesting phenomenon.
How come you're doing so many PSP games, but you haven't done any DS games at all?
JK: It's bizarre because we didn't plan on it. We've done 14 PSP titles, and publishers keep coming to us with more. The budgets are decent too, but there seem to be few developers who want to do PSP work. What's really weird is that we've been nominated for a Develop magazine award as the best handheld developer, but we're not a handheld developer. We're a developer who's happened to make a lot of PSP games. We've got two nextgen titles in development [Shellshock 2 for Eidos, and one TBA title], but they take time. Meanwhile we can work through a lot of hybrid currentgen/nextgen stuff.
As for DS, it's difficult because our engine is floating point and DS is fixed point. That means the first publisher to commission us to do a DS game has to take the risk and cost of us developing the engine for DS. That's the reason we've yet to get into DS. It's not to say we won't be though. It's a bit like one of those oddities of evolution. One of the nerves in the giraffe's neck goes all the way down and back up, which is bonkers but that's just the way it happened.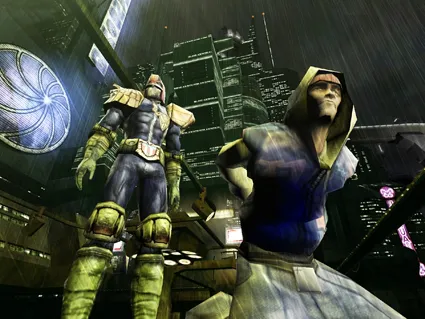 Judge Dredd: Dredd Vs. Death is one of Rebellion's best-known games
You most recently acquired Awesome Developments. How did that come about?
JK: We were talking to a client about a particular project that we just couldn't fit it in. It was a good game, a good budget and a good client. We wanted to keep the client happy, but they needed the game delivered by Christmas 2007. We had some people available at Oxford but it wasn't a full team, so we had to turn the project down. Then I got a phone call saying that the staff at Awesome, or Ignition Banbury as it was called, were being laid off.
I thought I'd see if could hire some people, got permission from Ignition and drove up. Most of them wanted to stay together as a group so I did a quick deal to keep them on. Got back in touch with the client, and said, 'I've got half a team in Oxford and this new team in Banbury. They're untried but I think they're quite good'. And the game was for PSP, which they have experience of so it all worked out. We're currently preparing to move our main office in Oxford though. It's taking its own sweet time, but hopefully we'll be in the new office by Christmas and then the Banbury studio will come down to Oxford and be fully integrated.
---
Are you worried about the problems that come with scaling up? There are plenty of cautionary examples of UK developers such as Argonaut or Kaboom! who went bust because they over-expanded.
JK: It's definitely an interesting problem and one I should probably think about some more, but it's not as if we've been actively looking to expand. These have been opportunities that popped up and we've had work we could take on, so the new locations are actively contributing to the whole of Rebellion. Also, although technically we are four locations, soon we will be three. I suppose it is a concern as we move forward. Should we consolidate further, or should we stay as three sites? My feeling is that each of the studios has its own flavour and can add something to the mix.
Oxford is much bigger than the other studios too. It's more than twice as big as the next largest and a lot of our technology is done here, although not all. Each project contributes, so the Derby studio worked on a botanical system for their game - a jungle renderer if you want. They led on that and it got integrated back into our main Azura engine technology, so everyone else can use the jungle renderer. We also have very strong senior management. There's a head of production across all of the studios, a head of programming across the studios etc, and each studio has its own head of production, programming and art.
As for some of those other companies you mention, you get the impression when they looked at the future, they didn't believe the bad times were coming. I think you have to be realistic and you have to make strong management decisions early. But so far, so good. There's no shortage of new projects.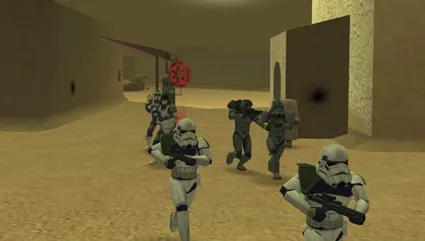 One PSP game currently in development at Rebellion is
Star Wars Battlefront: Renegade Squadron
On that decision-making level, what's it like being the CEO of a company with almost 300 staff?
JK: As the industry gets older, you find yourself in the situation where some of our staff have been with us for 15 years. They have a family and kids at school. As a business owner, you have to be really careful. Sometimes you have to lay people off but you shouldn't do it lightly. You have to think about the ramifications. Suddenly we're not mucking around with young men's lives where if they get fired, they can just fuck off to Montreal and start again. Potentially, if things go wrong, we're affecting our staff, their partners and their children. It's a sobering thought. Sometimes you do think; 'Oh, can we just be small again?'
But there are advantages that come with size. If it's coordinated properly, you end up with something where the whole is greater than the sum of the parts. For example, you can get overlap of technology so we might be doing project A, which is sci-fi shooter, and project B, which is a historical shooter. Some of those technology elements will be the same, so you can reuse them and then focus your production resources to really push the sci-fi and the historical aspects. In that way, both games can benefit more than if you were doing just one game at a time.
One of the reason Rebellion is well known is because you bought the graphic novel publisher 2000 AD. How did that come about?
JK: We bought 2000 AD because we wanted to rescue it, and because we wanted to continue to make comics and graphics novels. It's a solid business. The bank loves it. Every week it sells 20,000, 30,000 copies, whatever the exact number it is. And we're doing these 300 page monthly reprints of the Judge Dredd stories - The Law in Order. They are selling in high numbers.
We've also got our paperback books imprint, Abbadon. To some degree, we're just mucking around with ideas but it's still creating intellectual property. It's much cheaper to commission a book than it is to make a computer game. In fact, I recently had a TV producer on the phone asking if the rights to one of the books are available. We've done did bits and pieces with movies too, although that's something we've since backed away from, but it was good fun. We made a movie. It got everyone fired up one summer. Lots of our staff got dressed up and it made its money back. But to be honest, 97 percent of our business is making computer games.
---
In the seven years since buying 2000 AD you've only made Judge Dredd and Rogue Trooper games. There's was an assumption however that after the acquisition, Rebellion would become a 2000 AD game-making factory. What are your plans for the future?
JK: The problem is we're in a strange situation. We're working on huge licences such as Star Wars, Harry Potter and The Simpsons, but we try to make it so two thirds of our games are work-for-hire and a third are original. If you look at the grand scheme over a five year period that's what we do. If you only take a year segment, this year it's going to be Harry Potter, The Simpsons, Star Wars and Free Running, which is an original game we picked up when we bought Core Design. That's done quite well for us. Still, when people say, 'Are you going to do games based on Strontium Dog or ABC Warriors?;' the answer is,' Yes. We really want to. Sometime'.
It's the same thing with games we've previously released such as Sniper Elite and World War Zero. We own the IPs. We could do expansions packs. We've been saying this about Sniper Elite for ages, but we just don't have the time or the spare resources. You think with 280 people, how can we not have a programmer and an artist and a designer spare for a couple of months? But we're coming to the end of a couple of projects soon, so hopefully we can spin people out into attack groups and get them going on new things.
In terms of the 2000 AD games we have released, we cherrypicked. Dredd was the obvious one. It actually did well. We sold quite a large number of units although it got a mixed response. I think there were elements we didn't promote well enough, such as the arrest mechanic. Some punters just didn't get it. I also think we made mistakes in terms of things like the lack of people in the landscape. Maybe the story should have been something other than vampires and zombies. We liked it, and the blood cults was very 2000 AD, but perhaps it would have been better to do something different. In terms of the restrictions of the license though, I think we innovated well. And, of course, our technology has moved on a lot since then.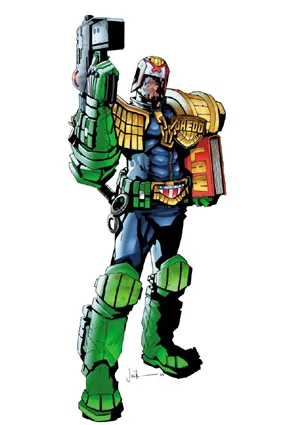 Rogue Trooper has been very successful for us however. It really surprised Eidos. Maybe there's something more we can do with Rogue and we'll look at doing another Dredd game at some stage. But there are so many cool characters we want to do something with. It comes down to finding the time and the funding and the slot in the schedule.
Finally, what are you up to away from games. You play polo don't you?
JK: I've given up polo. I joust now. I take my risks by galloping towards another man on a horse, while carrying a big stick and try hitting him hard around the chest and head. No, it's relatively safe compared to some of the thing I've done. What I like about it is it gets me out and about, and away from the technology. Sometimes it's nice being Jason with a horse who dresses as a knight, as opposed to someone who owns a games company.
I'm also interested in that period of history and spend time teaching kids about it. Recently I was down in Carew Castle for the 500th anniversary celebration. It was great getting the kids engaged in their own heritage. Some are cheeky little buggers, but with some of them, you can see their brains going, 'Wow, I've met someone wearing armour'. I think games are important to people, in terms of entertaining them and making them happy. It's a valuable thing for society but it's nice to do educational stuff too.