One of my favorite socio/philosophical books (sorry) is "Time Passages: Collective Memory and American Popular Culture" by scholar George Lipsitz. A large passage of the book is dedicated to attacking then-President Ronald Reagan. Part of the argument Lipsitz makes -- and his narrative for the better part of the book -- is about how Reagan, rather than referencing a historic canon like past presidents, embraced the wildly inaccurate popular canon, saying "Make America Great Again" long before Trump put it back in vogue. By using popular symbols and tapping into a collective memory, messy details or actual facts become unimportant to the overall, nostalgic wash.
The hell does this have to do with Earthbound? Furthermore, games beyond Earthbound?
Shigesato Itoi's 1994/5 masterpiece Earthbound is the sequel to the NES game MOTHER (known stateside
as Earthbound Zero) but is better in almost all respects. But the most striking part of it, and why I actually prefer it to its sequel Mother 3 (still a phenomenal achievement) is the setting. Itoi's Eagleland is a hilarious pastiche of America. I would need to find the original source but the best description I can recall is that Eagleland is akin to "...a Japanese businessman's fever dream of what America is like assuming they have never actually been to America."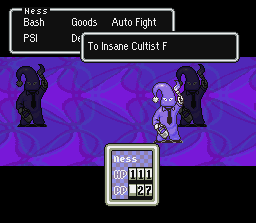 I think that's what is important to note: never actually been to America. The symbols and iconography are all there. But, there's a lot wrong, an almost hilariously detached and fetishized interpretation of what America is like (cults and all). Perhaps the most important inaccurate detail is the chronology or more specifically how fast and loose Itoi plays with the chronology of Americana. Itoi plays with the eclecticism of American culture, but the overall effect is surprisingly accurate -- just substantially genre confused. Monster movies are mix alongside rockabilly, psychedelia is mixed with 1950's sci-fi, and Mr. T is just there for whatever reason.
One of my favorite moments comes in the town Fourside: the soundtrack to Jackie's "Cafe'" (only a cafe' instead of a bar because of censorship concerns...). It's one of the more strange tracks in an already strange soundtrack as there are three distinct levels of audio to it. First is the newly composed music using the SNES hardware. The second level is an out of tune "Star Spangled Banner." Then last, there is a sample of the tune to the 1930's film series of the Little Rascals. Keep this in mind: there is an audio sample from the 1930's -- immediately this is anachronous because most of the game relies on a 1950's rockabilly and atomic era monsters alongside 1960's psychedelia. This sample is thus a really odd inclusion because of how seemingly random and anachronous it is alongside the rest of the soundtrack.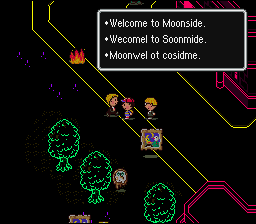 Another great moment is later in Fourside when you journey to the alternate universe Moonside. The music heavily samples the Ric Ocasek song "Keep on Laughing" -- written in 1986. The song is seemingly alien to the game's entire dynamic, coming from the high of 80's synthpop. The easiest reason for it showing up in the Moonside level is that Moonside is an alien and alternate world but that might be presumptuous since his team largely surprised him with the design of the segment. As such, Earthbound's nostalgia crosses into pseudo contemporary, possibly hinting that Moonside really is an alternate reality where time progressed past the 60's.
These soundtracks emphasize the greater point: the styles and tones of the game are consistent enough, but the influences are, again, all over the place. This is not the only time that the 1950-60's influences are sidelined by odd choices, for example, the Runaway Five are an obvious nod to the Blues Brothers -- a film from 1980.
We can tie this back to the part of what Lipsitz comments on as well as the nature of nostalgia: accuracy is often subservient to collective memory. A misremembered detail is of more value than perfect replication. I mentioned this when talking about Shovel Knight: the game is accurate enough to the point where the alterations and inaccuracies become irrelevant. Earthbound does something similar but the broader strokes of Americana are more important than minute details. As a result, we see something that we recognize but feels... off, even uncanny. Itoi's world then becomes not just funny but a surprisingly powerful piece of nostalgia since it connects two divergent worlds. It's apparent that Itoi does not mean disrespect or hates America, but creates an earnest hodgepodge of styles and themes.
The humorous way this all coalesces into one of the greatest pieces of satirical gaming is partly what Earthbound has the enduring legacy that it does. There are other reasons -- it also helps that Earthbound is a fantastic game.
And broader implications? Well, consider whenever an individual or studio cites or interprets a foreign culture or generation. Particularly with the internet, this is becoming an increasing phenomenon as aestheticists have access to nearly the entire backlog of human culture. The entire retro-mashup subgenres of music (remixes to vaporwave) subsist on younger artists using music they have little cultural connection to. Earthbound does something similar, complete with a satiric edge, but without the internet's involvement and beating millennials to the punch.